Below you'll find the most popular designs we've tracked over the last 30 days – an overview of designs you shouldn't have missed in June 2018.
Funny enough, this is the camera concept that had the photography world buzzing when numerous sources believed this was truly the next Canon G7X Mark III.
From the clever minds at Metafora Design Team, this is their interpretation of what a home brewing system might look like if Dyson created one.
Technically classified as a trike (a contraction of the word tricycle), the Nobe 100 electric trike looks retro and feels futuristic.
Muse Hybrid Smartwatch is the world's first luxury hybrid smartwatch with Fitness tracking, UV Radiation tracking, NFC Contactless Payments, Security features, smart notifications and controls, all with a 1-year battery life (no charging needed).
The Snarl has two ways of gripping it. Traditionally, holding the area behind the blade like a handle, or using its finger-hole for far more dexterity and control.
This power drill is intended to be used in… water.
The BB Network isn't just a phone, its your enterprise communication solution. Built to work as the RFID card that you would use to swipe into our out of your office, the BB Network is exactly that size too, and can be hung around from your neck or clipped to your pocket, much like your office ID. It's even optimized to work keeping your office schedule and needs in mind, giving you access to your tasks, reminders, mails, flight tickets, etc. all accessible from within the home screen.
The accessories transform the Flashlight into a night lamp, a reading lamp, as well as an extremely stylish desk lamp that uses a reflector to diffuse and scatter the light in an exquisite manner.
This ultramodern twist on underwater specs, called D-Mask, addresses many of the issues divers currently encounter. Secured around the forehead, jaw, and chin, the design may cover the full face, but the result feels less restrictive than traditional goggles.
The realization that some people want style and substance in equal measures dawned on Justin Kwong, driving him to found ISM in San Francisco, a company dedicated to creating a backpack that satisfied the needs of the consumer as well as the wants.
This small container that attaches to the side of the desk and allows the user to collect the pencil shavings and rubber residue that is strewn across the work surface.
Streamlined and aerodynamic from front to end, the Ethec Electric Motorcycle's body transitions wonderfully from headlamp to the tail, rarely breaking form anywhere in the middle.
At first glance it's hard not to notice the tiny proportions of this phone; the 3-inch display is just big enough to allow a keyboard to be used comfortably, and as it maintains the commonly used 18:9 screen ratio, any mobile apps that are on the market are compatible with this quirky device!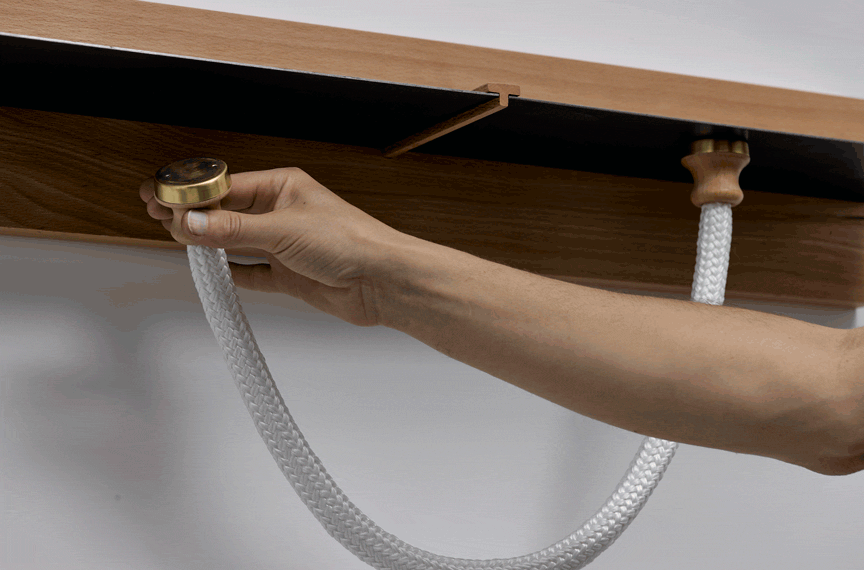 This shelf comes with a LED embedded Nylon woven ropes, with magnetic ends that conveniently snap to the metallic shelf. When they do, they light up with a beauty that's pure and inspired, turning a flat, unassuming storage area into something much more.
The Find X quite literally is all screen. With a stunningly high screen to bezel ratio, the Oppo Find X has only pixels on its front and a slick plain surface on its back. But where are the cameras? Oh, they're hiding within the phone.
This fan replaces the head of the pet, and the smooth oscillation brings an element of life and character to the 'animal'.
The COMB bench is constructed from blown out bike inner tubes and plywood leftovers. The bike tubes form the stretchy surface for the honeycomb-shaped sections that sink in to create a comfy, form-fitting seat when one drops down.
A collaboration between Stockholm-based Note Design Studio and Korean brand Lagom Bath, this collection of bathroom object is a nod to the Scandinavian and Asian cultures' mutual appreciation for design purity and simplicity.
The Playstation V's most apparent feature is a mesa-like surface protrusion on top. Its circular form mimics that of the disc. Interestingly, this is also where users insert their game CD.
The Edge is Android's answer to the set-top box. Users can connect to a treasure trove of content and entertainment from the comfort of home with one sleek, powerful package.
Its designer set out to create a calculator that is always in use and this has been achieved by introducing a secondary function into the design, which in this case, is a clock; a clock was chosen as it is always in use in the background and utilizes the same display as a calculator.
This light's most unique feature, and one that brings great function to the product; the donut-shaped dish can be used to hold small items, while the smaller sub-section can keep items separate.
It's unlikely that companies like Apple or Facebook will ever foray into designing home interiors, but a little wishful thinking never hurt anybody. In this post we look at conceptual bedrooms, designed with the language and characteristics of 6 of today's technology giants.
A socket is housed within each of the four balls, these sit neatly in the tray and are held securely in place using magnets. Power is transferred to them using wireless charging, and it's this that allows the socket to rotate in almost any direction, reliving the cables of the strain that would otherwise be put on them!
Unusual, fun, and perfectly timed with the Jurassic World movie, the Raptor Lamp 2.0 is a playful adjustable lamp modeled to look like a Velociraptor.
---
Check out YD's top 25 designs of May 2018
---
Check out YD's top 25 designs of March/April 2018
---
Check out YD's top 25 designs of February 2018.
---
Check out YD's top 25 designs of January 2018.