To be honest, I could not survive without my laptop! It stores almost everything I hold sacred, and I need it for various purposes – from work to leisure. And most of us do spend the majority of our day working on laptops, and hence maintaining a consistently high level of productivity and efficiency is extremely integral for our work routines. However, spending hours on our laptops can cause immense strain to our hands and neck. And this is where laptop stands come in! The right laptop stand offers ergonomic angle adjustments and helps us work in a posture that does not cause physical pain and strain on our bodies. From an ultra-thin laptop stand as slim as a credit card to an e-bike with a concealed laptop stand – we've curated a collection of ergonomically designed and highly functional laptop stands that can help you work in the most comfortable position possible, in turn boosting your work productivity and efficiency!
1. The MOFT Z
The MOFT Z was designed keeping the original MOFT brief in mind but was made to push limits. It does come with the ability to prop your laptop at three angles, but that's not all. The MOFT Z even transforms your sitting setup into a standing one, elevating your laptop up by as much as 10 inches (25 centimeters). The MOFT Z does this using an innovative Z-shaped folding system along with its signature PU and fiberglass material which allows the laptop stand to have a high strength to weight ratio while being thin enough to slide right into a Manila envelope. The MOFT Z was designed to be used independently, without being stuck to the back of your laptop (like the original MOFT). Slightly larger than a sheet of A4 paper and at nearly half an inch thick, the MOFT Z can be kept on your desk, stored in a drawer, or a shelf, among folders.
2. The MetaStand Pro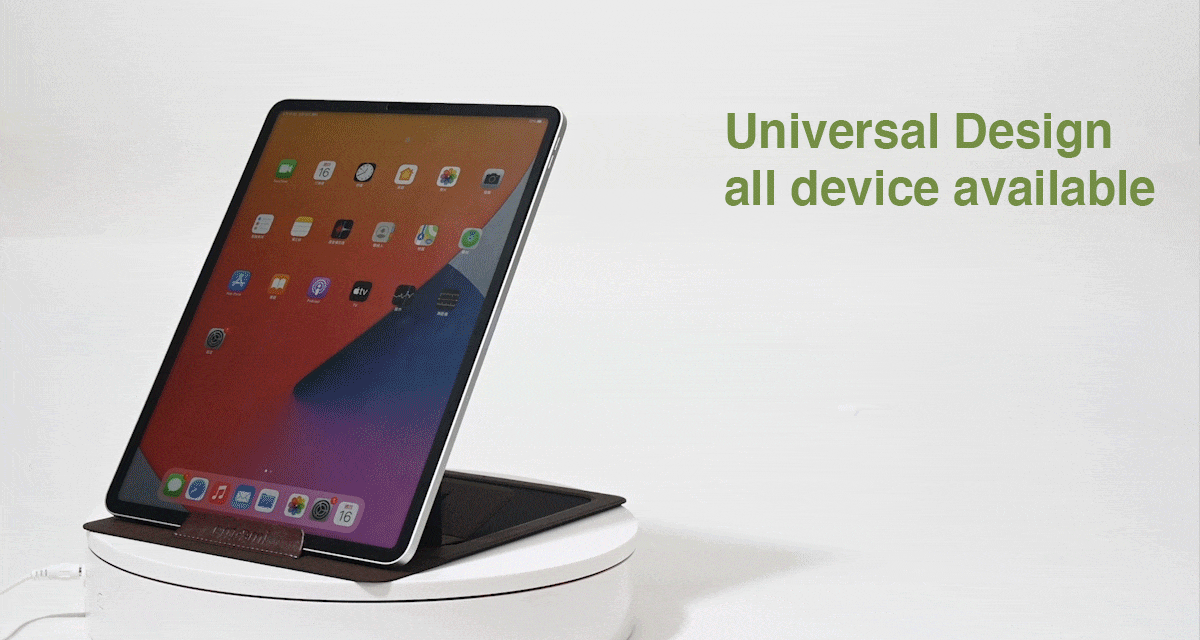 Measuring 0.1 inches, the MetaStand Pro might easily be the contender for the slimmest laptop stand in the world. However, thanks to the power of origami, it can hold the weight of your laptop or tablet, angling it for a comfortable working experience. The MetaStand Pro offers the ability to prop your laptop or tablet up at a variety of angles for ease of use. Using a clever origami-inspired design, it offers a mix of slimness and strength, letting you place your gadget at as many as 4 different angles comfortably without breaking a sweat.
3. PILLR
Like most laptop stands, PILLR elevates your work machine to a higher level, allowing you to view your laptop screen at a much higher, more natural angle, preventing neck fatigue. Unlike most laptops stands, PILLR, however, doesn't look like a badly designed accessory that hides behind your expensive laptop. With a minimal, sculpture-esque design, PILLR looks pretty darn good even without the laptop on it. Its strong presence gives it the appeal of a desk sculpture, and once you place a laptop on it, the PILLR enters a functional mode, elevating your laptop to reduce neck pain and boost productivity.
4. The FLIKK Laptop Stand and Sleeve
The designer came up with this idea after observing the irking drawbacks of traditional laptop stands. Most of them don't provide the desired elevation and the right viewing angles. Also, they are very complicated to deploy, which mars the whole purpose. This prompted Jexter Lim to plug all the gaps that spoil the user experience and function of the accessory. The laptop stand gives you the desired viewing angle for a comfortable working regime anytime, anywhere. The goodness doesn't end there, as it seamlessly transforms into a laptop sleeve to head to your next destination without all the bulk of a traditional laptop stand.
5. The MOFT
Desks can't be carried around where you go, and stands are usually either bulky or heavy, given that they need to support the constant weight of the laptop plus your palms, making both solutions portability-unfriendly. The MOFT grasps that design brief almost perfectly. Thin as a coin (barely 3mm in thickness) and light as a pen, the MOFT sticks to the back of your laptop almost like a cover of sorts. When folded, it sits flat against the back of your laptop (thanks to hidden magnets), practically indistinguishable and invisible, and when deployed/unfolded, uses a clever bit of structural engineering to support your laptop in not one, but two angle settings. Channeling Dieter Rams' principle that Good Design must be Invisible, the MOFT sits flat on the back of the laptop.
6. The RLDH Alto Standing Desk
The RLDH Alto Standing Desk is a thoughtful flat-pack accessory designed keeping in mind your multiple needs if you can't invest in a height-adjustable desk. It is simple to carry and disassemble, with the option to adjust the height of your keyboard and mouse tray, giving it the flexibility of use with your laptop. Yes, this stylish yet functional standing desk is tailored for use with your laptop – virtually transforming your table into a standing desk when the need arises. Its flat-pack and lightweight (weighing just 6.5 lbs) nature give you the freedom to tuck it away when not needed or even to take it along during travel for remote work regimes.
7. g.flow laptop stand
Arguably, grape lab's g.flow laptop stand is better than most other laptop stands on the market. It ticks all the boxes as an effective product but also as a sustainable product. It's clever, lightweight, and comes in packaging that can be used as a stand too! g.flow is just an amalgamation of a lot of good ideas into one great product that does its job with 100% effectiveness and 0% negative impact on the environment. The g.flow is basically a tray made from folded recycled paper. Relying on origami tricks, the paper is stiff enough to hold up to 11 pounds of weight (enough to take the weight of your laptop and your hands too) thanks to the origami folds which not only give it strength but also create multiple channels to boost airflow and cool your laptop better. The ridged paper is specifically angled for easy viewing and typing so that you get the benefits of a cooling pad as well as a prop stand, while the device comes with a small lip on the front to keep the laptop from sliding down.
8. HUB-OX
Designed to be portable and compact, HUB–OX initially comes as a lightweight, palm-sized USB-C hub, which splits into two halves, both equipped with plenty of charging slots, HDMI connections, and ethernet ports. HUB–OX is compatible with MacBook Pro models that have four USB-C ports, generally any MacBook Pro from 2016 or any of its succeeding generations. When HUB–OX is split in two, users can plug the USB-C chargers into all four of their MacBook Pro's ports, lifting their laptops to an angle of 7.7° to keep them charged and at eye level for the rest of the day.
9. The Triyards Laptop Stand
The Triyards Laptop Stand borrows a clever trick from a product we've been using for decades. Inspired by the thin-yet-effective kickstands found in most keyboards, the Triyards Laptop Stand sits flat against your machine, adding a mere 0.2 inches of thickness. Made from durable aerospace-grade aluminum, the stand adheres to the back of your laptop using a non-harmful 3M glue strip and comes with two fold-out legs that allow you to easily prop your laptop up, angling it in a way that helps it stay cool while angling the keyboard in a way that makes it easier to type. It comes with rubber legs, too, to make sure your laptop doesn't slide around or damage the surface you're working on.
10. The BUCK electric bike
The BUCK electric bike has a laptop stand that elegantly conceals beneath the bike frame when not in use. The moment you need to perform an important task – just park the bike, swivel the laptop stand in position, and your mobile standing workstation is ready. You just have to slide it out of the bike frame's section and attach it to the saddle, which can be moved to a 90 degrees position to give up space for the stand. On the design front, the bicycle has a very neat minimalist look draped in white color with contrasting black sections. Since the bike is meant for the odd leisure too on rough roads, the active suspension and the high riding position are well suited for the same.