UGREEN's combination of a laptop stand and a multiport hub may just be the peanut-butter-and-jelly equivalent of the tech world – it just seems like a match made in heaven. Meet the X-Kit from UGREEN… a slim, portable Hub-Stand that folds down to become no smaller or slimmer than a selfie-stick. With its innovated X-shaped folding design, the X-Kit condenses its functionality into a form that's easy to carry along with your laptop anywhere you go. Designed with two halves that separate when pulled apart, the X-Kit transforms from a slim, baton-shaped form into a broad platform to dock your Mac or Windows laptop on in mere seconds, with an angling mechanism that can be set at 4 different positions to give you the right angle you need to minimize fatigue… something that most WFH setups fail to achieve.
The angled stand, however, is just half of what the X-Kit is capable of. Also built into the product is a remarkable 5-in-1 multiport that unlocks your laptop's true potential. Armed with a 4K (30Hz) HDMI port, two USB-A ports, one SD and one TF card reader, and a USB-C port to power the experience, the X-Kit gives you a multiport that is conveniently located right in your laptop's stand. Not only does this make it easy to locate and access ports, but it also means a reduction in clutter i.e., cables, dongles, and paraphernalia around your workspace.
The idea behind the X-Kit was a direct result of our sudden shift to working from home in March. While most offices are designed around productivity, ergonomics, and offering employees with comfortable working conditions, that fact isn't really true for most homes. Most people work on furniture they already have at home, choosing dining tables, coffee tables, or bedroom desks to work. The X-Kit helps make these working surfaces ergonomic by giving you the ability to position your laptop at a height so the screen is at eye level, and efficient by allowing proper air-flow to keep your laptop from overheating. The X-Kit comes with a portable-yet-robust design crafted from space-grade aluminum alloy, with anti-skid anti-scratch silicone pads at the base to protect your tables. The multiport hub built into the X-Kit just seals the deal by effectively increasing your laptop's abilities and your productivity, so you don't need to worry about shifty dongles, long cables, and a less-than-zen workspace!
Designer: UGREEN
Click Here to Buy Now: $44 $98 (55% off). Exclusive Deal for YD readers! Hurry, limited stocks.
X-Kit – World's First Integrated Ergonomic Hub-Stand
The X-Kit is the combination of a powerful 5-in-1 USB hub that connects to all the devices you need to boost productivity and an ultra-lightweight ergonomic laptop/tablet stand with four adjustable angles designed for maximum mobility.
5-in-1 USB-C Hub
The 5-in-1 USB-C hub functionality provides 2*USB-A 3.0 ports, 1* 4K 3D HDMI port, 1*SD and 1*TF card reader, and 1*USB-C data delivery to connect your laptop or tablet with the X-Kit.
You can quickly transfer files, photos, and videos from your phone, memory cards, and hard drives while connecting to external devices such as the keyboard, mouse, or graphic tablet simultaneously, without a mess.
Replace All Dongles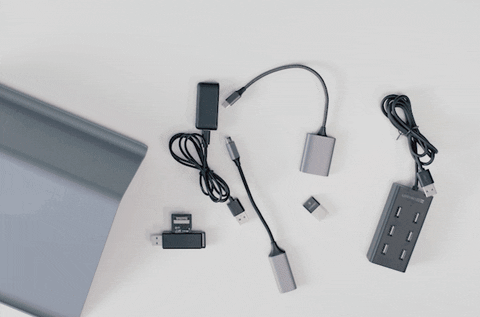 Say goodbye to insufficient ports, office syndrome, unstable connections, messy home office set up.
4 Adjustable Angles
Find your best ergonomic posture with 4 adjustable angles whether you want to read, type, take notes, draw, or use external keyboards with laptops and tablets. The X-Kit provides optimal comfort without the fatigue of your neck, arms, wrists, or eyes.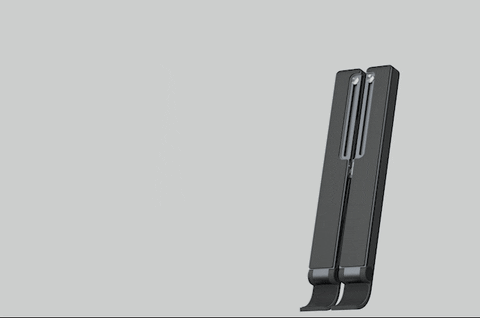 4K HDMI Display
High-quality display with the X-Kit's ultra-high-definition HDMI port with 3D support—no image tearing, stuttering, or jerkiness, as well as fine audio and display synchronization.
Present your proud project and presentations, or share your favorite movies in exceptional quality with low latency. Use it at home, at conferences, or even during outdoor activities.
Turbo Transmission Speed
High-speed transmission of up to 5Gbps from the two USB-A 3.0 ports and 104 MB/s from the SD/TF card slots.
Foldable & Portable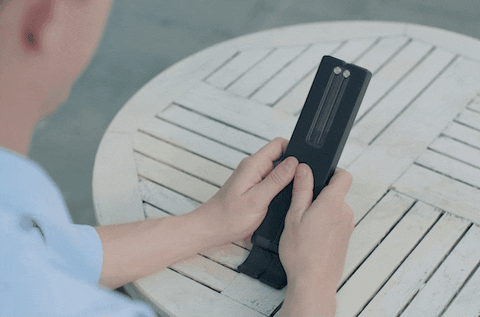 Open and fold-up in a split second; you can set up your office space anytime, anywhere with the X-Kit.
It fits easily in your backpack, tote bag, or even a briefcase.
Superheat Dissipation
The lab temperature rise test shows that after 2 hours of full-load working, the maximum product surface temperature is about 41.9℃ (107.42℉) and 10℃ (50℉) lower than the average hubs on the market. The built-in short-circuit and over-current protection keeps your devices safe.
Versatile and Compatible Beyond Laptops
The X-Kit perfectly supports all your USB-C based devices, from the latest MacBook lineup and iPads to all the flagship Android and Windows-based tablets. For size compatibility, it fits all laptops from 11"-17" in size.
Simplicity in Design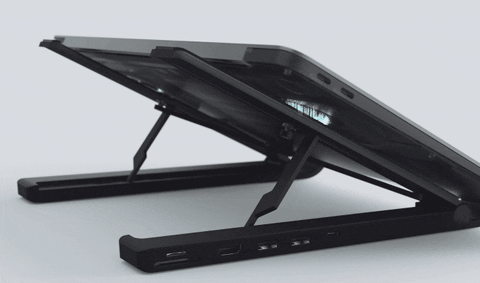 The skeleton made of premium aircraft-grade aluminum alloy is 65% lighter yet 25% harder than the average, lightweight, and stable. Less, but more. The silky-touch sandblasting-oxidation processed surface, slip, and crush-proof silicone bands gently embrace the practical aesthetics.
Click Here to Buy Now: $44 $98 (55% off). Exclusive Deal for YD readers! Hurry, limited stocks.