As children, we loved camping simply for the fact that we had sleepovers in tents, and ate an unlimited amount of roasted s'mores! However, as we grew older, camping began to hold a different meaning. It was an opportunity to simply get away, relax, and re-connect with nature! A chance to leave behind our urban woes, and enjoy the simplicity of the outdoors. Although, camping has now received a massive makeover and a new ferocious nickname – Glamping! Glamping is the new, improved and dazzling version of camping.  Luxurious tents, glamping cabins, glamping trailers, and innovative campsites are all a result of the Glamping movement. So, we've curated a collection of super comfy, cozy, and advanced camping options that'll have you itching to make your next getaway a Glamping one!
You can find these unique tents in the Borgloon forest in Belgium if you are looking for a safer alternative to the usual touristy destinations post the pandemic. In fact, it has gained attention only now when people are looking to camp outdoors because it is safer, won't require you to fly, budget-friendly and avoids crowds. Designed by the Dutch artist Dre Wapenaar, these 'Tranendreef' tree tents blend architecture and sculpture into one functional structure. The tent is suspended above the ground and basically hangs on the tree like fruit. The guests use a ladder to get inside/outside. It can host two adults and two small children. Originally installed as part of a public art project called 'Pit' (hence the avocado shape we assume) organized by Z33, it brought art into the public space of Borgloon. The designer also created 'field furniture' – seating, washing, toilet, and BBQ units to complete the camping site with the tents.
If you always wanted to hook a hardcore off-roading trailer to match your Jeep's capability to conquer tough terrain, then the Switchback trailer by Off Grid Trailers is a god-sent blessing. Perfectly tailored for people who are a bit skeptical about going for an off-roading trip to the Rocky Mountains with a trailer towing at the rear, this hardcore trailer won't let you have any semblance of even the slightest doubt. If your Jeep can conquer that stretch of a rocky patch (not meant for your average vehicle), then this trailer will have you covered. The lightweight, compact-sized construction of the Switchback makes it one of the best options for blokes who only get the adrenaline rush when their 4×4's independent suspension is stretched to the limit.
The AERIAL A1 is a fusion of the best aspects of three separate products. It combines the safety and sheltering of a tent, with the comfort and carefree nature of a hammock and the tautness/springy-ness of slacklines. Designed by industrial designers with a true passion for the outdoors, the AERIAL A1 quite literally elevates the idea of camping. Rather than pitching tents in the ground, this one straps itself to trees (or even cars), taking your camping experience up a notch. Climb into the AERIAL A1 and you literally feel like you're sleeping on clouds. The tent's slackline structure requires you to stretch the base out so it's virtually flat (unlike a hammock, which naturally takes a curve)… this effectively gives the AERIAL A1's tent-bed its 'spring', making it feel like a cross between a hammock and a waterbed. The AERIAL A1 can easily be mounted over rocks, roots, or even a river.
Camping and caravanning have always been about getting down to the bare necessities of life, living life on the road and at the mercy of the elements. However, New Zealand-based design and architecture firm W2 has decided to help amp up the experience! Their revolutionary trailer design, 'Romotow', the name an amalgamation of 'room to move' contains all the usual RV features but with an innovative 90-degree twist. With the press of a simple electric button, it swivels open, rotating at 90 degrees, to reveal an open synthetic teak deck. With this, it increases the living space by 70 percent, and the area can also be used as a party deck! Measuring 30 feet by 8.5 feet and offering 290 square feet of living space (the same as a lot of tiny apartments these days), the caravan comes along with a living area, bedroom, kitchenette, and bathroom, all with stylish fixtures and spacious interiors.
Designed especially to bring people closer to the great outdoors, Bivvi is a modular and transportable A-frame cabin that can either be attached to your car for road trips or to a chosen foundation for permanent placement. The creators at Bivvi make up a team of travelers and adventure-seekers– they built Bivvi so that we can be too. They set out to build Bivvi after noticing the inherently immobile and expensive nature of cabins and other modes of residence for travelers already on the market. Taking on mobility as their main source of inspiration, each Bivvi Cabin can be attached to a trailer hitch and tow so that they can be transported anywhere. The team behind Bivvi even outfit their A-frame cabins with off-grid capabilities including three 600W AC outlets and a 100W solar panel, so they really do mean anywhere.
The advent of recreational vehicles has brought a new dimension to the old-school camping setup. Such camper trailers literally bring the comfort, convenience, and luxury of your cozy home to the wheels – and every new design amazes me. The Bailey Discovery D4-2 Camper Trailer is one such creation, tailored for adventure enthusiasts who can't help but satiate their wanderlust – exploring the untrodden trails. The USP of this camper trailer is its inflatable awning which creates almost double the private space you need for your escapades under the star-studded nights. On the inside, D4-2 is equipped with all the amenities and a fully furnished interior. Enough to suffice the needs of a couple on their long road trip – with the odd guest coming along the way for a couple of days. The big windows on all sides and the skylight fills the interiors with enough sunlight for a calming feel.
Nissan NV350 Caravan Office Pod Concept is your ticket to freedom when it comes to working productively after witnessing the most mesmerizing sunset from your favorite picturesque location on the outskirts of the city or maybe even on an adventure trip. The mobile office pod housed inside the back of the van is something you'll be so desperate to jump right into. In ways, it can rival the most jaw-dropping work-from-home setups without a semblance of doubt. The smartphone-controlled office pulls out from the back of the van out in the open and is for sure a dope for people who love working amidst natural settings.
Land Rover Defender with its robust chassis and solid front and rear axles is an iconic vehicle for off-roading, overlanding, and basically unleashing your ride into the wilderness! One thing that can really propel its image as an ultimate off-roader is the ability to take it camping without having to haul anything behind. Felix Collier thinks that's a brilliant idea – he has therefore gone forward and built his Land Rover Defender as a camper for where the road may take him – highlight being a pop-up canvas roof that creates more headroom in the cabin. Felix loves exploring and driving into the wilderness away from the crowds and mainstream routes, which is ideally why he has ventured out to build this Defender camper with plush interiors and basic amenities. Speaking of which, the rear cabin is neatly done in wood including the worktop made with the expensive sequoia wood.
The Flite+ by Tentsile straps to trees, giving you airborne accommodation in the outdoors! While most tents become really messy ordeals when the floor is wet, cold, hard, or infested, the Tentsile Flite+ has no problem, because it straps to three trees, creating a hammock + home that suspends above the ground. The Flite+ has a triangular schematic covering an area of 40sq.ft., allowing it to form two living spaces with enough storage for some gear as well. It takes all of 10 minutes to set up and comes equipped with an insect mesh top that gives you a view of your surroundings without letting the critters get to you. It also comes with an additional tarp sleeve you can slide on top for when it gets too sunny, or begins raining.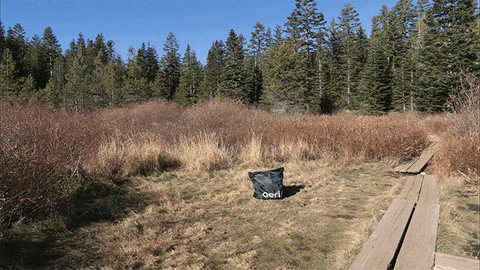 Meet Aeri, an inflatable canopy that you can carry anywhere inside a backpack, and inflate in 3 minutes with the press of just one single button. Aeri helps you effortlessly set up a canopy or an outdoor shelter in an instant. Designed to be used for recreational outdoor use, Aeri can easily be carried to the beach, campsites, the park, or even your backyard. It uses a four-pillar arch design that provides the perfect shelter against sun, wind, and rain, and its entirely inflatable design runs on a rechargeable air pump that can be operated independently by a single person with zero assistance. The patent-pending inflatable shelter fits into a moderately sized backpack, and when unfolded, can comfortably provide a 10ft x 10ft shelter to an entire family or a group of 5-6 people.
For more such cool and comfortable camping tents, check out Part 1 of this post!