The perfect set of kitchen appliances can make your daily life and cooking sessions a whole lot easier! But, honestly, after an exhausting day at work, I really don't have the energy to deal with cumbersome and technical kitchen appliances. This is where smart kitchen tech comes in! Smart kitchen appliances quite honestly do most of the work for you! You simply press a few buttons, adjust some settings on the touchscreen, and most of your kitchen chores are almost done. Smart kitchen appliances can be a blessing in disguise, and we've curated some of our absolute favorites from you. From a smart cutting board that track's your food's nutritional value to a smart wok that automates most of your cooking work – these innovative kitchen appliances are the superhero sidekicks, you need on your cooking adventures!
That plastic kettle sitting on our kitchen counter probably looks like something from a time capsule compared to all the other appliances that have gotten design makeovers. Finally, it is the kettle's turn and the B POINT shows it all off. It features a touch interface that instantly gets the appliance up to speed with others and lets the user form a more organic connection with it. The circular display has two rings – the outer ring shows the temperature and the inner ring shows the water level inside. Countdown starts after setting the water temperature and will beep once it is ready! The choice of CMF really elevates the simple appliance into an aesthetic product that you can display proudly on your kitchen counter.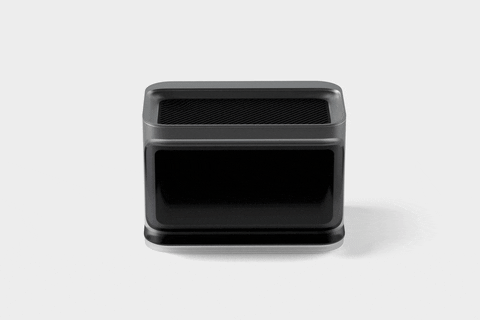 Decker is an all-electric appliance so grilling on it is devoid of fossil fuels like coal. It creates a smokeless experience which is perfect for an urban kitchen or a balcony. Young millennials and Gen Z have little access to the experience of cooking food on a grill. Using a BBQ grill indoors only creates a fire hazard but most living quarters don't allow them because of the smoke and soot which can be bothersome in cities where people are often living too close to one another. The team elaborates, "We created a clear yet functional UI that displays options as and when the functionalities are selected. The display screen is a hi-definition OLED display that is touch-sensitive with multi-touch as well as provides haptic feedback to the option selected. With the three functional elements of a stove, grill, and oven, the options for each use case are already mapped out so the user doesn't have to navigate through a whole bunch of visual clutter thus creating a Dynamic UI."
Food One was designed for young people living in cities who don't have either the time or skill set for cooking multiple meals throughout the day. Beginning early 2020, the pandemic's quarantine orders forced many of us out of restaurant booths and into our kitchens to cook our own meals. Fully integrated with smart technology, Food One operates as a classic smart assistant, with Bluetooth connectivity and app compatibility to connect to your smartphone or other smart devices. After connecting to Food One's app, users can choose from a long list of available recipes suitable for cooking with the smart wok. Alternatively, those who enjoy cooking can upload their own recipes to Food One's app for others to learn and follow.
There is a Korean practice of covering food with a cloth (Sang bo) which has been a tradition for centuries and has worked well – a ramie or silk fabric covering keeps it ventilated in the summers while a thicker fabric keeps it insulated in the winters. Inspired by this, the Mother's Heart was designed to keep food fresh and retain its original nutrient quality. It is a simple device that is crafted like a dome food covering and an accompanying base plate. The covering has a dial on top and that lets you adjust the settings based on the food you've cooked. You can select between refrigeration or warmth and there is a timer feature that lets you select for how long you want to keep it running.
The Café Appliances Specialty Drip Smart Coffee Maker is a smart coffee machine with built-in WiFi that lets you enjoy drip coffee without any hassle. Amped with Voice-to-Brew controls, you can customize your own coffee, and even control parameters like temperature and strength. The built-in WiFi allows the gadget to connect to Alexa, Google, and the SmartHQ app. The auto brew setting enables you to prepare your coffee exactly the way you want it! Not to mention, it has been amped with a sleek and stunning design!
The Foody looks like most smart speakers but comes with a few crucial design details that set it apart. While it is, in spirit, a smart speaker, perhaps the most interesting detail on the device is a circular display on the top that slides from left to right. Apart from acting as a screen for viewing things like recipe thumbnails and cooking times, the display also acts as a switch that lets you tell the Foody speaker what's in your pantry versus what isn't. A camera sits at the central position of the circular slider, allowing you to scan the items you purchase. When you buy an item, keep the slider display towards the left and scan the item to tell Foody you just bought it.
SMART by VLND Studio is as its name suggests a smart water purifier that provides clean drinking water via its 4-step filtration process. The unique system eliminates almost all the contaminants from tap water, including rust residue, calcareous, chlorine, infusible fine particles, bacteria as well as bad odor and taste. SMART's design focuses on making it as user-friendly as possible. The smart water purifier is easy to use despite its complex functioning. Sleek aesthetics, an intuitive touch screen, and a human-centered design make it attractive, approachable, and simple to operate!
Designed by Germany-based Aurora Life Science, Nutrio takes the guesswork out of your diet. Sure, outwardly it looks like a cross between a cutting board and a cashier's billing desk at the supermarket, but the Nutrio is in fact a comprehensive nutrition calculator that lets you measure your food in an absolutely new way. The chopping board comes with an entire host of sensors that can detect your food, weigh the food, and display all its nutritional information. Whether you're using raw ingredients or even packaged products, Nutrio lets you scan your food, calculate your caloric and nutritional intake, and absolutely crush your diet because you're much more aware of what you cook and eat.
Thermomix TM6 Smart Food Processor Oven is a multifunctional kitchen appliance that does the job of multiple kitchen gadgets! It can chop, slice, fry, steam, slow cook and knead! It transforms tough cuts of meat into moist and tender pieces. It can also sous-vide your meat and vegetables. The smart food processor comes amped with a wide touch screen display and an innovative weighing scale, allowing you to cook your meals in the simplest and most effective manner possible.
The tablefarm is exactly what its name suggests. A tabletop garden that grows your food for you… but not just any food. The tablefarm's focus is on microgreens, which are probably more nutrient-rich than actual veggies, packing as much as 10 to 40 times more nutrition in their small leaves and stems. If you're wondering what microgreens are, they're vegetables and herbs harvested just as they develop their first set of true leaves in about 7 to 10 days. They contain just as many vitamins and minerals as they would as full-grown plants — or even more, and are ridiculously easy and quick to grow… so much so that the tablefarm literally does it for you.