Call me a fool, but I have never been very invested in a speaker. My focus would be on the lyrics of the song and as long as I got to hum along with the lyrics I was a happy soul. This cocoon of mine shattered after I took an interest in product design and joined Yanko! The sheer variety and functionality of the speaker designs we showcase have made me a fan of these designs, with a special focus on interactive speakers. The process of manually changing a speaker's controls now feels like an almost meditative process to me and now that I have a better collection of speakers with me, I still find myself in awe when a designer mixes this essentially physical product with a physical interaction that helps us feel the melody. This is the collection curated here today – speakers that attune themselves to your needs – be it associating color to music, using non-traditional interfaces or adding a new digital element to the design, each speaker will inspire you to look at this humble everyday object in a whole new light!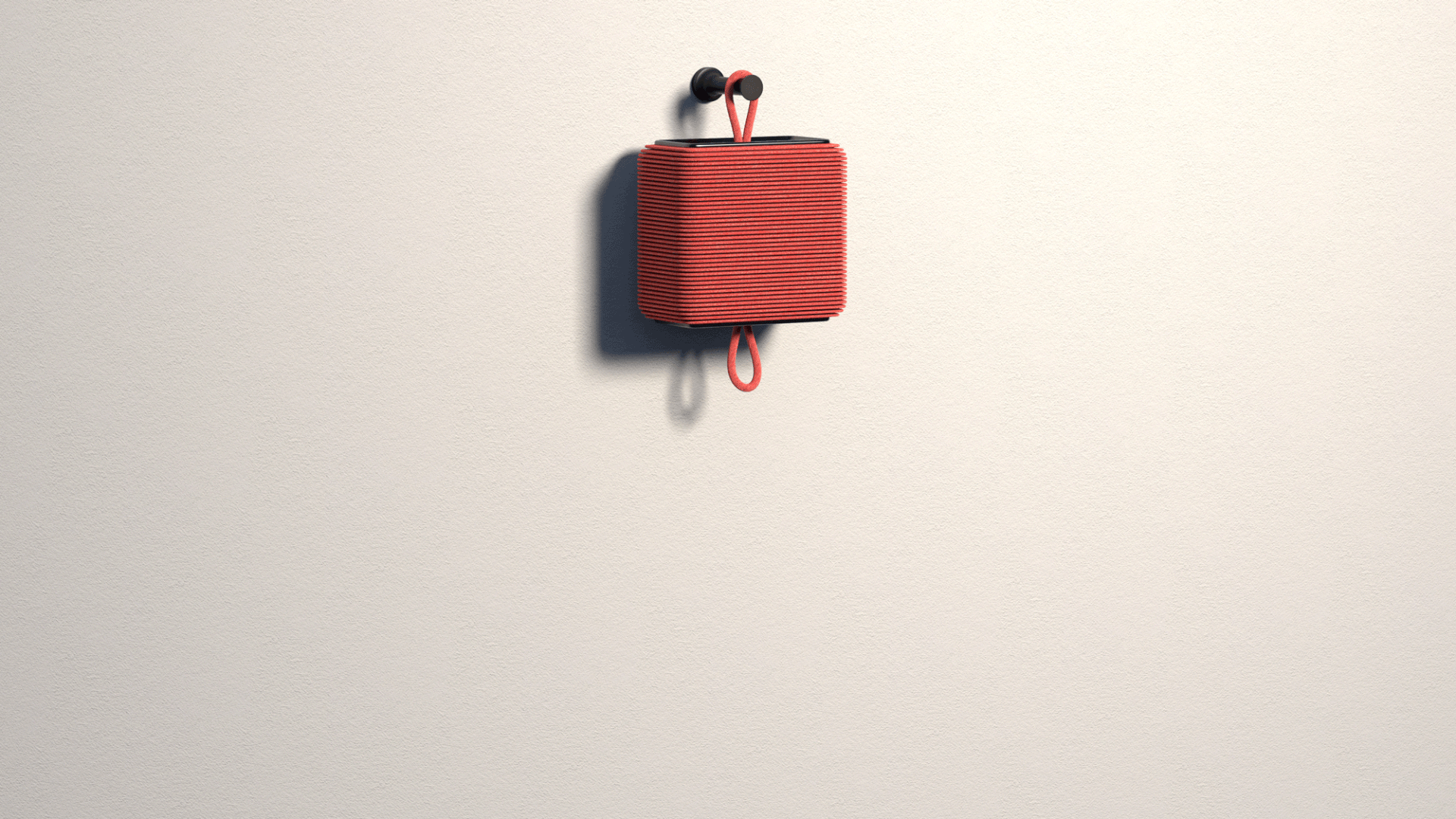 The motive for Ben Lorimore's Sound Tool was to have a speaker whose operation relies upon physical intuition, leading it to be emotionally stimulating! The main source of inspiration comes from the eccentric movement of a Conductor; as the volume of the orchestra increases, as too does the Conductors physical presence. This has been beautifully translated into Sound Tool by encouraging the user to increase the volume of the music by grabbing each end of the speaker and pulling them apart! To increase the volume of Sound Tool, grab it and make it bigger. To decrease the volume, compress it. Fully collapse it to pause, Sound Tool will not play at 0% volume. It's welcoming to see a product that encourages tangible interactions!
"Atelier" is a hybrid entertainment system that marries high-end audio and television into one elegant unit. According to designer Kwanjun Ryu, it's first and foremost a speaker to appeal to younger generations less concerned with TV. Created to rest close to the floor, it's capable of delivering multidirectional, high-def sound that will envelop the user in their favorite tunes or talk radio. With the press of a button, a 32″ screen automatically raises to reveal a full HD color screen. This means, when it's not in TV mode there's no blank, black box cramping your room's style!
The Layered, at first glance, won't give you even the slightest idea of what it is. So I'll help you out. Designed by X-Factor, the Layered is a Bluetooth speaker, with the equalizer turned into an interactive tactile element on the top. Taking bands of frequencies and dedicating different controls to them, the Layered contains six transparent discs lit from the bottom. These discs correspond to different frequency bands (calibrated to help control the presence of a particular instrument) and can be rolled up and down the Layered's surface to work as an equalizer, allowing you to amplify or attenuate the effect of instruments in your music.
The Sound Project, by Pascal Grangier, offers a new way of interacting with music using color tones. Colour and emotion are directly linked to one another, from subtle, pastel blues which are associated with calmness and a state of relaxation, through to vibrant reds which symbolize excitement and energy. Protruding out of the top of the speaker is a polycarbonate layer, where the mood and information are elegantly displayed. The music is controlled via a separate device that resides on the top of the module; by physically moving the device, the music levels alter.
You've heard of 2.1 audio, 5.1 audio, even perhaps 7.1 audio… but have you ever heard of 12.1 surround sound? That's what Lingsong Jin's Actinia speaker is about. Inspired by the tree-shaped sea anemone, the Actinia Speaker has 12 tweeters on its radially symmetric top, and a woofer right at the base. With a gradient-tinted glass body, the Actinia is virtually see-through, bringing an element of transparency to the uniquely shaped organic speaker body, almost reminiscent of how curvy Harman Kardon's Soundsticks were, back in the day.
The Waving Multifunctional Speaker by RuiWang Xiang is a perfect example of how form and function can help redefine a product's design. Given that wireless speakers are almost always used with smartphones, the Waving Multifunctional Speaker even doubles as a dock/stand for your mobile, allowing you to watch videos on it while the three mid-range audio drivers on the front pump sound out. The Waving Multifunctional Speaker even comes with a distinct wave-texture on its top which serves as a nifty area to rest stationery. Aware of the fact that most speakers find themselves placed on work desks, the Waving Multifunctional Speaker integrates clever and convenient solution, allowing you to rest your pens and pencils on it while you work. The Waving Multifunctional Speaker is also a winner of the A' Design Award for the year 2020!
Mindaugas Petrikas' Hevi speaker comes crafted from a mixture of rough concrete and wood, Hevi is a 360-degree modular speaker, with a warm and rustic aesthetic. With a glossy plastic plate stuck right in the middle of it, a surreal modern contrast is created to the otherwise homely materials, that are wood and concrete. What makes Hevi even more interesting is that it dissociates into two speakers! The top portion of Hevi consists of a mid-high frequency speaker, whereas the lower portion is a mid-low frequency speaker. The two can be detached, allowing you to carry either of the speakers wherever you wish. The compact upper speaker is, of course, the more portable option, something you could even carry for your outdoor adventures! When combined, both the speakers create a resounding high-quality sound.
Designed to be like an Amazon Echo Show but in the shape of an Amazon Echo, Royole's new Mirage smart speaker tries to integrate flexible displays into smart speakers. The Mirage is a cylindrically shaped smart-speaker (with a floating halo) that responds to Amazon's Alexa, but the most noticeable element about it is the screen that envelops nearly half the device, wrapping around from side to side. Royole's always been an advocate of flexible electronics, with a folding tablet, phone, and even keyboard in its catalog of products. The Mirage adds itself to that list with the flexible display, which provides a new way of showcasing information that your smart speaker relays to you.
The Saturn hybrid speaker-light by Angie Kim & Heejae Choi begs the question: why shouldn't our devices also be works of art?! The obvious answer is that everyone has largely different aesthetic tastes, but there's no denying that Saturn's sculptural form is better looking than plenty of other standalone Bluetooth speaker designs. Aside from providing high-quality audio streaming and stylish accent lighting on its rings, it also features a spinning feature that captivates with motion. Depending on the music tempo, its centered orb will turn to the timing of your favorite tunes!
Portable speakers don't usually have intriguing aesthetics, so Arvin Maleki's Seda was created with the intention of blending both visuals and technology to make it stand out. Its physical form radiates a zen feeling while also having a multifunctional appeal. Seda isn't just smart, it was made to be intelligent. Seda has a pen holder in the center which also acts as a small space organizer. It features an embedded light bar in its external body which works as a desk light and it also has a dim ambient light – to be honest, this speaker is more lit than the playlist I made for it. It almost looks like an accent interior piece for your home than a portable speaker.
With an aesthetic that melds Japanese and French aesthetics together, the iFi Aurora by Julien Haziza is a hi-fi speaker that literally looks like it's levitating off the surface of the table or mantelpiece it's kept on. The audio unit is clad in a casing made of bamboo, with slatted strips around its periphery, adding contrast while also creating what one would perceive to be the grill for the speaker's 8 drivers. The speaker's semi-vintage look comes with a reason. It opts for analog signal processing over digital, delivering a sound that's grand, lossless, and well balanced. Its in-built PureEmotion amplifying technology delivers room-filling, rich audio that engages you with music in its purest, hi-definition format. The speaker comes with Wi-Fi connectivity and Bluetooth 5.0, but even has more than its fair share of wired cable inputs, ranging from optical and coaxial to USB and even Ethernet.
Now that you are set with a speaker design, check out these innovative keyboard and mouse designs to help you create that dream desk setup!