Before the pandemic took place, cooking was a chore I completely avoided! But now, I honestly find it quite therapeutic! The pandemic, and all the free time that came along with it, somehow awakened my inner chef! I'm sure a lot of other inner chefs were brought to life as well. And with the third wave slowly encroaching upon the world, it may be time to deep dive into cooking once again! Especially with the right kitchen tools and appliances, cooking can be a fun and effortless process. The right products can reduce your prep time in half, make the little cooking tasks much easier, and help you with tedious and complicated techniques. From a kitchen appliance that turns a This collection of kitchen appliances promises to transform cooking from a Herculean feat to an approachable and enjoyable process! Let your inner chef take over with the help of these innovative and nifty designs!
1. The Reencle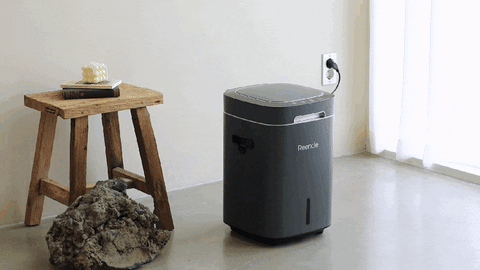 Designed to effectively compost and break down food waste into nutrient-rich fertilizer, the Reencle is a compact, quiet, odor-free kitchen appliance that puts your food waste to good use; although that shouldn't give you an excuse to waste more food! Hoping to put that waste into good use so it doesn't end up in a landfill creating tonnes of CO2 and Methane as it decomposes, the Reencle is an at-home solution that helps efficiently break down food in a way that turns it into a rich compost that benefits the planet instead of harming it. Microorganisms inside the Reencle's inner chamber break the food down in roughly 24 hours, creating a compost that can be used in gardens, backyards, indoor planters, or even be disposed of, so it doesn't harm the environment.
2. CASO's Kitchen Ecostyle
Kitchen scales come in all shapes, sizes, and designs, both the analog kind as well as more modern digital ones. In almost all cases, they take the same rectangular or circular plates that can take up precious shelf space. Digital scales, of course, also require power to function, mostly from batteries. CASO's Kitchen Ecostyle throws all that down the drain, so to speak. You might not even recognize it as a kitchen scale because of its unconventional design. It looks almost like a fat rectangular compass or protractor, with one leg that fans out to the side. This creates a gap where you can securely place a bowl that is too big to balance on the scale's closed-form safely.
3. Smeg-inspired Toaster
A piece of home decor and a kitchen appliance, Smeg products tend to give kitchens a whole lot of personality. Gutiérrez Rincón's toaster design maintains a simple control panel in a similar fashion to related Smeg products and gleams with a polished finish reminiscent of 50s household appliances. From its base, Gutiérrez Rincón's toaster is conceptualized with stainless steel legs that slightly raise the toaster from the kitchen counter. Rounding out its short-legged base, a reflective red aluminum finish gives the toaster a bright, energetic profile. Along the side, users can find the toaster's control panel that features a sliding knob that allows users to change the timing of the toaster, while small buttons give users options to heat, defrost, power off, or toast.
4. On2Cook
The idea behind On2Cook sounds so simple that you'd probably be left wondering why no one has thought of it before. It basically combines two of the most common methods of cooking, namely stove or induction stove, and microwave, to cut down on the time that food needs to cook. It offers the best of both worlds with almost no drawbacks, or at least that's the premise. Conventional flame or induction cooking cooks the food from the bottom and outside, which leads to the familiar brown color that stove-cooked foods have. The microwave part, on the other hand, cooks from the top and starts from the inside, yielding in a more evenly cooked and often moist dish.
5. Carnerie
Turner designed Carnerie – a conceptual device that will let you grow your own meat in the future! Cultured meat is the process of growing meat from cells extracted from animals. Many experts believe that cultured meat offers us the opportunity to produce meat with significantly reduced environmental impacts and without slaughtering animals. The technology is being rapidly developed across the world and is beginning to be introduced to some high-end restaurants but there has been discussion about whether one day we may be able to grow our own meat from animal cells in our own kitchens. Carnerie is a 'grow your own meat' device for around twenty years in the future. It is controlled by an app, whereby the user is able to order cell capsules from local farms in order to grow a variety of different types of meat. This conceptual, speculative project is designed to help us visualize what this future scenario could be like and whether it's a future that we would buy into.
6. The JIA Inc. Rolling Mortar
Inspired by the Chinese ceramic tea mortars from the Tang Dynasty, this pestle + mortar combo brings modernity and sensibility to a century-old practice. The mortar comes in the form of an elegant, U-shaped porcelain bowl, whereas the pestle is a solid wooden oak wheel. Instead of punching and grinding the spices or tea herbs, you simply place them in the oblong bowl and roll over them with the wheel. The wheel possesses an extremely ergonomic form, making it easy to grip, and allowing you to grind your herbs via an effortless rolling motion. The process was formulated to ensure that none of the spices fly out of the mortar while you grind them… with the added benefit of being an extremely quiet one too! No annoyed neighbors because you decided to make some pesto for lunch!
7. The Gevi
A 2021 winner of the Red Dot Design Award, the Gevi rubbishes the notion that a coffee machine needs to look like a large, bulky, boxy appliance. The 2-in-1 coffee grinder and brewer are visually separated into their two parts. The appliance comes with a base platform that has its own dedicated weighing scale to help you weigh the beans before you add them to the grinder. The grinder comes with a bean hopper on the top to feed the beans in, while commercial-level 60mm flat steel burrs help create a consistent grind of your beans (while anti-static measures help prevent particles from sticking/clumping). The dose consistency from beans to powder of the appliance is around 0.2g.
8. Kara Pure
Meet Kara Pure, a water dispenser that basically turns air into drinking water. Designed by Cody Soodeen, Kara Pure wasn't created in a void — Soodeen grew up in a town where the drinking water was contaminated by a strain of bacteria that had health implications for the people who consumed it. Unfit drinking water isn't particularly rare nowadays, with groundwater tables either being infected/polluted or being entirely depleted due to overconsumption and a lack of accounting for climate change. While Kara Pure is clearly built keeping a pretty inevitable future in mind, it's important that Soodeen and other people like him perfect the technology now, rather than later.
9. Bev
To create different cocktails, Bev works on a disposable pod system quite similar to Keurig and Nespresso. Created in partnership with Bartesian, Black + Decker plans on releasing as many as 40 different beverage pods with pre-mixed juices, bitters, and syrups that just need to be popped into the appliance. Once a pod is loaded, you can select how intense you want your cocktail, and Bev does the rest, mixing the ingredients together and dispensing your final cocktail directly into a glass. The entire process takes all of 30 seconds, and yes, Bev even comes with a mocktail setting for people who don't drink.
10. GoodHome's Trash Bins
GoodHome's trash bins are comprised of three different sections that help make sorting trash simple. While each household can assign different types of waste for each bin, a typical household would allot one for recyclables, regular trash, and then food waste for compost. To provide enough storage capacity while maintaining a compact size, GoodHome merged those three different compartments to create a one-stop shop for all of your trash needs. The different modules can also be configured to meet your spatial needs. Each trash bin is made from stainless steel for a simple, modern look that's also impact-resistant to maximize the product's shelf life. Then, when it's time to take out the trash, users can lift the bin's internal container to gain access to the garbage bag's liner.