Prefabricated cabins and tiny homes have taken last year and the start of 2021 by storm. It seemed like nobody could say they hadn't found their dream tiny home after digging through rabbit holes of options. It makes sense. Tiny homes provide a quiet space for you to live out your dream mobile lifestyle, off-the-grid and if anything, these times have shown that you might as well take advantage of the options available. Aux box, a team of carpenters, contractors, and designers based in Vancouver produces prefabricated units for exactly that reason– to provide thoughtfully produced prefabricated units that cater to their customer's dream lifestyle, which otherwise wouldn't be fully realized within the confines of a cramped home office.
The team at aux box offers four different models of prefabricated units, each of which provides an array of functions– their most versatile being Model 240. Dubbed "the pinnacle aux box product for versatility in small living," Model 240 is comprised of two distinct rooms and a small outdoor patio area. Like the rest of their models, the team at aux box constructs Model 240's structure from pre-finished pine wood, which is then reinforced with pre-painted metal siding, enhancing the unit's durability and overall look. Thinking about even the smaller details, each aux box model comes with as few open crevices as possible so that residents can enjoy the beauty and peace of the space without worrying about any future cleanup job. In addition to the unit's clean corners and finished paint job, the Model 240 comes equipped with a hidden downspout, gutters and fasteners, a hidden hot water tank, vents and hoses, an electrical box on the outside of the building, no trim or baseboards, and no roof overhang.
Among other features, the Model 240 comes with engineered hardwood flooring, ample storage options, as well as large format glass doors. From the placement of the kitchen's transom windows to functional, staggered outlets, the team at aux box really put the love in the details. Born out of a desire to bring some excitement and a sense of calm to your backyard, the team at aux box has sophisticated minimalism down pat.
Designer: aux box
With a covered deck and two distinct rooms, aux box set out to take full advantage of the small space available.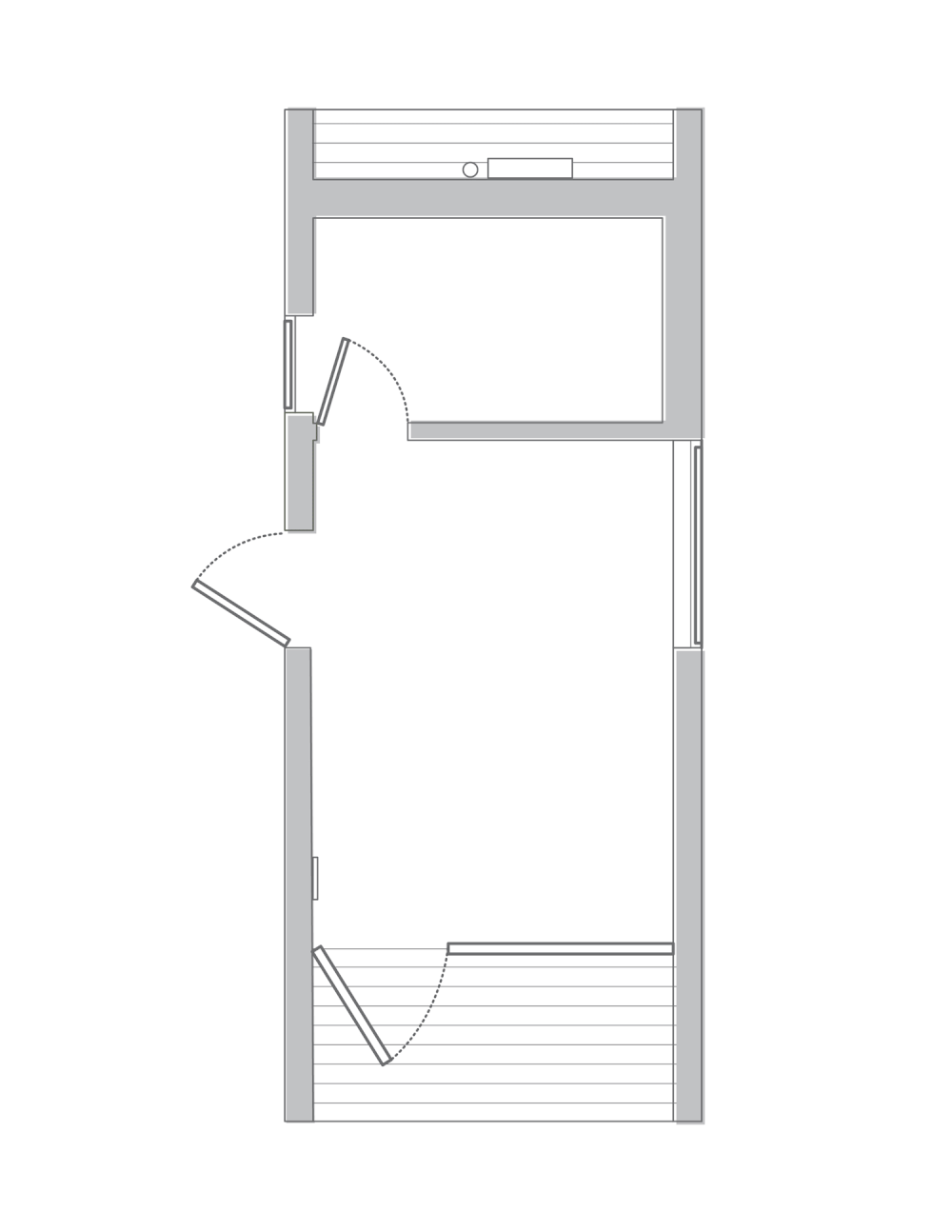 One prospective layout delineates two separate spaces for your kitchen and bedroom, while your bathroom remains accessible through a swinging door.
Another layout suggests that your living room be positioned right in front of the large-pane glass window, so that your bedroom can have its own space next to the bathroom.
One last layout allows residents to make optimal use of the space provided by Model 240, keeping bulky gym equipment out of the bedroom.
"We chose large format glass doors and strategically placed our windows to not only enhance your connection to nature but also provide ventilation and privacy when and where you need it."
With a staggering outlet, Model 240 residents are able to maximize the unit's available power.

The auxffice is aux box's entry-level home office – simple, functional, and designed for work-life balance.

The 106 is slightly larger than the auxffice, offering a more spacious workspace.
The 146 comes equipped with a covered patio attachment.