If you're one of those motivated souls who have some focused fitness goals to achieve this year – then you've reached the right place. However, if you're not a total gym rat, and don't enjoy hitting the gym every day, then a disciplined home workout regime may be the perfect solution for you. And to do so, you definitely need a great collection of exercise equipment to support your workout routine, and goals. This collection of exercise equipment will not only motivate you to work out in the comfort of your own home, but will also ensure you stick to your daily exercise routine in the future. From a clever and thoughtful home gym that merges with your living room to a rowing machine that uses a minimalistic and recyclable design – these innovative exercise equipment will prevent you from skipping leg day.
1. Tempo Move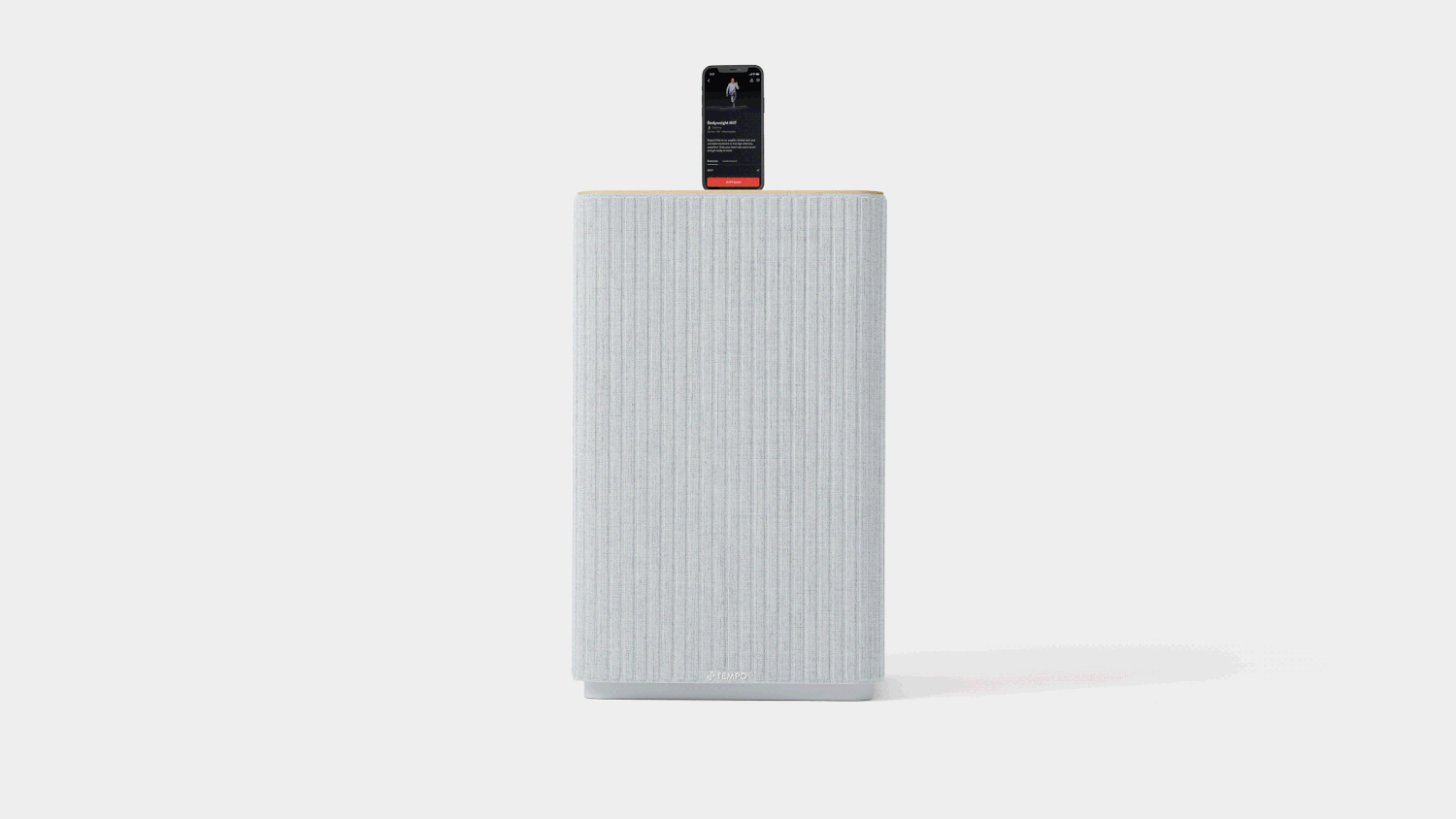 This compact home gym is more than just an exercise assistant. This fitness accessory is designed to stand next to your furniture in the living room and eliminate your runs to the store room for gymming. Tempo Move is a sublime blend of materials, colors, and finishes, which makes it a discrete piece of furniture to turn your living space into a home gym.
Why is it noteworthy?
The workout equipment goes behind the fabric cabinet while the top feature an iPhone dock compatible with iPhone XR and upward. With the unique combination of furniture and gym, Tempo Move connects to any large-screen TV to let you see your exercise routine and have the trainers coach you in real-time.
What we like
Unless you open the cabinet, anyone would mistake it for an elegant cabinet you'd bought from Wayfair
The neat-looking Tempo Move console houses within its cabinetry 16 weight plates, 4 weight collars, 2 dumbbells, and a heart rate monitor
What we dislike
 The design could be more interactive
No customizable elements
2. Denim-covered Gym Equipment
These pieces are already unique and distinctive on their own. After all, who would have dreamed up gym equipment covered in this blue fabric? A relatively soft DJ booth is also a bit ironic when you think about it, and a denim wall paneling almost makes you want to run into it for fun.
Why is it noteworthy?
Denim today has become a part of both everyday wear as well as the haute-couture world, but it also once symbolized the American dream. It has left an indelible mark on human culture, and this odd yet beautiful selection of furniture and products for the home honors that history while also emphasizing how much denim is part of everyday life, at home, at work, and work-from-home.
What we like
The use of denim is quite unique and intriguing
Makes a statement about the modern lifestyle
What we dislike
Seeing how working out can be a sweaty affair, we are not sure how easy it would be to maintain the denim covered equipments
3. Spin&Row
Aptly titled the 'Spin&Row', this award-winning gym-machine concept lets you work your cardio and legs while cycling, and your arms and core while rowing.
Why is it noteworthy?
Designed to offer people the best of both worlds, the Spin&Row was created during the pandemic when exercising at home was practically the only feasible option available to people. Moreover, its X-shaped folding design lets it easily occupy less floor space when shut, making it perfect for homes and apartments.
What we like
It enables the user to switch between fitness modes by adjusting the angle of the X structure
It fulfills multiple fitness functions in a small space
What we dislike
After folding, the product still looks like an gym equipment and may not look good with your interiors
4. The GYMO-FIT
Meet the GYMO-FIT concept motorbike that has the typical urban commuter vibes, and a sturdy exercise bike to keep fit. The uncertain times in the last couple of years have prompted people to go for home fitness setups – that's why exercise bikes have grown in popularity in recent times.
Why is it noteworthy?
This concept bike doubles as a two-wheeler at least and doesn't sit in a lonely corner in your living room, in case you give up on your fitness regime. It's a combination of an electric bike with aerobic and anaerobic fitness equipment. GYMO has three different modes when parked sturdily on the stand.
What we like
Functions as a two-wheeler and an exercise equipment
What we dislike
We're not sure if it's truly a viable option in the real world
5. Lora
Lora is a concept for an indoor rowing machine that is hoping to ease the boredom of working out while still giving you the aerobic workout that you need.
Why is it noteworthy?
It also wants to find the balance between humans and the environment by using plastic and aluminum that can eventually be recycled when the product reaches its end of life. To also help you not get that bored while working out, there is a stand to attach to your smartphone or small tablet so you can watch something else while working out.
What we like
It is able to bring together engineering structure and technology to come up with a machine that will help you burn fat and help lessen waste with its recyclable material
What we dislike
No method has been discussed to disassemble or fold the rower to make it a space-saving design
6. Peleton Vibe
Peloton Vibe caters to every sense and muscle from start to finish, it is truly a whole vibe. The bench has a unique multi-position arm that can be moved to work with a variety of exercises.
Why is it noteworthy?
The lower portion stores a set of dumbbells that help expand to a larger range of guided workouts by the Peloton App service. Once you complete your workout, the bench seat and arm surface seamlessly transform into a massage experience. It utilizes built-in massage balls that can rotate and heat up based on your preferences. At-home gym equipment AND at-home spa? I would work out more often simply so I can make the most of the heated massage feature.
What we like
Has a unique multi-position arm that can be moved to work with a variety of exercises
Peloton Vibe also doubles up as flexible home furniture
What we dislike
7. Bownce
Bownce is a small ball that can get you perspiring and training your muscle groups with the help of technology. It calls itself "the first IoT ball of its kind".
Why is it noteworthy?
It is small enough and easy to install that you can bring it with you to the office, outside in your backyard, or wherever room/space in your house you feel most comfortable. It's also small enough that it's not that intimidating, especially for newbies like me that want to start punching things.
What we like
What makes it different from other workout balls, aside from its size, is that it has integrated electric components so you'll be able to track your performance
The app that you connect to the device logs your punches when you work out and gives you real-time statistics
What we dislike
Not sure on how it can replicate the physical feel of a punching bag
8. AROUND
This concept for a spinning bike called AROUND tries to have a softer look as compared to those super serious exercise bikes you see in gyms. The light gray color makes it more approachable and the flywheel body design makes it ideal to have at home, as part of your living room furniture, or even in your bedroom. The mood board for their design concept includes mollusks and portable water purifiers as well as other previous designs from Yifeeling.
Why is it noteworthy?
This exercise bike also has a tuyere-like design instead of just the regular faucet handle seen on exercise machines so you get a bit of breeze while you're spinning. This should be able to simulate the air flowing through you at least if you're biking outdoors. There's a small monitor in the handle so you can watch something while biking as some find it a bit boring to just cycle indoors.
What we like
The tuyere-like design allows you to get a bit of breeze while spinning
Soft aesthetics
What we dislike
The seat looks pretty uncomfortable
9. Gymera
Gymera revolutionizes home fitness by providing a more enjoyable exercise system that fits right in your home. It even folds up to serve as a full-body mirror that adds a beautiful accent to your home!
Why is it noteworthy?
Gameful design has long been a successful strategy in many industries, and Gymera applies it to fitness to make your reps more engaging and memorable. Whether you're driving a race car, rowing a boat, or playing tug of war with a Gymera friend, the interactive puts a whole new layer of experience into your workouts. The smart home gym machine is equipped with a variety of sensors and a vivid 27-inch 4K touch screen that helps immerse you in that virtual world to the point that you might even forget you're actually sweating it out at home.
What we like
The 5MP camera easily lets you and your friends enjoy a Facetime workout together even when you're far apart
Gymera's AI system can analyze your posture in real time and give you feedback on your form
What we dislike
10. Boom
Designed by Shuxian Hong, Boom is a smart boxing bag meant to bring the workout experience to your home. It integrates a punching bag, a smart speaker, and interactive illumination technology into a streamlined boxing experience, designed specifically for your home.
Why is it noteworthy?
When not being used to actually box, Boom can function as a home speaker, that perfectly merges with the rest of your living space. You can pair it up with your TV or other smart devices, and activate it via Siri or Alexa, through a simple command. When you use Boom to box, the interactive lighting system starts up! Lighting elements, lively music, and voice instructions create a truly interactive and engaging boxing experience.
What we like
Functions as exercise equipment, and a speaker
What we dislike
It's not a real tangible product yet!