Before the pandemic took place, cooking was a chore I completely avoided! But now, I honestly find it quite therapeutic! The pandemic, and all the free time that came along with it, somehow awakened my inner chef! I'm sure a lot of other inner chefs were brought to life as well. Especially with the right kitchen tools and appliances, cooking can be a fun and effortless process. The right products can reduce your prep time in half, make the little cooking tasks much easier, and help you with tedious and complicated techniques. This collection of kitchen appliances promises to transform cooking from a Herculean feat to an approachable and enjoyable process! Let your inner chef take over with the help of these innovative and nifty designs!
1. Carnerie
Turner designed Carnerie – a conceptual device that will let you grow your own meat in the future! Cultured meat is the process of growing meat from cells extracted from animals. Many experts believe that cultured meat offers us the opportunity to produce meat with significantly reduced environmental impacts and without slaughtering animals. The technology is being rapidly developed across the world and is beginning to be introduced to some high-end restaurants but there has been discussion about whether one day we may be able to grow our own meat from animal cells in our own kitchens. Carnerie is a 'grow your own meat' device for around twenty years in the future. It is controlled by an app, whereby the user is able to order cell capsules from local farms in order to grow a variety of different types of meat. This conceptual, speculative project is designed to help us visualize what this future scenario could be like and whether it's a future that we would buy into.
2. The Gevi
In about the same number of steps it takes you to make coffee from a Nespresso or Keurig, the Gevi gives you a cup of coffee that's brewed directly from freshly-ground beans… and it all lies in the appliance's sleek, 2-in-1 design. At first glance, the Gevi doesn't look like your conventional 2-in-1 coffee maker. Those are much bulkier, and look industrial, while Gevi has a sleek, slim appearance to it. On the inside, however, the Gevi can both grind as well as brew your coffee beans… and it can weigh the beans out beforehand too, resulting in a well-calibrated brew that's just right.
3. Groundfridge
Cellars have been used across the ages to store food or even act like bunker houses in case of natural disasters. Groundfridge takes that design one step further by adding fresh food refrigeration to the game. The trick used by Groundfridge is by utilizing the natural insulating capacity of the ground and the cooler night air temperatures. The balance of this design allows you to store your vegetables, fruits, cheese, and even wine throughout the year. Ventilating this project uses a fan with a timer that replenishes the cool air during the night. Too hot for comfort? An additional cooler can be used to power it during the hottest summer days. "The Groundfridge is dug in and covered with the excavated soil from its new location. This covering layer of soil is about 1 meter thick and has good insulating properties for the core temperature within the Groundfridge to barely vary. Furthermore, your Groundfridge is fitted with a ventilator."
4. Cook Nook
Non-electric toaster and oven combos have struck their brilliance with the outdoorsy, the gas-powered Cook Nook presents an added advantage with a stove. There is so much one can do with the non-electric toaster, stove, and oven combo. It can be used for making toasts, roasting chicken, baking cake and even preparing a meal when electricity isn't a luxury. So, when stepping into the wilderness, a portable and lightweight gas-operated toaster, oven, the stove is the icing on the cake since it opens up possibilities for a great treat for a large family or friends gathering with the choice of pizzas, cookies, and other delicious.
5. The B Point
That plastic kettle sitting on our kitchen counter probably looks like something from a time capsule compared to all the other appliances that have gotten design makeovers. Finally, it is the kettle's turn and the B POINT shows it all off. It features a touch interface that instantly gets the appliance up to speed with others and lets the user form a more organic connection with it. The circular display has two rings – the outer ring shows the temperature and the inner ring shows the water level inside. Countdown starts after setting the water temperature and will beep once it is ready! The choice of CMF really elevates the simple appliance into an aesthetic product that you can display proudly on your kitchen counter.
6. Decker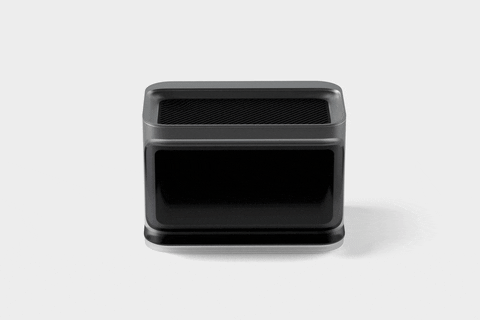 Decker is an all-electric appliance so grilling on it is devoid of fossil fuels like coal. It creates a smokeless experience which is perfect for an urban kitchen or a balcony. Young millennials and Gen Z have little access to the experience of cooking food on a grill. Using a BBQ grill indoors only creates a fire hazard but most living quarters don't allow them because of the smoke and soot which can be bothersome in cities where people are often living too close to one another. The team elaborates, "We created a clear yet functional UI that displays options as and when the functionalities are selected. The display screen is a hi-definition OLED display that is touch-sensitive with multi-touch as well as provides haptic feedback to the option selected.
7. MY Idra Bottle
The bottle's clever design focuses on three really important elements/innovations. For starters, the MY Idra bottle is entirely plastics-free and is designed to last forever even with constant use. On the outside, the MY Idra comes with a double-layered stainless steel and glass construction. The 18/8 stainless steel enclosure houses the unpurified water, which trickles through the MY Idra's filter, dripping gradually into and filling up the transparent glass cup below. The second and most noteworthy bit of innovation lies in MY Idra's filter, a unique, everlasting little porous ceramic puck that can both filter as well as mineralize the water.
8. The ONE BRUSH
Designed to look less like something you'd pick up from Target and more like a design-driven object from Alessi, the ONE BRUSH conveniently combines modern aesthetics with research-driven functionality and adds a dash of sustainable thinking. The brush sports a thick, well-weighted design that looks less plastic and more premium, as it sits magnetically attached to the side of your kitchen sink. The ergonomic grip makes it comfortable to hold, while the tilted bristles give you the right gripping angle to easily soap and scrub your dishes.
9. Lapitec Chef
The induction cooking system is seamless and very easy to operate. All you have to do is place the Lapitec Chef silicone mat on your worktop to activate the touch controls and switch on the system. The mat is key, without it the induction unit and controls will be inactive and the worktop is like any other kitchen counter only distinguished only by small engravings that align with the mat's controls. Lapitec Chef allows for easy cleaning and storage so the counter can be used for other activities like preparing food, plating dishes, and hosting social occasions. Interestingly, Lapitec is a 100% sintered stone and it is also non-porous, non-absorbent as well as resistant to chemicals which makes it ideal for both indoor and outdoor kitchens. You can choose to have either two or four cooking rings for your induction system.
10. Magnetic Kitchen Countertop
In small studio apartments, the kitchen unintentionally becomes the center of attention due to this and the magnetic kitchen proposed by Juliana sets things right in the most subtle way. The one square meter magnetic panel seen here is fixed to the wall and acts as the base for the compact countertop that has a cutting board that doubles as a folding sink (or vice versa) and of course the magnetic properties to keep all the utensils in place. The sink can be concealed from plain sight to increase the kitchen's working space and used as a cutting board for random use. Anything that sticks to a magnet can be put up on the vertical section – things like spoons, forks, pans, induction cooktop, oven, or custom-made shelves which further hold the plates and other non-magnetic objects.