Inspiration for design hits when you least expect it. Could happen when you're binge-watching your favorite show on Netflix and it could happen as you're tirelessly flipping through old art books itching for an idea to hit. For Timo Riemann, a Germany-based design graduate, inspiration seemed to have hit while he was busy watching a traffic cone across the street from where his school lecture was taking place. Envisioning the blueprint for a traffic cone that could unfurl into a stool, Riemann developed Pylon, a convertible stool that doubles as a piece of interior artwork and also saves space in the living room.
At first glance, the Pylon appears as an ordinary traffic cone. Brass hinges line the circumference of the cone's round base and hint at the traffic cone's secondary form. By unlocking one of the brass clasps along the base's outer edge, the traffic cone unfolds and inversely furls back together to form a stool, complete with four-pointed legs. Described as a "cross-section between art and design," Riemann's traffic cone stool has a certain industrial appeal – the ideal interior furniture piece for a warehouse turned art studio. Pylon was constructed from laminated fiberglass, fiberglass-reinforced polyamide, as well as a collection of molds that harden Pylon into its full shape. In addition to its fiberglass structure, the brass locks and hinges that line Pylon's base each were made one-of-a-kind to streamline Pylon's metamorphosis from traffic cone to office stool.
Initially thought of by Riemann as a last-minute idea for a class assignment, Pylon's blueprint practically opened itself up to Riemann before he hit the workshop to begin the stool's construction. Stackable and versatile in purpose and design, Pylon is an exciting piece of furniture for the design enthusiast in each of us.
Designer: Timo Riemann
By simply unlatching one of the cone's metal clasps, Pylon then unfolds to inversely connect once more, turning it into a stool.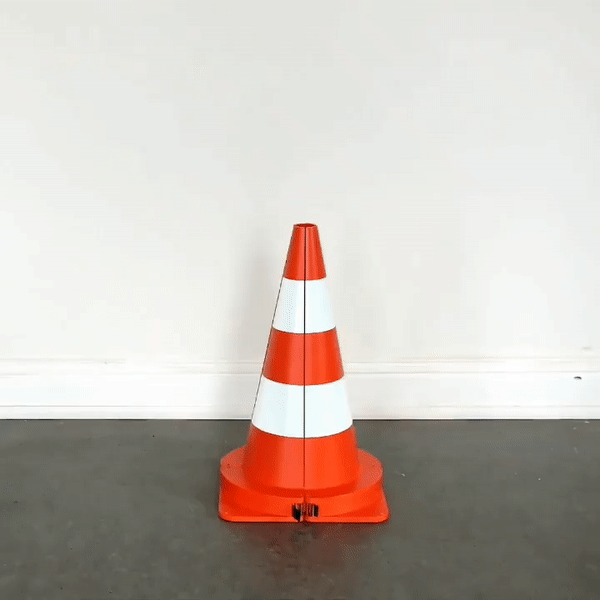 One-of-a-kind metal clasps and brass hinges were integrated into Pylon's base to ensure a seamless transition.
The Pylon stool morphs from traffic cone to office stool simply by inverted its structure and flipping it upside down.
Pylon was constructed from laminated fiberglass, fiberglass-reinforced polyamide, and a series of molds.