Do you realize its only 4 months to go before 2020 comes to an end? We know time flies, but this year has shaken up our lives like a snowglobe and the loose pieces of it are still falling into place. Its been 6 months since WHO declared COVID as a pandemic and the design world has geared up to save the world – from PPE, wearable face mask designs, adaptable ventilators to even portable ICU units – all these devices are intended to keep the world and you safe. While we all are responsibly using a mask to save lives as the world comes back to its feet, we bring you the best of face mask designs to help you make a smarter choice. The technology behind face masks has dramatically increased and its time to make an informed choice of the latest EDC that you need. After all, what is Batman without his equipment?!
Michael Soleo created a stylized, 3M-inspired version of the original face mask by Ashley Lawrence that allows those who are hearing impaired to still read lips! Everyone is equally affected by the crisis and what is now the new normal for us might be severely distressing for the differently-abled. Inclusive design is now more important than ever. Masks have become a global icon for COVID-19 and we are glad someone stopped to think "Okay, but how will people who rely on reading lips communicate for the next 6 months?" – it's the little things, the simple designs that can have a deep impact.
https://www.kickstarter.com/projects/umsystems/uvmask-inactivate-9999-of-all-pathogens-and-air-pollutants/
We're only half-way through 2020 and it seems like the virus still has tricks up its sleeve. With multiple scientists presenting evidence to WHO that the COVID-19 virus isn't particulate-borne but rather is an airborne virus (which makes it much more difficult to deal with), it's time our masks did more than just trapping particles. The UV Mask, unlike your conventional N95, doesn't just trap microorganisms… it neutralizes them too, breaking down the genetic materials of coronavirus in milliseconds. Designed by UM Systems, the UV Mask comes with a dual filtration system that delivers the cleanest air quality of any existing face-mask. A preliminary replaceable N95 filter blocks 95% of particles like dust, dirt, debris, up to 0.3 microns. Microorganisms smaller than 0.3 microns then enter the UV-C Sterile Vortex, a helix-shaped filter that blasts microorganisms with UV-C light to destroy 99.9% of the remaining 5% on a DNA level, to give you air that isn't just clean, it's medical-grade, sterile-clean, bringing total filtration efficiency to 99.99%.
The LMP S2 is the product of a new normal, where masks may just be as common as wearing shades because it's sunny out. Mark Austen's LMP S2 improves on the N95 by ditching the fabric construction for silicone, which isn't just comfortable, it's easier to clean and is food-grade. Making the entire mask from silicone ensures a perfect, practically air-tight fit every time, while the soft elastomeric material is much easier on the skin, allowing you to wear the mask for longer without feeling any discomfort. The LMP S2's silicone body takes the shape of faces, ensuring a universal fit, while an internal frame keeps the mask's shape intact, so it doesn't buckle and collapse every time you inhale. Fitted onto the front of the LMP S2 are a layered N99 and activated carbon filter that allows you to easily inhale 99% fresh air with every breath you take. The mask even features a dual-valve setup on each side that doubles the amount of air flowing into and out of the mask, effectively preventing the humidity in your breath from getting trapped inside the mask, keeping you fresh at all times. The result is a mask that looks, feels, and performs better than an N95.
Have you touched your face yet? I almost did… twice, and while that habit is a difficult one to break, Henry Kwak's the Blocc makes it easier to do so while being able to go about your day. Think of the Blocc as a helmet visor sans the helmet. Made from scratch-resistant fog-resistant clear polycarbonate, the Blocc is as easy (and as comfortable) as wearing a pair of specs. Two temple-stems suspend the Blocc by your ears while a nose-bridge allows the visor to rest comfortably against your nose, and roughly an inch away from your face. The Blocc's material choice makes it practically perfect for a face shield. Made from the same polymer as actual helmet visors (even the ones found in riot gear use PolyCarbonate), the Blocc is perfectly clear, allowing you to see through it with ease, while its resilient physical property prevents it from getting any scratches or scuffs by accident. It sits like an invisible force-field around your face, acting as a constant reminder to not scratch your eye or dig your nose or do anything that would be deemed just plain unhygienic or nasty.
RespoLab's innovation lies in its use of a pleated and curved H13 HEPA filter, that covers your entire mouth. It sort of looks like the pleated, zigzag cabin air filters you see inside cars and air-conditioning systems. In both those cases, the job is pretty simple… to constantly filter air while easily trapping all sorts of microparticles into its pleats/folds. The filter exceeds the N99 standards, trapping even the finest particulate matter including viruses, allergens, pollen, and bacteria to deliver 99.97% clean air to your nose and mouth. The mask comes with a modular, multi-part design featuring an external plastic cover made from recycled ABS, and an oronasal mask made from TPE/TPU that provides the perfect seal around your face in a way that feels comfortable. The RespoLab's design is engineered to control the airflow so that the inside of your mask never gets hot or humid, and the presence of a large filter makes sure you're never struggling to be heard. The geometry of the filter allows sound waves to propagate and transmit through the mask more readily, further improving usability.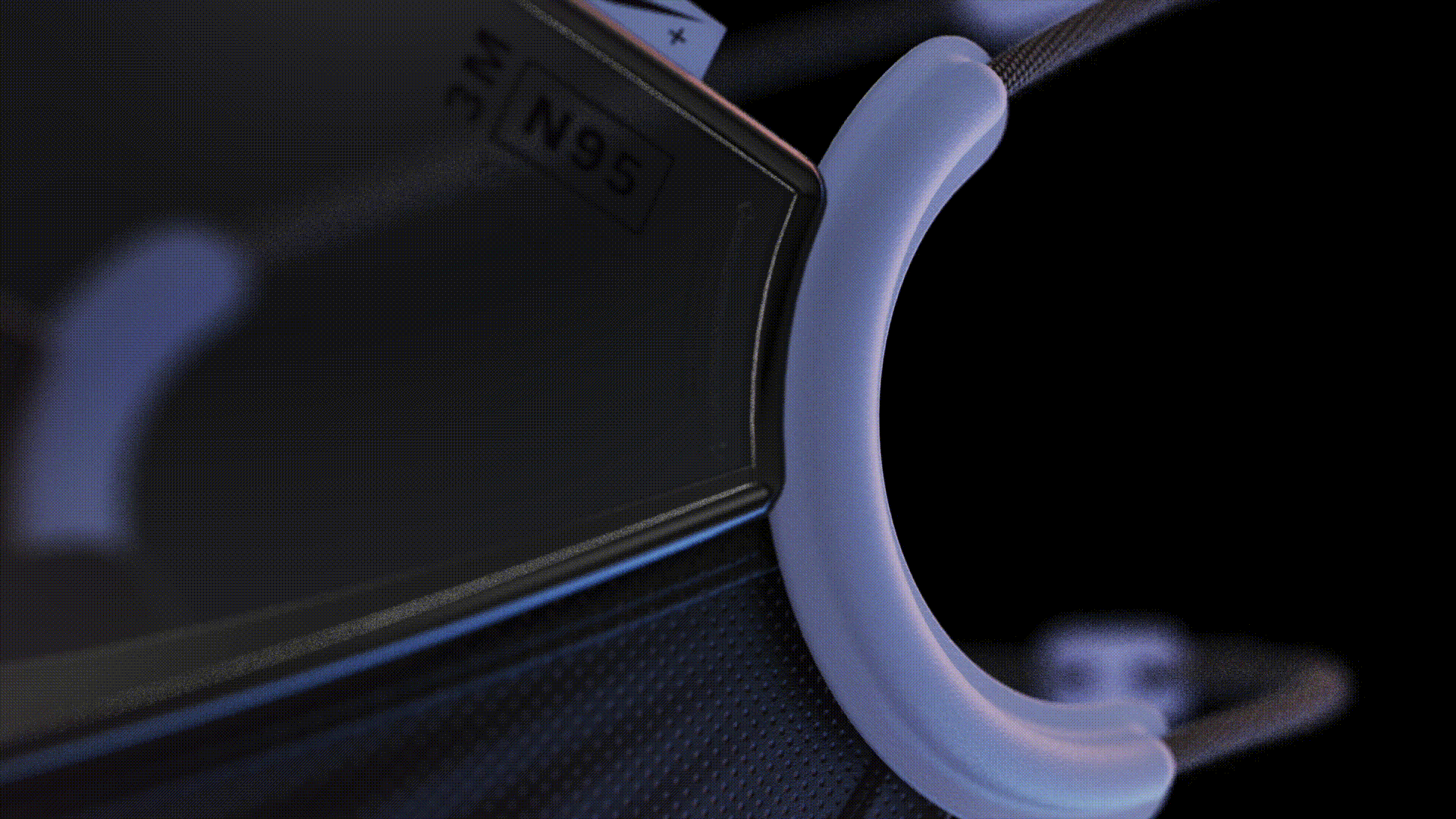 The Gādo mask doubles up as a face shield so that no bacteria enters your eye and comes with an accessory-like sanitizer so you won't have to search your bags or have an oddly-shaped pocket. Designer Fulden Dehneli calls the mask Gādo (ガード) and the sanitizer Ken (剣) because she views these as complementary products that will become necessities in a post-pandemic world. Gādo means 'guard' and Ken means 'sword' in Japanese which is such a poetic way to describe tools – they guard us and kill the germs! Gādo and Ken were specifically designed for seamless integration into our lives. Gādo combines the benefits of a mask and a face shield with a simple sliding mechanism- a folded textile structure hidden under the shield which enlarges when the shield is slid up. This way you don't have to constantly wear the traditionally obtrusive face shield but can 'guard up' if you're among people and can't maintain distance. Along with head straps that ensure comfort and fit, it also keeps the mouth visible to keep the window of human expression open, something we crave so deeply and will not take for granted when this ends. Ken is a sanitizer spray bottle that is ergonomically designed to be more portable and accessible than its predecessors.
Inspired by the AIRPOP pollution masks, designer Oliver Perretta has created this trendy multifunctional mask. With usability being the keystone of any design, the mask not only filters the air but also acts as an air quality monitor! The quality monitor accurately transmits data to your smartphone, helping you be aware and keep yourself safe – whether you are navigating indoors or keeping yourself safe outdoors.
The age-old adage stands true in these times – Time and Tide wait for none. So while we think our world has come to a screeching halt, the fact is that seasons have changed and summer is upon us. Studio Atelier I+N understands this and created this combination of mask and shades for a unique initiative by HyperAktiv titled 'Bring your own Mask'. This mask is titled Summer Wave and the designers believe that if we have to go through wave#2 of COVID, at least let there be sunny days!
 The idea for a DIY hack came to Paseman around the time when the country was facing a severe shortage of N95 masks, forcing doctors and nurses to wear readily available loosely-fitted surgical masks. Paseman first tried scouting her area for N95 masks, hoping to donate them to medical facilities, and when she couldn't find any N95 masks available in her vicinity, she decided to create a life-saving lifehack to make standard surgical masks more functional by ensuring a tighter seal/fit. The solution? A simple DIY seal that closes all air gaps around your nose and mouth so there's no air leakage anywhere caused by a loosely fitted mask. Paseman and Duong's first iteration of the Fix The Mask solution involved the MacGyverian use of a handful of rubber bands that could be strung together to create a tight brace to secure the mask's fit. A few iterations later, the two developed a more robust solution by cutting into rubber sheets to create a better, more effective harness. The harness design is available on the Fix The Mask website as a free resource, to allow health professionals and regular citizens to get the most out of their face-gear while remaining safe from the virus.
Designed by Japan-based Donut Robotics, the C-Face mask is a universal mask-cover that fits on top of your standard face mask. Switch it on, and the C-Face mask connects to your smartphone, giving you a wide variety of smart features. Not only does it enable you to answer calls and talk to people without holding your phone's mouthpiece near your mouth, it auto converts speech to text, allowing you to reply to messages, verbally type out emails, or ask your smartphone's voice AI queries without having to take off your mask and talk to it. Currently, the C-Face even possesses the ability to translate between Japanese and 8 other languages, but multi-language support is merely an app update away! The voice-to-text feature even means less unnecessary touching of your smartphone's screen to type out messages. Just say what you need and the dedicated app converts speech into text that you can copy and paste in messages, chat boxes, or mail drafts. The app even possesses the ability to auto-translate between a total of 9 languages, allowing you to seamlessly communicate with people regardless of language barriers. It's almost as if the C-Face gives you the ability to speak in multiple dialects!
The Cannula mask by BDCI avoids this problem with its reinforcing endoskeleton. A thin plastic grille, this skeleton gives the mask its defining structure, preventing it from pressing against your face the same way a hanger prevents clothes from getting crushed by retaining its shape. Designed to be worn by people with respiratory difficulties, the endoskeleton even comes with a hollow spine that allows you to plug a nasal cannula to it, letting you direct fresh oxygen right to the wearer's nose; effectively allowing them to inhale and exhale freely without worrying about a flimsy mask smothering them every time they try to breathe.
Whether you choose to wear a mask or not impacts not just your health – but those susceptible around you who trust you to take care of them. So the next time you don a mask, feel proud that you are helping those in need around you! Want to look at some more mask designs, check out the first and second parts of this series for inspiration.