We drink most of our favorite drinks in porcelain/ceramic. Tea, coffee, hot chocolate. They all taste better out of a good old ceramic mug or cup, don't they? Ceramic has been favored for years for being good at retaining a drink's temperature for longer, while remaining inert enough to not alter its taste. Their non-porous nature also makes them ridiculously easy to clean too… so here's my question. Why are most thermoses and flasks made out of metal instead?
Metal flasks may be easy to mass-manufacture but storing drinks (especially mildly acidic ones) in metal containers can often alter their taste. It's basically the same reason why you never drink wine out of a stainless-steel glass… and that should ideally extend to your coffee and tea too. Designed around that very distinction, Kokoro's thermal flasks come with a porcelain interior, mirroring the very aspects of your at-home drinkware in a closed tumbler that's easy to carry around with you. Unlike most flasks with chrome-plated metal inner vessels, Kokoro's interior is made entirely from kaolin-clay-based porcelain. The inert material holds all sorts of beverages without altering their chemical composition. Porcelain clay can withstand extreme temperatures without expanding or contracting like metal, and most importantly, porcelain is incredibly easy to clean under running water, given how microscopic its pores are. That also means the Kokoro flask will never end up smelling like chicken soup because of that one time you decided to drink it out of a travel thermos.
The flask comes with a stainless-steel outer body that's resistant to damage but fitted on the inside is the porcelain inner-vessel using a BPA-free fastener. This means you can easily clean the porcelain vessel or even replace it if something were to ever happen to your flask. The high-quality porcelain's physical properties make it perfect for any sort of beverage – it keeps drinks hot for over 8 hours, and cold for a full 12 hours. Designed sustainably, the Kokoro flasks are assembled using physical fixtures (there's zero glue used in the process) and can be unassembled and reassembled if you ever want to replace parts or clean the entire flask top to bottom. Each flask comes with an air-tight lid that uses a silicone gasket to seal the flask and an integrated handle to carry it around, along with a detachable porcelain strainer that lets you brew tea right within the thermal or infuse fruits into your water. The Kokoro is available across two sizes, a regular (440ml) and a large (550ml), and sports a variety of colors, including some pretty nifty looking print variants… perfect for a summer day, whether it's indoors or out!
Designer: Joanna Christie Lie
Click Here to Buy Now: $42 $84 (50% off).
Kokoro – Porcelain Thermal Flask
The Kokoro is a stain and smell free thermal flask. With an interior made of replaceable 100% Fine Porcelain, keeping beverages hot or cold for over 8 hours.
Suitable for All Kinds of Beverages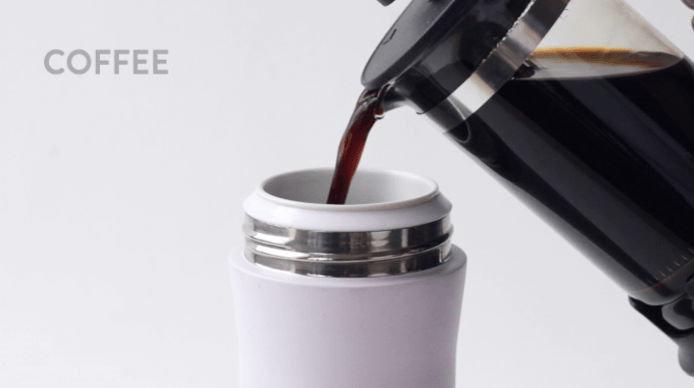 Some beverages are not suitable to be placed in stainless steel flask. Common issues are metallic taste, change of smell or aroma of beverages and metal leaching.
Stainless steel thermal flask can leach chemical to acidic beverages, and will stain when used for long period of time. Iron, chromium and nickel were all found to leach into both alkaline and acidic foods and beverages such as coffee, tea, citrus juice, milk and many more. However, with porcelain interior, the Kokoro is 100% BPA Free and free from metal, chemical leachings.
Porcelain preserves your beverages authentic taste.
Naturally Easy to Clean
Porcelain are made from kaolin clay and fired at temperatures as high as 2,600°F. This makes porcelain pores extremely fine, making it easy to clean and prevent any stain and smell to linger on it.
Say Goodbye to Coffee Stains
What is the main difference between porcelain and ceramic? The difference is the size of surface pores. Ceramic has relatively larger pores compared to porcelain, resulting in stain might still occur in common ceramic. Which will not happen in porcelain.
No Peeling Off
Ceramic coatings is only a coating, it might peel off and having the risk of peel off residues to be consumed. The Kokoro interior is made of 100% Solid Fine Porcelain.
Replaceable Porcelain Interior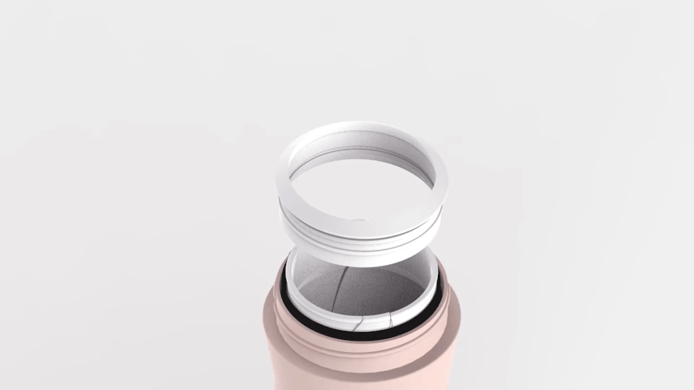 In addition of all, if something unfortunate happened and the porcelain is damaged, it is replaceable. Making Kokoro the most sustainable porcelain thermal flask.
100% Chemical Free
Using their Japan patented unique construction design, Kokoro's assembly method is free from any chemical and metal leaching.
Integrated Porcelain Strainer
Kokoro's porcelain tea strainer design allows users to drink tea without the mess. It is suitable to be used for loose tea as well.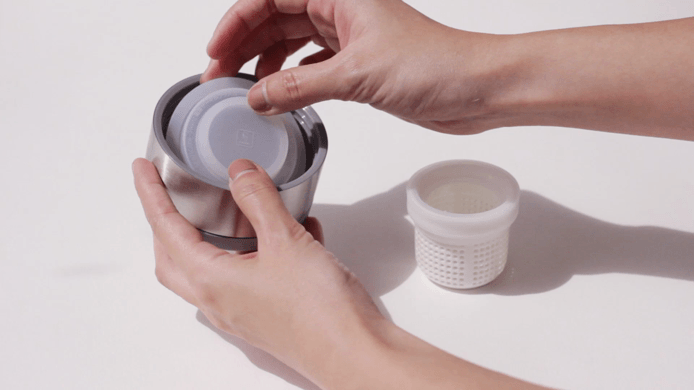 Built-in Handle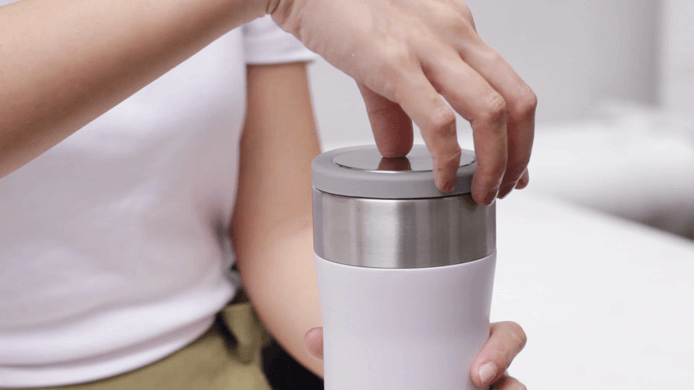 It comes with a built-in handle. Making it easy to be carried and mobile.
Leak Proof Silicone Cover
Made of 100% baby safe silicone material. Able to withstand heat for up to 237°F / 113°C.
Double Wall Insulation
Kokoro's exterior is made out of 304 high-grade stainless steel with double wall insulation feature. It is able to keep your beverages hot for up to 8 hours and cold for up to 12 hours.
Durable Exterior Finishing
Kokoro's exterior is extra durable with its stone finishing.
Click Here to Buy Now: $42 $84 (50% off).