If there's something that the pandemic taught us it's that health truly is wealth! We cannot take our health and well-being for granted, and a mindset of preparedness and precaution is extremely integral during such times. The medical industry has been making leaps and jumps in its innovations, to ensure such a brutal pandemic doesn't occur again. Designers have been coming up with new and improved, life-saving medical designs that not only boost medical care but relieve some of the pressure from our tireless medical force. From an award-winning inflatable stretcher design to a self-driving wheelchair – these designs tackle a variety of problems in the health and medical field. They're a boon to modern healthcare and a reminder that we cannot take our health for granted any longer!
1. The Inflatable Stretcher
The Inflatable Stretcher by Yu-Hsin Wu, a student at Taiwan's Shih Chien University, provides a new and improved version of the stretcher, ensuring that patients are transported in a safer and more securer manner from the site of the accident to a hospital. Like wrapping someone in bubble wrap, the Inflatable Stretcher cushions patients and even secures them with its unique design. Besides, it even comes with its own first-aid kit to help treat injuries that require immediate attention.
2. The AC1 Boot
Designed by Brooklyn-based mischief-makers MSCHF, the AC1 boot, makes rehabilitation from a foot injury lighter and more fun. A removable water-resistant inner neoprene sock liner helps maintain an element of realism. This flexible molded rubber Aircast boot is differentiated from a real medical boot by the presence of the branding logo on all sides. To keep the hip-hop shoe comfortable for all-day use, MSCHF has loaded it with the patented Wowcomfy tech cushions for the underfoot and high-traction outsole.
3. Airy
Airy is a lightweight, comfortable, fashionable, and sustainable brace designed to correct the lateral curvature of the spine. The designer actually created this after talking with a group of adolescent girls, which is the demographic most affected by scoliosis. She wanted to create a revamped version of the current back braces available in the market, and in turn created a brace that not only solves a lot of the pain points of the preexisting ones, but is also comfortable, and adjusts to the growing bodies of its users.
4. CHD-4
Congenital heart disease is a common birth defect, that not a lot of us are aware about. To inspire and generate awareness about this disease, which affects close to 400,000 kids in the US alone each year, designer Love Hultén – reckoned for his handmade audio-visual art and works in music tech – in collaboration with Teenage Engineering has revealed the drum machine with congenital heart disease. The project has been prepared for World Heart's Day 2022 and would be auctioned on Valentine's Day next year. Referenced as CHD–4, the drum machine is a functional, modular synthesizer of sorts that produces rhythms made using echocardiograms (ECGs) of four different children suffering from varying forms of heart diseases.
5. Kubota's Eyeglasses
Japanese pharmaceutical startup Kubota designed special eyeglasses that can improve or even cure Myopia. Kubota's wearable design has been amped with an array of nano projectors, which project light at the wearer's retina in a specific pattern, to cause blurring at short distances, in turn forcing them to look further away. This helps the eyeball to morph back into its original shape and allows one's vision to return to normal. You're supposed to wear the glasses for a couple of hours a day, usually when you're simply relaxing or unwinding in the comfort of your home. These groundbreaking glasses could cure Myopia once and for all!
6. Cobi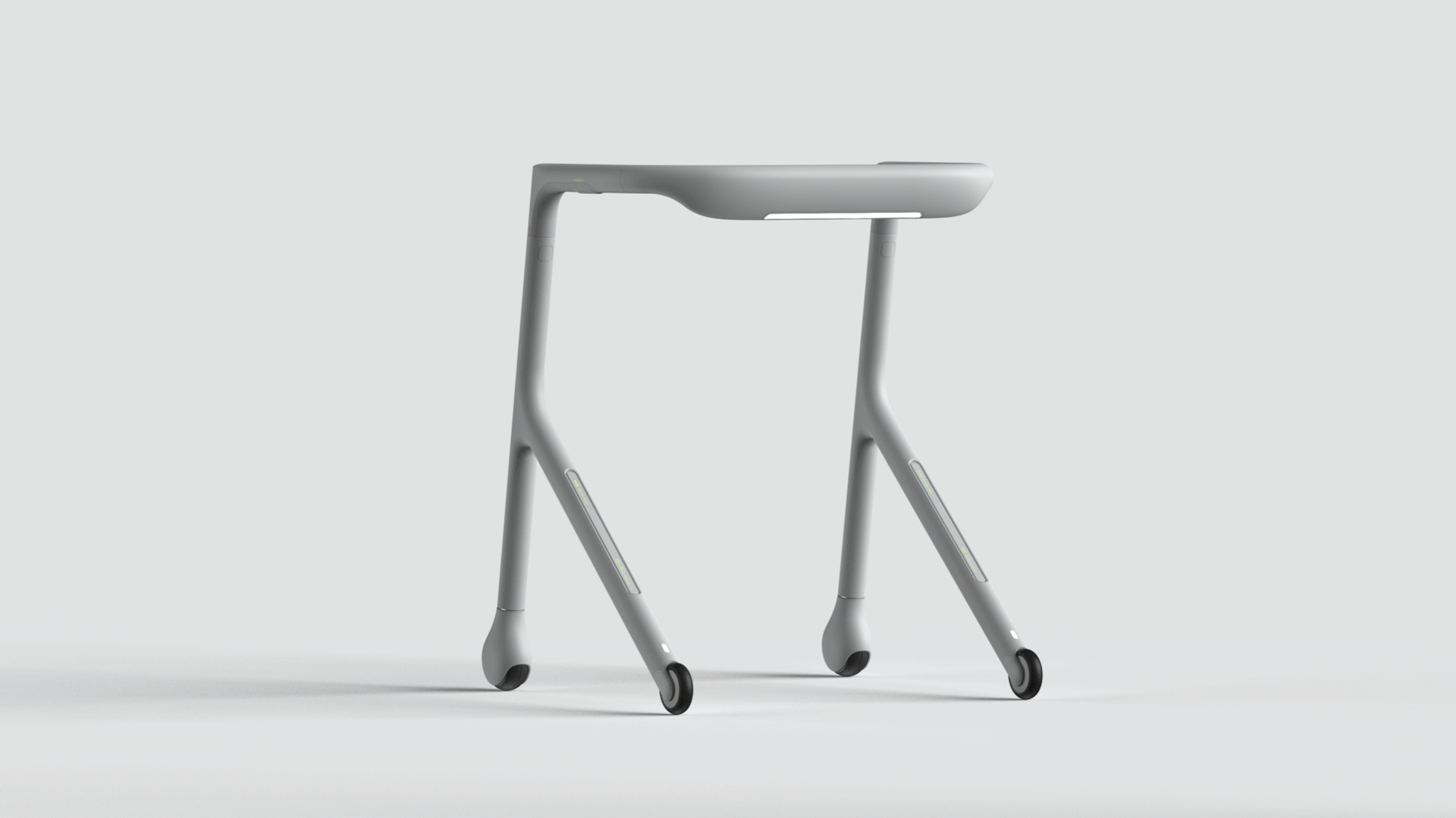 Cobi, a means of personal mobility for seniors, is designed one, to positively impact an aged person's attitude toward life, two, to change the society's outlook toward the aged population which is considered a liability especially when free mobility becomes a task for them. With something like the matte-finished Cobi, the aged generation will lead a better, less dependent, mobile life; it's a given! To earn such credibility, the accessory is meticulously created in two individual parts: a walker and a mobility device, which combine to form one state-of-the-art wheelchair. Even more exciting; Cobi runs without human intervention.
7. Uray
Uray is a urine analysis device, but one that looks more approachable and also less embarrassing to look at! It almost looks like a liquid soap dispenser, if it were attached to a wall. It definitely looks appealing and friendly! If you don't have to take it out of storage every time you need to use it, you are more likely to actually use it and test your urine for potential health problems. The colored lower portion not only makes it look more interesting but also leaves room for manufacturer customization.
8. The Multi Scoop Pro
The Multi Scoop Pro is called so, because it allows medical professionals to scoop up patients, instead of lifting them and then placing them on a stretcher. It splits open laterally, so you can position it on either side of the patient. When the two halves are united once again, you can scoop the patient onto the stretcher, which can then be lifted and moved to the closest ambulance. For patients with less serious injuries, the Multi Scoop Pro can simply be folded into a wheelchair, allowing a single medic to transport them while they're comfortably seated.
9. The Medicine Delivery Drone
Although designed for urban setups, the Medicine Delivery Drone's main focus is on urban residents who cannot step out on their own to buy medicines. The drone, designed specifically for carrying pills, can travel between a pharmacy and a residence, dropping off life-saving medicines without any effort on the part of the patient. The drone was designed as a response to the strict Zero Covid policy instituted in China, where lockdowns are imposed to help curb the virus, often affecting the ability of people with serious ailments to step out and buy medicines. In such situations, the drone does the job for them, fulfilling prescription requirements by shuttling between nearby pharmacies and the recipients.
10. Gelassette
Called Gelassette, this prototype is a COVID-19 test that is much more sustainable than the current ones being used! This new prototype uses no plastic with the positive characteristics needed to be mimicked by gelatin. This material is already utilized in other medical technology and is a fully biodegradable material. With this material, you get 4 weeks of soil biodegradability and less than 3 hours of water dispersibility.