PolyBloc is a prefabricated, modular housing solution designed to confront the demands of rapid urbanization and globalized lifestyles.
As the ways we work and live evolve, so do the ways we confront architecture. In direct response to rapid urbanization and the fall of the nuclear family, city architecture, in particular, is seeing major changes. In collaboration with pioneering companies who share their goal of "reimagining today's habitat," Paris-based architecture studio Cutwork developed PolyBloc. Designed as a prefabricated building system that implements industrial production and modular construction, PolyBlock is a "means [of] confronting the rising housing crisis."
Designer: Cutwork
Noting the world's inevitable pull towards shared spaces and mobile lifestyles, the creatives behind PolyBloc set out with the aim of revolutionizing urban architecture. Initially conceived as PolyRoom, a prefabricated single-room, 21-square-meter (226-square-foot) unit defined by its flexibility and multi-use nature, PolyBloc marks the studio's larger-scale progression.
Focusing on the reproduction value and modularity of PolyRoom, Cutwork went about developing PolyBloc as a means of "creating adaptive, flexible housing solutions in different contexts, from urban to rural." Adaptive and flexible in its very purpose, each PolyRoom is outfitted with concealed, multi-use pieces of furniture that save and create space for growing needs.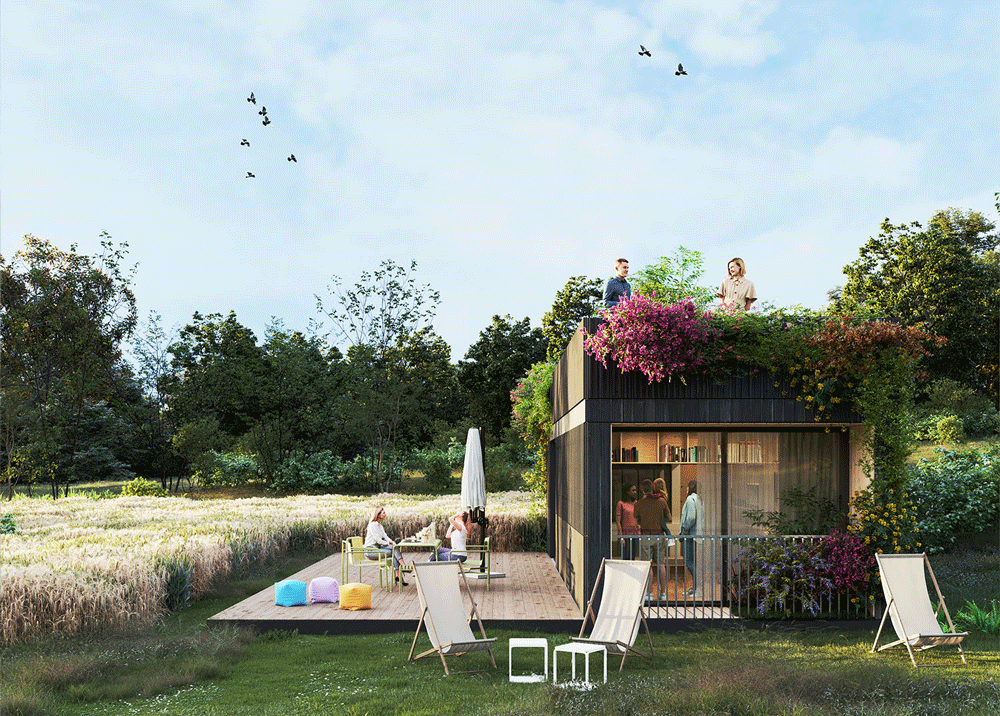 Designed to be a centralized room without an established purpose, PolyRoom takes cues from Japanese design concepts like 'washitsu' and 'tatami room,' design modes that reconfigure spaces to accommodate residents' needs. With this in mind, each module comes stocked with multifunctional furniture like disappearing beds, foldable storage cabinets, and telescopic rail systems that transition partitions and doors to create more floor space.
To further each module's appeal to cohabitation and multi-usability, PolyRoom is outfitted with living roofs and facades that utilize automatic irrigation systems to embrace different cities' unique biodiversity. Finding flexibility and multifunctionality in a modular building method, PolyBloc is composed of modules that stack together like LEGO building blocks.
The PolyRoom units from Cutwork essentially can be constructed in bulk and stacked together to form full-sized residential complexes in different cities much quicker than traditional building methods allow. Forward-thinking in their creative process and mission, Cutwork explains, "It's not only about building objects and spaces; it's about crafting the systems to build [objects and spaces]–systems to help solve the challenges ahead."