The Ensemble is a multifunctional ironing board that transforms into a mirror when not in use so you'll never have to hide your ironing board again.
The days of shoving ironing boards into our coat closets and sliding them between laundry room shelves are finally past us. So are the days of bending over backward just to use them. Well, almost. Ensemble, an ironing board design concept from a team of designers with Off Garage design studio, aims to transform the ironing board into a multifunctional standing mirror that can spin over its two-legged base to become a horizontal ironing board.
The designers at Off Garage merged the ironing board with the mirror because they naturally go hand in hand. We iron our clothes, we wear them, and we use the mirror to tune up the finished look. It makes sense for both items to be in the same room, better yet, to be the same piece of furniture.
From one side, Ensemble is your traditional floor mirror with a two-legged base that's connected to the mirror's center, allowing it to tilt and spin over the floor base. When users spin Ensemble over, the ironing board function is revealed. Turning 90° in one direction, the mirror becomes a fully functional, horizontal ironing board.
Along the backside of the mirror and the ironing board's front side, Off Garage incorporated a storage compartment where the iron, water, and perfume canisters, and brush plates are kept. With Ensemble, when users want to iron their clothes, instead of pulling from the far reaches of the coat closet, all you have to do is flip the mirror over and choose a brush plate for the iron before tending to the wrinkles of your clothes. In addition to the storage compartment, users will find a perfume steamer below a hanger to apply different scents to their clothes while steaming their wrinkles out.
Designer: Off Garage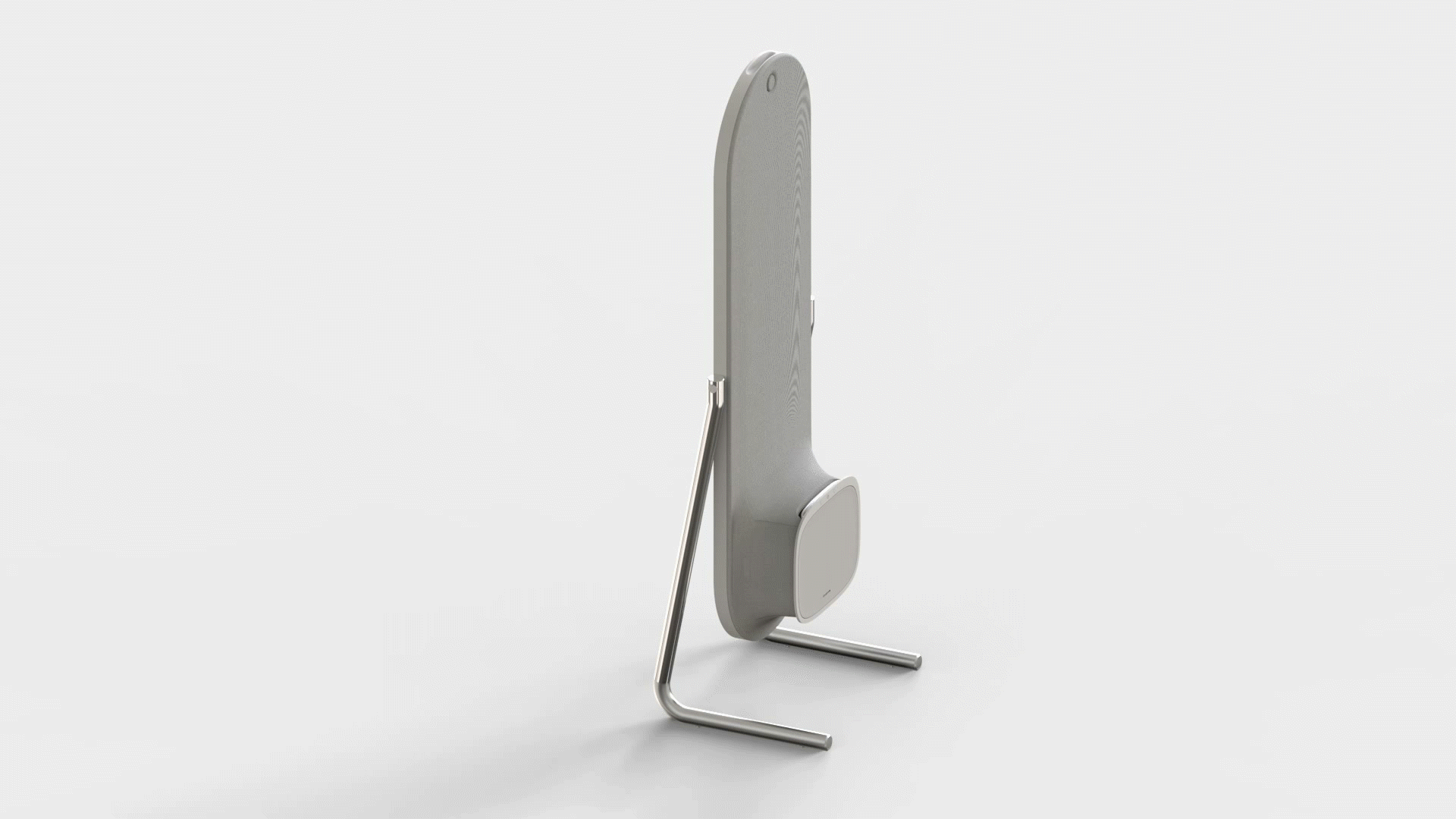 The Ensemble has a two-legged base that hinges the mirror at its center to transform it into a horizontal ironing board. 
The Ensemble features a storage compartment at its bottom that contains the iron, brush plates, as well as perfume, and water cannisters. 
When the Ensemble is positioned for ironing, the heat-resistant plastic covering allows for safe steaming and ironing. 
Users can hang their clothes from the built-in hanger and then steam them with perfume scent to get the wrinkles out.
Users can easily pop off brush plates to swap them out for new ones. 
The water canisters are easily removable and can be refilled. 
The Ensemble in ocean blue. 
The Ensemble comes in dark brown. 
The Ensemble comes in cream beige.