Since COVID-19 shook up our world, we find ourselves spending more and more time at home. However, sitting in the same old four walls of our bedroom can become quite boring, and sometimes the only fresh air we really get is when we step out into our yards. Although we shouldn't underestimate our backyards, they can be locations of major fun, recreation, and relaxation…depending on how we do them up! Adding a few pieces of cozy and interesting outdoor furniture pieces can really transform our yards. From a multifunctional design that serves as a barbecue, sofa, and champagne bar to a throne-like hammock – we've curated a bunch of exciting furniture designs that will completely liven up your yard! You don't need to step out of your home to have a good time now. Enjoy!
The Rocco multifunctional outdoor furniture by Moróro is a barbecue, a sofa, a champagne bar, and more! 2020 has been about creating intimate moments at home, and nothing says intimate like a cozy evening in your backyard! To take things up a notch, we have Rocco which is an all-rounder piece of outdoor furniture. Its clever design transforms it from a fun barbecue into a sofa or champagne bar and even a smores pit – I think it's safe to say Rocco is an essential this year! You can add a fire bowl to the base or choose from various other accessories like a grill, tabletop, ice bucket, and parasol base. Customize Rocco to fit what you define as a chill evening.
The inspiration for this model came from the fact that there was nothing in the market that was sleek or modern enough to go with the interiors of today's houses and that is how the MDK9 Dog Haus came to be – no more hiding the kennel in your backyard! This dog house is your pet's dream house, it's crafted with Brazilian teak wood responsible for the classy look which rests on a powder-coated steel frame so it's sturdy. To make it long-lasting, the base of the dog house is made from concrete which also adds to the existing strong structure.
The modular outdoor kitchen – that includes a bar – is made from weather-resistant corten steel, similar to the brand's other products for home and garden. Laid out beautifully for cooking and serving cocktails al fresco, this outdoor kitchen setup is equipped with an electric, gas, or charcoal grill and wooden cutting board to cater to the cooking needs. A kitchen is not complete without its washing area –Convivium Mobile Bar is fitted with a stainless steel sink that features pull-out taps, so the outright appeal and distinctive appearances of the design are maintained.
The Minka Solar Pod operates primarily as an alternative to meeting places and WFH spots like WeWork and cafes with WiFi. Unlike their indoor counterpart, the Minka Solar Pod and its amenities are entirely powered by photovoltaic panels and lithium-ion batteries. Using solar energy for power allows Minka Solar Pods to be placed anywhere, from busy city plazas like Union Square or public grounds like Hyde Park. Designed to be an outdoor working space, Minka Solar Pods come complete with four USB ports for charging and acoustic panels to quiet outdoor noise while amplifying the conversations taking place inside the pod. It could be the perfect backyard office!
The Cacoon is the hammock upgrade that you can hang from anywhere and instantly make it your cozy little zen space! Designed to feel like a hammock, but to give you the leisure and shade of a tent, the Cacoon is perfect for turning any space into an instant recreation and chill zone. The Cacoon is available in different colors as well as sizes, so you can choose between going solo, or chilling with your crew! Wait… did I also mention that it's absolutely portable?
The Cercle's frame is designed to perform everything from sitting, cooking, working, resting, or even sleeping. So, this two-wheeled paradise is all you need to be classified as a crazy 21st-century nomad who's leaving virtually no carbon footprint during their solo exploration. If you notice closely, the circular frame of the bicycle holds the foldable day bed stands in the middle. The frame can be oriented for multiple functionalities – for example, for sleeping in the nighttime or as a chair for a comfortable working position or lounger in a picturesque location. Consequently, when it is time to hit the road, the lounge stand folds up to become a part of the bicycle frame for hassle-free pedaling.
Patricia Urquiola designed The Swing Chair for Louis Vuitton! The chair has been inspired by LV's handbags. Two leather-covered metallic handles hold and support a woven mesh and it instantly makes you think of a handbag. It's a sophisticated piece of furniture that would look lovely in your backyard or balcony!
The Sunda 2.0 is an outdoor tent that can be used on land or in the skies. Perfect for any sort of weather, you can pitch the Sunda 2.0 up either on dry ground or suspend it between trees during the rain or snowfall. I'd personally prefer the latter just for the view! Designed to house up to 2 people, the Sunda 2.0 uses a simplified architecture that allows it to compress into a duffle bag when folded. Assembling it is a breeze too, thanks to its three spines that use tensile integrity to prop the tent up. The tent's longitudinal design easily fits people over 6-ft tall into it, while its robust construction and reinforced floor make it practically impervious to damage from the elements. You can have a camping session in your backyard now!
The Israel-based Segment development company combines aluminum with different materials to create a series of unique profiles that enable facade designs that are ever-changing and fit perfectly to their client's vision. One of the many advantages of the segment is the wide variety of profiles that can be used for varying applications. These aluminum profiles are very strong and durable and fit perfectly to withstand outdoor conditions in nearly any climate. As such, they are also great for wet areas and indoor applications. Ideal for use on outdoor kitchens and furniture, these pieces are constructed from modular bodies made of aluminum, 15mm in thickness, combined with other materials like wood, terrazzo, resista, and more. Together they provide a strong, durable product that offers complete design freedom.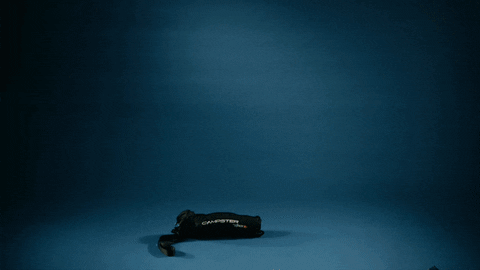 Meet Campster – the most compact, lightweight. durable and portable chair! After selling over 100,000 pieces, intense market analysis, and tonnes of feedback, Copenhagen-based Sitpack refined the camping chair to make one that is truly the king of camping thrones! The idea behind this chair is simple – you can take it anywhere and you can sit anywhere. The company's goal is to always create products with multiple usages and timeless design. Constructed from high-end materials, this three-legged chair will let you take a seat wherever you are while ensuring comfort, maneuverability, and stability. Campster's one-piece telescoping design uses gravity to unfold and Sitpack's trademark "one-pull" locking system to keep it sturdily in place!