Let's face it. Nearly a year of sitting at home hasn't done our physical health any favors. Gyms have stayed shut for a major chunk of the year, and the overwhelming change in how we've lived our lives has played a large role in affecting our mental wellbeing and motivation… but as this year ends, and we finally decide that 2021 will be the year we get everything back on track, hitting the gym after a break-year (and after that Thanksgiving and Christmas binge) is sure to result in some fatigue; and I'm not entirely sure if the guys at OYeet designed this massage gun for that exact purpose, but its timing is just absolutely perfect.
Meet the OYeet NEX, a powerful portable massage gun that's small enough to carry around with you. Its size, however, doesn't affect its capabilities, as the NEX packs a powerful motor that exerts up to 40lbs of force at 3500 PPM to help relieve muscle and tissue fatigue by reaching in deep to massage them. The massage gun (which is small enough to carry with you in your gym bag or runner's fanny-pack) comes with as many as 4 attachments that let you apply pressure on different parts of your body in varying ways and intensities. The internal motor runs quietly (at 45 decibels) and the battery supplies it with 240 minutes of run-time, which means the OYeet NEX should ideally run for an entire month on a full charge – based on 10-minute use cycles every day.
Designed to provide deep muscle and tissue recovery after a rigorous exercise or injury, the OYeet NEX's small size means it can be used at home, in gyms, or even after a run or a game outdoors. The gun runs on a single-button interface, letting you choose between four speed settings. You could, on the other hand, use the OYeet app to choose a speed setting as well as your body part, allowing the massage gun to adjust its routine based on the muscles it's working on. The NEX comes with its own cordless charging dock along with a nifty soft-shell cover-case that lets you carry it (along with its attachments) anywhere you go! The massage gun comes in two colors – Red and Gray, and ships as early as February 2021.
Designer: OYeet Design
Click Here to Buy Now: $119 $199 (40% off). Hurry, only 25 left! Raised over $150,000.
OYeet NEX – The Most Powerful & Portable Massage Gun
The OYeet NEX is the world's strongest and portable percussion massage gun. It offers the benefits of a professional and high-speed high stoke massage gun.
NEX is the perfect partner for any indoor or outdoor activities or sports like hiking, cycling, running, ball sports etc. You get rapid muscle recovery, maximum delivery and enhanced workout results.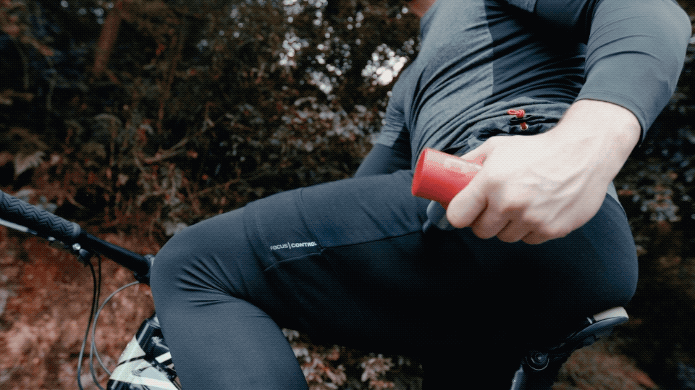 Features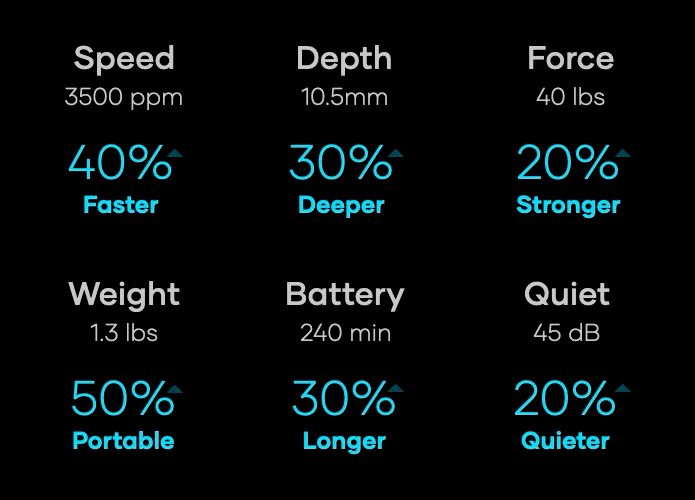 Speed 3500 ppm
NEX goes 60% deeper into the skin at precisely 50 times per second and 3500ppm. It targets sore spots, enhances muscle recovery, releases stress and tension within the body and also soothes aches and pains.
Force 40lbs
Silent As Ever – Only 45dB
The Size of an iPhone
NEX measures the size of an iPhone: 6.1 x 3.9 x 1.8 in, and weighs just over a pound. It is easy to carry and store.
Ergonomic 360º Grip
The NEX fits in one hand. Give your entire body a more productive, efficient massage with all the right angles, while still having a free hand.
100% Metal
The NEX utilizes two, 100% metal shafts with a heavy duty 600 mN.m torque and a 30% longer life usage.
30 Days of Uninterrupted Power
With 240 minutes of battery life, you can spend 10 minutes every day on muscle recovery for an entire month uninterrupted. Plug the device via USB cable into a wall charger or a laptop.
4-Speeds at the Tip of a Finger
NEX comes with 4 different speed settings controlled by a single button.
4 Easy Attachments
NEX comes with 4 different shapes of massage attachments that are equally portable.
Benefits
Reduce Tension – Lessens inflammation and muscle tension while breaking up those pesky knots after a hard workout.
Speed-up Rehab – Increases blood flow out of the muscle tissue and into the circulatory system for quick recovery.
Break Scar Tissue – Percussive massage breaks up scar tissue and adhesions to restore your muscles.
Deep Tissue Relaxation – Reativates muscles and keeps you going everyday.
Click Here to Buy Now: $119 $199 (40% off). Hurry, only 25 left! Raised over $150,000.