Competitive PC gaming isn't just about having the best gaming computer. It's also about having a conducive environment for frictionless gaming and productivity. Having everything you need within reach is just one part of the equation, and keeping things organized and uncluttered is just as important in minimizing distractions. Most people find it hard to strike a balance between these two goals, but who says you can't have the best of both worlds? That's the enticing proposition that the Bifrost Gaming Desk is making, allowing gamers, home office workers, and everyone in between to have a minimalist workspace that they can customize to their needs and to their hearts' content.
Designer: DEZCTOP
Click Here to Shop Now: $375 $580 (35% off).
We've all heard the spiel before, especially with modular tables and desks that come in multiple pieces that you can combine in different ways, depending on your specifications or mood. The problem with these kinds of desks is that they are, more often than not, limited to the parts that the designers have envisioned for the desk and in the arrangement that they have also intended. In contrast, the Bifrost 120 and 160 give owners complete freedom in how they want to organize their accessories or even how they want their computer monitors to stand or hang.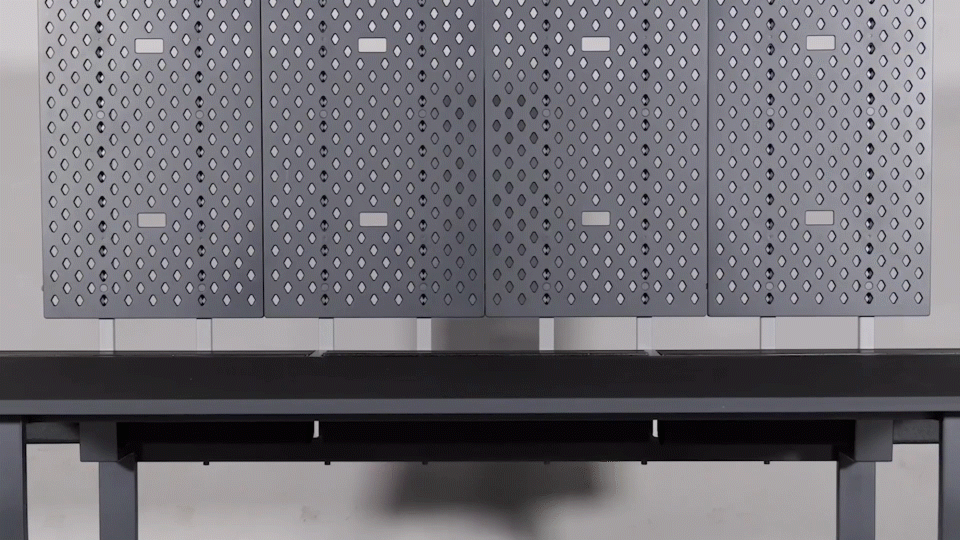 Bifrost's secret sauce is the innovative D-Board, a vertical panel made from ABS plastic with a grid of diamond holes for connecting a variety of accessories. It is pretty much the desk equivalent of a pegboard, except designed to look stylish while performing its function. The D-Board is held up by a set of steel tubes that deliver not only support but a matching minimalist look as well. While the D-Board itself already looks nice on its own as a backdrop for your gaming rig, it really shines when you start hooking up the accessories that, in turn, will hold the stuff you'd want close by. These accessories include monitor mounts, containers for stationery or even plants, shelves, hooks, and even a holder for a Nintendo Switch. There are also accessories that don't attach to the D-Board, like a steel foldable cup holder bracket and a 7-in-1 USB-C Hub.
With Bifrost, you have complete freedom on how to combine and arrange these accessories, and you can even change your mind from time to time. You can opt to let your monitor hang via the VESA-compatible mount, or you could install a standard monitor arm as well. The table also has flip-up tray lids that keep those pesky tables out of the way and out of sight, making it look like you're an organization wizard.
Designed to meet standards in safety, strength, and durability, the Bifrost Gaming Desk levels up your game by leveling up your life. Organization and decoration come together thanks to the unique D-Board system, allowing gamers to focus more on more important activities while keeping their desk tidy and the tools of their trade within easy reach. Depending on which size you go for, the Bifrost can set you back $300 (for the Bifrost 120) or $400 (for the Bifrost 160), for which you get the desk, the D-board, and a set of D-board-compatible shelves. Yanko Design readers, however, get an exclusive 35% discount when you back the campaign using the links on this page.
Click Here to Shop Now: Bifrost 120 for $275 $420 (35% off). Hurry, less than 48 hours left!
Click Here to Shop Now: Bifrost 160 for $375 $580 (35% off).