Smart homes are becoming quite a craze these days! And honestly, who wouldn't want a home powered by smart appliances that make your lives a whole lot easier, and do most of your tasks for you. Whether it's cleaning appliances to help you effortlessly complete your chores, smart lights to perfectly control the illumination in your home, or thermostats to maintain the optimum temperature at all times – the right set of appliances can truly create the ultimate smart home for you. From a Google Nest Ceiling fan that ties together all your smart devices to a smart speaker that keeps track of your face at home – these innovative home appliances are all you need to create a living space that is futuristic, tech-enhanced, and an absolute pleasure to live in. Are you ready to build the smart home of your dreams?!
1. The Google Nest Ceiling Fan
Just like our appliances, ceiling fans have also received smart treatment in the past. The Nest Ceiling fan is a productive and more interesting take on the other smart fans that can only be turned on and off through a smart assistant. This new adaptation of a ceiling fan designed for the Google Nest lineup has been conceived as an all-in-one smart hub that would tie up all the smart products you have spread across each room in the house. The compact and stylish two-fin fan with an omnidirectional speaker, smart light bulb, sensors for the thermostat, and a smoke detector and alarm will replace each of the mentioned devices for good and leave you with a single contact point to create an interesting smart home setup.
2. Ember
Spurred by the recent trend toward midcentury-modern design styles, Koleda designed Ember to be subtly elegant with a bronze velodrome-style trim and stainless steel grille. The tastefully subdued appeal of Ember allows it to fit into any living area, from a boho minimalist-style bedroom to a living room filled with Bauhaus aesthetics. The versatile nature of Ember even moves past its looks to pack a lot of punch into such a compact build. Equipped with a heating capacity of 1'200 Watts, Ember can heat up to 215 feet with ease. Inside Ember's cylindrical center, a ceramic heating element kickstarts the job by evenly distributing instant heat via a silent and powerful built-in fan.
3. Kano Sense
Designer Sam Beaney created Kano Sense, a universal smart home device that uses computer vision to convert everyday objects into smart home outputs. A gleaming one-way mirror lens and soft wooden frame give Kano Sense a heavy and familiar look. Kano Sense takes the shape of common smart capsules similar to earlier generations of the Amazon Alexa and Echo and contains embedded smart computer vision that analyzes everyday appliances like ovens and even ceramic mugs to turn interactions with them into smart outputs.
4. The Soove
The Soove doesn't look like your typical smart speaker aside from its conical shape and the customary use of fabric that wraps around the product. It has an odd collar-like ring near the top, actually a sound cone that makes it more sensitive to almost every audio nuance around it. The most eye-catching part of the design, however, is the black glass ball on top and the two eyes that seem to be looking back at you and express some emotions by changing the eyes' shape. In addition to listening for audible cues, Soove uses facial tracking to recognize a person's emotions through their facial expression as well as physical states.
5. The HeimVision Assure B1
The HeimVision Assure B1 is a culmination of a lot of good ideas into one, neat package. It's a CCTV but works as a two-way audio teleconferencing device too. It runs via an app, but can even be commanded via Alexa, making it simple to use without needing your phone around. The Assure B1's basic kit (that's the $79 one) comprises one wireless camera and one central hub that sits within your home. The camera features a tripod mount for easy installation and runs on rechargeable AA batteries for a solid 12 months (with the option of hooking it to a solar panel for uninterrupted continuous power).
6. The Klaustrafloria Planter
This tall cage-like planter has a sleek futuristic appeal. Available in a stark white color, the planter has been amped with phytolamps, a backlight, and an automatic watering system. A decorative cage, within which the plants grow, makes up the main body of the planter, followed by a base that consists of a removable inner pot, a water chute, a LED water level indicator, an auto watering system, and a 12-liter water tank. The removable inner pot includes containers that are filled with drainage rocks. Once planted, the plants sprout their roots through the slots in the containers, within 2-3 months. Water is supplied to the plant via the water chute which is connected to the reservoir of water below.
7. The Inlo
The Inlo is a series of devices that plug into the sockets in your home. Using wireless connections, Inlo communicates with all the Bluetooth and internet-enabled objects around your house, from your phone to your laptop, tablet, smart bulb, smart speaker, to even your door lock. Its ability to detect and communicate with wireless devices also allows Inlo to track your 'presence'. If you've got a wearable on, you can program Inlo to treat the wearable as an extension of you – if Inlo detects your smartwatch 'walking into a room', it assumes it's you wearing the smartwatch. Plug an Inlo device into every room in your house and you effectively create a network that allows this smart gadget to sense wherever you are in the house, adjusting things accordingly.
8. Decker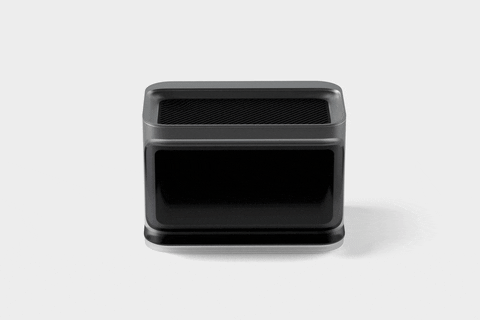 Decker is an all-electric appliance so grilling on it is devoid of fossil fuels like coal. It creates a smokeless experience which is perfect for an urban kitchen or a balcony. Young millennials and Gen Z have little access to the experience of cooking food on a grill. Using a BBQ grill indoors only creates a fire hazard but most living quarters don't allow them because of the smoke and soot which can be bothersome in cities where people are often living too close to one another. The team elaborates, "We created a clear yet functional UI that displays options as and when the functionalities are selected. The display screen is a hi-definition OLED display that is touch-sensitive with multi-touch as well as provides haptic feedback to the option selected."
9. Mr. Alfred
Mr. Alfred is a conceptual smart air-management system that looks like an elegant bar cart – the gold rails add a retro finish while the muted grey body gives it a rich yet subtle aesthetic. Instead of having four home appliances, you can just have one that does it all while saving space and upgrading your interior game. Mr. Alfred is designed to provide solutions for healthy air in your space by sensing the quality. It is precise and targeted at keeping your space clean. The sleek appliance is made of six important parts – the main body which is responsible to store and charge the detachable parts, a drone that monitors the space, a robot vacuum, an air purifier, a humidifier, and a dehumidifier. Fun fact: the three air-management parts rest on the robot vacuum that makes them portable.
10. Hearingbot
Called 'Hearingbot', this AI-powered robot comes with an integrated smart home system for seamless and reliable use throughout the day. One of the components is the hearing clock which wakes you up with vibrations while the Hearingbot smart home system raises the curtains for you. A cool feature is gesture recognition which makes communication easy for those who rely on sign language. The robot can recognize the signs and uses speakers as well as subtitles to communicate with its user. "It interprets sign language of the deaf through motion sensor and projects it into a projector.