Balance is an at-home plant cultivator that keeps a small enough size and minimalist design to fit into any modern kitchen.
The pandemic proved that having access to your source of produce should be as commonplace as having access to clean drinking water. Still, the majority of us rely on grocery stores and delivery apps to get our produce and fresh greenery. While keeping our eyes peeled for buzz words like organic and local harvest is a personal choice, there's no way of knowing exactly under what conditions and where our produce is harvested.
Balance, a plant cultivator designed by Designer Dot, is designed for those of us who'd like access to a personal supply of fresh produce at home without the hassle of tending to a garden day-in, day-out.
Designer Dot is known for its extensive catalog of household appliances. Designer Dot is all about merging minimalist aesthetics with convenient design from wireless portable chargers to self-contained coffee brewers.
When creating Balance, the team at Designer Dot sought to conceptualize an at-home plant cultivator that's compact enough to fit into any modern kitchen and inconspicuous in its minimalist design to adapt to any interior design scheme.
Stocked similarly to most plant cultivators, Balance comes with pull-out drawers that contain pods and sprout cavities for produce and crops to germinate from and grow. The drawers themselves can be removed to allow ceiling height for taller plants to grow, which users can swap in and out for different plants accordingly.
Once the seeds are planted, Balance takes care of the rest. Inside Balance, LEDs pour nonstop grow light over the seedlings to ensure healthy crops come time to harvest. To prevent the LEDs from busying the kitchen too much, Designer Dot built-in scroll blinds to shield the cultivator's light from view.
Keeping a rather minimal exterior, Balance originally comes in a blush pink shade, which users can customize to fit their tastes.
Metallic ribbing with integrated haptic sensor technology runs down the length of Balance's front facade, functioning as the appliance's control panel. There, users will find the on/off button, temperature dials, as well as other control switches that work to optimize growing conditions for the plants inside. Additionally, like most modern home appliances, Balance comes with an accompanying app that suggests the best care for each user's specific plants.
Designer: Designer Dot
Balance's integrated smartphone app alerts users when plants require special care. 
Intuitive app reminders signal to users the overall conditions of their plants.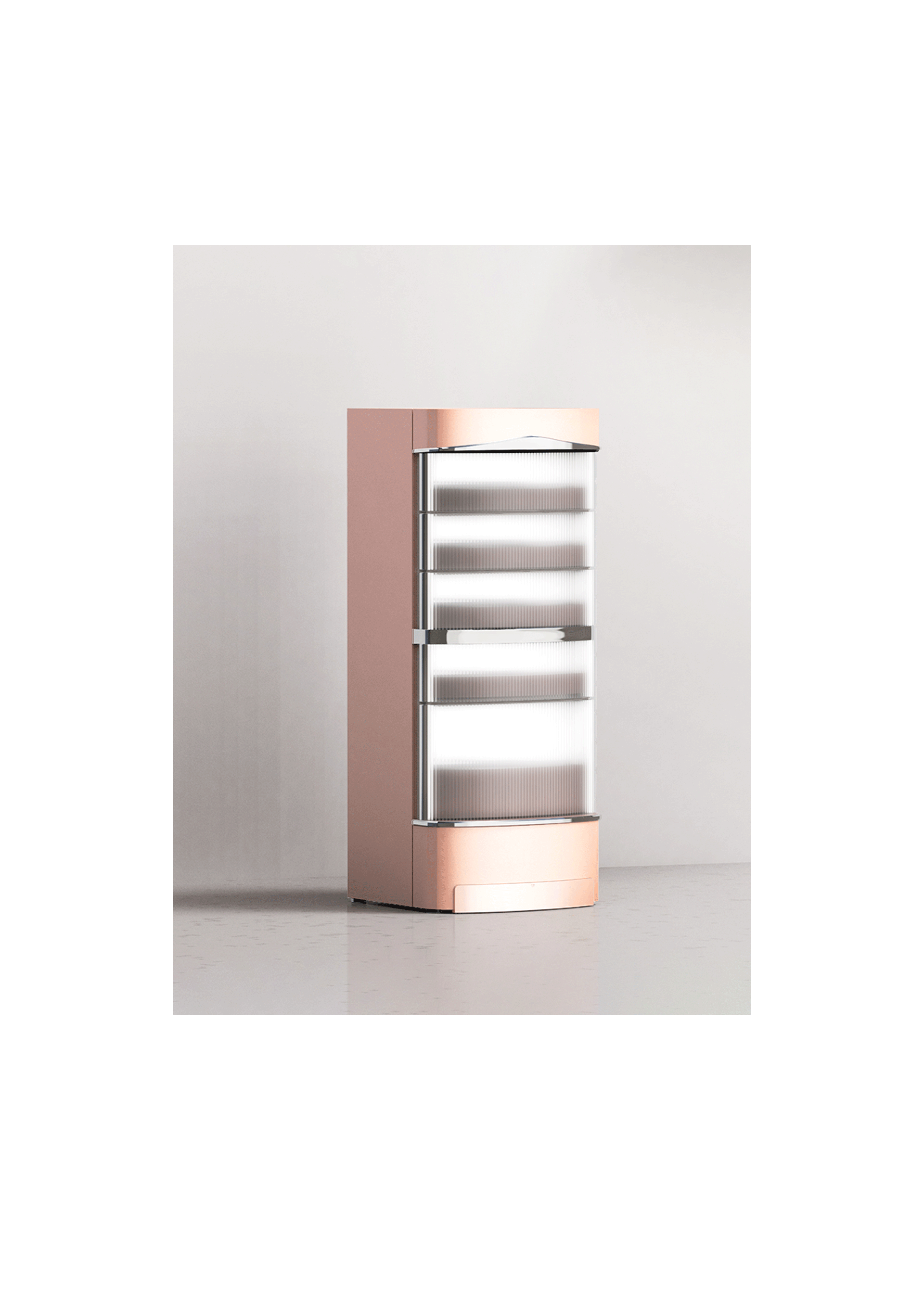 When placed in the kitchen, Balance's scroll blinds provide a stylish way of covering the appliance's bright LEDs. 
Along Balance's front facade, metallic ribbing encases haptic control panels.