If you own a pet, you know they are the true masters of our home, and we are their abiding slaves, tending to their every need, always at their beck and call! They're the apple of our eyes, and we would do almost anything to keep them happy and comfy,  including showering them with fun little products, that they can play around with and keep themselves busy! From an indoor game for your doggo to a robot companion for your cat, we've curated a collection of exciting, functional, and entertaining pet products that your pets and you will totally love! These are products that help you bond with your pets, and spend that extra special quality time with them. Your pets will thank you for these!
In all the desk designs I've seen over the years, this is a first for me! It's called 'Ascend' and it's been created by Dan Devine for all the cat ladies and fellas out there. Like any cat person will tell you, the moment you give attention to anything but your furry friend, they'll find a way to lounge on your keyboard or knock over your utensils until it's back on them! Designed with this in mind, the wood desk has been crafted with multiple ramps and landings for cats to perch up and play. If you can't fight 'em, invite 'em!
Simple and elegant, the Leaf transforms any plastic bottle you may have lying around into a doggy drinking apparatus. Perfect for those dog walks, the Leaf retrofits onto any regular PET (PolyEthylene Terephthalate) bottle with the standard 28mm diameter threaded neck. Made out of food-grade silicone, the leaf wraps around the bottle, and when flipped over (dog-eared, if you will), becomes a bowl for your dog to drink water from. The cupped leaf along with the reinforcing silicone veins give the dog a vessel to drink out of. Once done, the leaf can be folded back to wrap around the bottle. The leaf can also aid in easy bottle filling by acting as a funnel!
The Circle Zero from PLUTO is a smart litter box that takes care of your cat's business. Designed to be fully automated, fully enclosed, and exceptionally silent, the litter box comes with a completely enclosed design to provide a private experience. Sensors on the box detect the presence of the cat and wait for a full 7 minutes after they're done to automatically (and silently) scoop the waste from the litter and store it separately while completely containing and eliminating any odor too. Once the waste compartment is full, you can use any bag or liner to collect it and throw it away. The Circle Zero works with any brand of kitty litter and comes with two types of scoop-designs. Sensors within the box (although it's technically a sphere) keep track of your cat's routines and can notify you via an app if any irregularities are spotted. The litter box monitors your cat(s) to give you information that may be of relevance to your veterinarian, and yes, the Circle Zero does support (and can individually track) multiple cats.
Industrial designer Jong Hoon Yoon from Seoul, Korea pondered over the unique idea of thinking from a pet's perspective and designing an intuitive TV stand. Christened "With", the space-saving TV unit doubles as a cozy spot for your cat to never let go of. All this while being considerate of the kind human too. Yes, With considers the positioning of the cat and the fellow human, so that they both are in their comfort zone and don't bother each other. For us, the TV is a mere source of entertainment as well as lousy around on our couch binge-watching streaming content. On the other hand, the heat produced from the TV and the accompanying electronics is an opportunity for your pet to curl up and enjoy in their own space.
Designed by Jihyun Han, Gosewalk consists of two toy pieces, a multi-surfaced mat that resembles the different terrain found outdoors, and a silicone puzzle that stows away dog treats for your pup to sniff and find. The multi-surfaced mat brings the outdoors to your dog with different fabrics resembling different terrains. Twisted and shaggy polyester mimics the look and feel of grass, while tan corduroy and water-repellant canvas bring the colors of sand and soil to your dog's snout. Pockets and flaps line the mat's fabrics and provide perfect hiding places for treats and mixtures of herbs and scents to entertain your pup. The silicone puzzle, which seems to be a smaller, more portable companion piece to the bulkier mat, resembles the look of grass through its tender, spring green silicone nubs that grid the toy. Hidden compartments are carved into the silicone puzzle where dog owners can store treats for their pups to sniff out and munch on. Then, in the middle of the puzzle, a darker green, ruffled and leafy centerpiece camouflages yet another hidden storage compartment that can be used to stow away packets of herbal mixtures for dogs to sniff on while hunting for treats.
Do you wish you could track your dog's location in case of emergencies but don't want to embed a tracker in his or her body? The Link smart collar offers an alternative, more pet-friendly solution with its removable GPS. However, the Link is for more than emergencies – it includes features that improve your pet's health and quality of life every day. So, what does the Link do? The collar itself holds the GPS tracker and a LED light for visibility during night walks. Additionally, with the Link companion app, the product can log your dog's physical fitness, vet records, and other stats related to his or her health. Basically, it's a FitBit for your pet – keeping them happy, healthy, and safe.
Pet Paws is a high-tech sanitizing mat used to clean, disinfect, and dry the legs of our pets as well as the soles of our shoes. The efficient product design is a simple roll-up mat that is easy to carry and store. The team worked on elevating an existing prototype by adding improved functionality and simplifying it further – the redesigned version is now just a one-piece product, unlike the original one which had four parts. It has two areas on its surface – the first section of the mat has a multi-directional cleaning texture which bends and cleans inside the paws in a friendly manner, and the second section of the mat has a cushioned texture which helps to dry the paws as the pet walks over the microfiber sleeve.
The Ebo Catpal is a robot companion that serves as both a cat sitter and a favorite toy. It's essentially a mobile security camera that can follow your pet through the house like a Roomba. Similar to a Roomba, the device has sensors to detect obstacles in the vicinity. It also will automatically return to its charging station when low on battery. The camera's feed is accessible through a mobile app, similar to many home security systems. It also serves a second purpose … let's be honest, what owner can resist snapping close-ups of their pet's hijinks? For this reason, the Ebo's camera records high-resolution footage, which you can save, edit, and post to social media. You can add cute stickers to an image, or even create gifs.
Passakorn Kulkliang designed PAWSPAL in order to help better facilitate the typically difficult task of traveling with animal companions. The product has three main functions: a fully-integrated, chargeable air ventilation system, a bottom deck used to roll the carrying cases, and the individual crate's inbuilt stackability. If the user were to choose to roll their pets through the airport, just like the common rolling suitcase, then the case or cases can be placed atop the removable base for easy maneuvering throughout any space or building. In addition to the stackable feature and the wheeled base, users can opt-out to carry the case as it is. Lastly, inside the crate, you won't have to worry about your pet overheating because each case comes equipped with an operating air ventilation system that keeps your animal cool at all times. Each crate from PAWSPAL includes a charging hole for USB C cables so that keeping your pet cool is a given. Your pup or kitten can also enjoy plenty of air circulation and privacy thanks to the air slots that are large enough to maintain healthy airflow, but slim enough to keep prying eyes away from bothering your pet.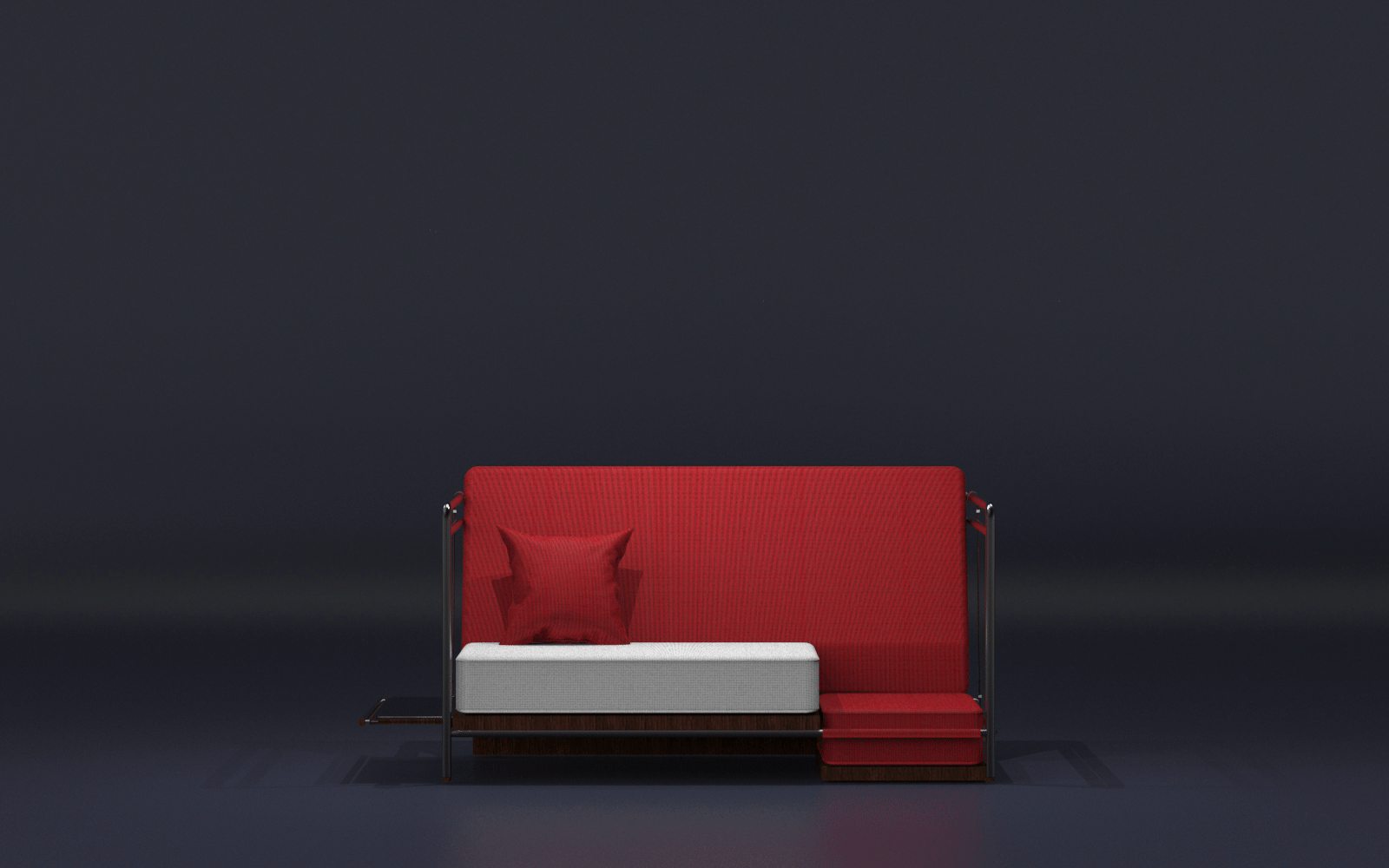 Hyun Jin Oh designed CoZY, an adjustable, two-tiered couch that meets both pets and their humans right where they are. When it comes to pet furniture, during the construction phases, functionality sometimes outweighs style, but Hyun Jin Oh found a sweet compromise with CoZY. The sofa's stripped-down frame is made from stainless steel, evoking an industrial-chic personality, and utilizes the tension of four bold, bright red straps of leather that wrap around the steel bars of CoZY's armrest and base, two along the rear and one on both sides of CoZY. Hyun Jin Oh's sofa was designed specifically to create a space that's accessible for older and smaller dogs to take a breather. Since we typically rest on sofas, dogs naturally follow suit, but sometimes the sofa requires too high of a leap for a smaller or older dog to manage all on its own. In order to encourage dogs to join their human on the couch, Hyun Jin Oh's CoZY design utilizes a pull-out wooden board that slides easily along the sofa's X-axis.