https://www.kickstarter.com/projects/sondretravel/the-voyage-chair-the-beach-chair-reimagined
Wanting to literally be the only thing you carry to the beach, Sondre Travel's Voyage Chair is nothing short of marvelous. Matt Benedetto's latest design is a beach chair + backpack hybrid, allowing you to carry it around on shoulder straps and assemble it on site with a literal flick of your wrist. Much more than a chair, the Voyage is a backpack of sorts too, letting you carry all your beach paraphernalia to and from the beach in a series of compartments sensibly designed to be accessible without being a hindrance. Built with an aluminum tube construction, the beach chair folds open and closed pretty easily, and can recline at five different angles. Wooden armrests give your hands a flat, comfortable surface to rest on (without heating up like the metal).
Built with a tropical fabric that's eye-catching yet breathable, the Voyage Chair genuinely looks like a good backpack and chair, allowing you to spot it from the distance among all the other flat-colored beach chairs. The chair comes with a breathable mesh base that lets you dry off fast after a dip in the water, and even allows sand to pass through, so you don't take the beach back with you on your way home! With no shortage of compartments, the Voyage Chair has two insulated pockets on the back that are large enough to fit 6 cans of chilled beverages, along with a third pocket for food, sunscreen, or anything else you may need to carry. It also has easy-access pockets near the armrests, letting you store one drink in an insulated pocket, as well as a phone and power bank or wireless speaker in the other pockets on the opposite armrest. The Voyage also comes with an adjustable head-pillow that provides comfort as well as covert storage, allowing you to stash valuables in its back panel that remains hidden from the eye.
One has to admit Benedetto has an incredible eye for detail and a knack for being able to spot problem areas and solve them with ingenuity. Take for instance the Voyage Chair's towel rack on the back, that lets you hang a wet towel on it, but also doubles up as a support pillar for your headrest when the chair is completely in recline mode. The Voyage chair knows how to be functional yet aesthetic, looking absolutely balanced as opposed to bulky and cumbersome. It even features a carabiner clip on its base, allowing you to securely clip an additional backpack to the chair in case you need to carry more than one item of baggage. Made to tick all boxes, the Voyage Chair is portable, sensible, and solves all problems it sets its eyes on. This is literally the ultimate beach chair!
Designer: Matt Benedetto
Custom Vibrant Fabric
All beach chairs have a similar boring look with solid colors and stripes. We wanted the Voyage Chair to stand out against the crowd, so we created our own premium 600D Polyester custom printed fabric. Our tough polyester fabric features an eye-catching multi-colored paint stroke design. Quickly spot your chair anywhere on the beach.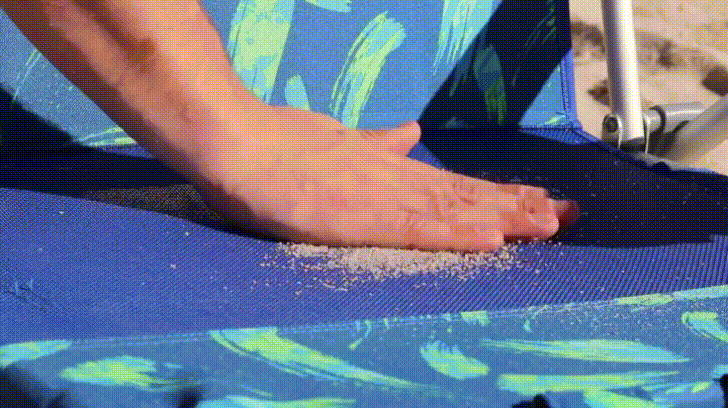 Poly-Mesh Seat
When sitting on the Voyage Chair, the seat is constructed with a unique poly-mesh material. This fabric will have extra flexibility to adapt to your body for additional comfort.
Similarly the poly-mesh fabric will help increase airflow and allow sand to easily fall through for less of a mess when enjoying the beach or packing up to head home.
Durable Frame & Wooden Armrests
The Voyage Chair is constructed with a the tough aluminum frame. Its soft matte finish is rust proof and has a total capacity of 300lbs.
Other beach chairs have flimsy plastic armrests that heat up quickly under the sun. However the Voyage Chair features real wood armrests with a smooth finish for a premium and durable feel.
Padded Shoulder Straps
Go to and from the beach comfortably with our adjustable wider and padded shoulder straps. Have the support you need even when the Voyage Chair is completely packed!
Secret Access Pocket
Everyone travels with valuable items on them at all times, from your wallet to your smartphone. It's important to keep those items safe everywhere you go. The Voyage Chair's has a secret access zipper pocket located behind included pillow.
Secure Bag Carabiner
If you have an additional bag with you for the day, you can securely attach it to the secure carabiner clip to keep any other items completely safely. Take a nap in the sun knowing your belongings aren't going anywhere!
Dual Can Sleeves
Who doesn't enjoy a nice cold beverage when relaxing in the sun? The back of the Voyage Chair sports two insulated can sleeves that perfectly can fit three 12oz. cans in each sleeve.
Larger Compartment & Mesh Pocket
The exterior mesh pocket has an open top for quick and easy access for other accessories you might want to bring such as flip flops, a speaker, frisbee, a book and much more!
Arm Rest Pockets
Have everything thing need within reach with two convenient arm rest pockets. On the left side, there is a dual flat pocket compartment perfect for your smartphone, a speaker, sunscreen, and much more.
Five Comfortable Positions
Find the perfect angle when enjoying the sun with five adjustable positions in the Voyage Chair. Each position locks securely in place to relax whichever way works best for you.
Fold Out Drying Rod
The fold out rod on the back of the Voyage Chair can also double as a drying rack. It locks securely in place to handle the weight of a wet towel or clothing to dry as you enjoy your day.
Adjustable Pillow
The included pillow on the Voyage Chair is completely adjustable to maximize comfort.
Easy Grip Handle
For a quick grab and go, there is an easy grip handle located on the top of the Voyage Chair. Perfect for those times when you need to grab it out of your car or moving locations on the beach.