Designed for people who simultaneously love living in the 80s and the 2020s…
Culture is cyclical. It's 2023 but retro music is trending again, vintage designs and themes are making a re-emergence (just look at the new Burberry logo)… and even though our tech is futuristic, it has a significant retro flavor with companies looking to harness the power of nostalgia in their new products. Minimalism is dead, retro is cool, and the Nextube is totally riding that wave. Designed as a vintage-inspired tabletop display, the Nextube comes with 6 nixie tube-like screens docked within a wooden base. It wears its steampunk aesthetic on its sleeve but comes with modern tech under its hood. The six mini displays look like Nixie tubes, but are, in fact, LED screens that can be customized to showcase anything from the time to the weather, music visualizations, crypto prices, or even a subscriber count for your YouTube or TikTok page.
Designer: James Wong of Rotrics
Click Here to Buy Now: $148 $188 (21% OFF) Hurry! Limited time offer
The 1970s and 1980s were far from minimalist. The music was loud, the fashion was bright, cyber-synthwave was popular, and one could argue that it was in this very era that technology first flourished. Nixie tubes were somewhat the predominant display type of this era, turning them from tech components into symbols of pop culture. Sadly, nixie tubes fell out of favor in the 90s as technology advanced (along with the fact that a bulk of nixie tubes were made in the USSR, which fell into disarray around the time). Designed, however, as a cultural throwback, the Nextube celebrates its ancestor in a wonderfully whimsical way. A portmanteau of 'Next' and 'Nixie Tube', the Nextube uses a set of mini LED displays encased in vacuum glass tubes. Complete with a neat walnut wood base and brass trims, the Nextube looks like a steampunk gizmo from an 80s laboratory on your desk. It comes with the signature Nixie tube-inspired font too, although it offers a few other retro-style fonts and themes to choose from, giving you custom control over your tabletop display.
The six individual displays create a unique constraint that's fun to work with. You can view the time, date, weather, and a wide variety of data-points on the Nextube in a way that's charmingly vintage. Each tube does a remarkable job of looking rather close to actual Nixie tubes (with a matching glowing typeface too), while consuming a mere 5V of electricity as opposed to the 12V that regular Nixie tubes consume. The LED displays are rated to last for 100,000 hours too, compared to the 5,000 hours that most Nixie tubes last.
The Nextube's open-source firmware means you can customize it to display anything from inspirational quotes to calendar alerts, email notifications, or even miniature images from your camera roll. Three small buttons (sitting flush against the wooden body) let you toggle between the Nextube's various functions, while the device itself can be connected to your laptop/desktop to fine-tune how your Nextube device behaves and what metrics it displays.
The Nextube's six display units are also accompanied by RGB LEDs located on their rear, which create an ambient backlight that can be customized to suit your needs. Each Nextube also comes with a built-in spectral analyzer that responds to music, turning your retro display into a Winamp-style visualizer that responds to music in real-time!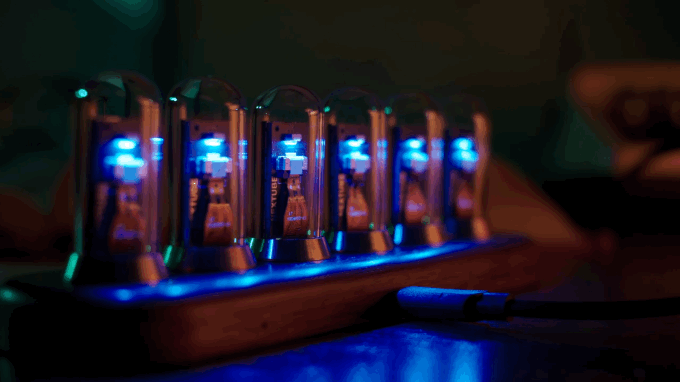 The Nextube allows you to access a whole slew of built-in functions, or even tinker with its companion software Nextube Studio to create your own custom styles and preview them on the device, or even share them with the Nextube community.
Occupying 7 inches in width and standing just under 2.4 inches in height, the Nextube makes for a perfect compact accessory to any worktable. It comes with a walnut wood base, brass trimmings, and 6 LED displays that sit under their own individual glass tubes. The Nextube doesn't have a battery of its own but comes with a USB-C port that lets you plug it into your power strip or directly into a port on your laptop/desktop/multiport hub. It works offline, providing basic functions like the clock, timer, or music visualizer, and can even connect to 2.4GHz WiFi networks to access metrics like the weather, your camera roll, or even stock prices and follower counts from various social media networks like Facebook, Instagram, YouTube, Twitter, and TikTok.
A perfect tabletop accessory for any tech enthusiast, the Nextube starts at $148 with global shipping and a 1-year warranty.
Click Here to Buy Now: $148 $188 (21% OFF) Hurry! Limited time offer