Returning back to its roots after building the flagship high-end Nyx e-bike, Nireeka announced the Revenant, a stunning sub $2500 e-bike with a 1000W motor, 50-mile range, and ABS (Anti-lock Braking System).
The Revenant follows Nireeka's established design style, posturing itself as an incredibly slick, state-of-the-art e-bike for people on a budget. Following a lot of requests from Nireeka's consumer base, the company outfitted the Revenant with a 1000W Bafang motor, capable of 85 nm of torque and 35mph/56kph max speed. The motor sits against the rear wheel; couple this with the Revenant's long wheelbase (1,212mm) and chainstay (448mm), and you know that this bike was designed for the thrill of riding with the wind in your hair. Cadence sensors built into the pedals allow the motor to kick in the minute you begin riding (with an option to upgrade to torque sensors for a more natural riding experience), and dual suspension turns everything from city tarmac to uneven roads, moderate trails, and even staircases into smooth sailing. While the Revenant isn't designed for heavy trail work, Nireeka's founders Max and Younes Shojaie say it serves rather well as a commuter/mountain bike thanks to the Bafang motor, Shimano Alivio 9-speed drivetrain, Anti-locking braking system, and mid-fat tires.
Designer: Max Shojaie
Click Here to Buy Now: $2363 $3396 (30% off). Hurry, only 13 left!
Enough about the technical details, though. The Revenant, first and foremost, is an affordable e-bike that oozes desirability. The e-bike's design comes from co-founder and CEO Max Shojaie, an award-winning designer in his own right. The first thing that captures your eye with the Revenant is its frame, made entirely from carbon fiber, and with an edgy aesthetic that's dominated by straight lines, angular transitions, geometric cross sections, and tight fillets that give the Revenant its cyberpunk appeal. The broad frame houses a removable Samsung battery with an 840Wh capacity, giving the Revenant a solid 50 miles (85 km) of range under regular conditions. With a standard 4A charger, you can juice the battery from 0% to 100% in roughly 6 hours, or overnight.
For its price, the Revenant may just be one of the most affordable e-bikes to boast of ABS. Available as a $300 option, riders can opt for front-wheel ABS, powered by Blubrake. The ABS unit sits outside the frame, a design direction that Shojaie went for because he wanted to highlight it rather than hide it away in the frame. The ABS, in short, prevents wheel locking and increases stability. "Bicycles are, by nature, less stable than four-wheeled vehicles", say the folks at Nireeka. The ABS "reduces [the e-bike's] total stopping distance", providing a much more reliable experience while braking as well as steering. The Revenant also comes equipped with a bright taillight and brake lights that use gyro sensors and signals from the brakes to shine when you're slowing down or stopping abruptly. For riders, there's also the choice between a default LCD dashboard on the front and a higher-contrast TFT display with a larger screen, available as a $99 upgrade.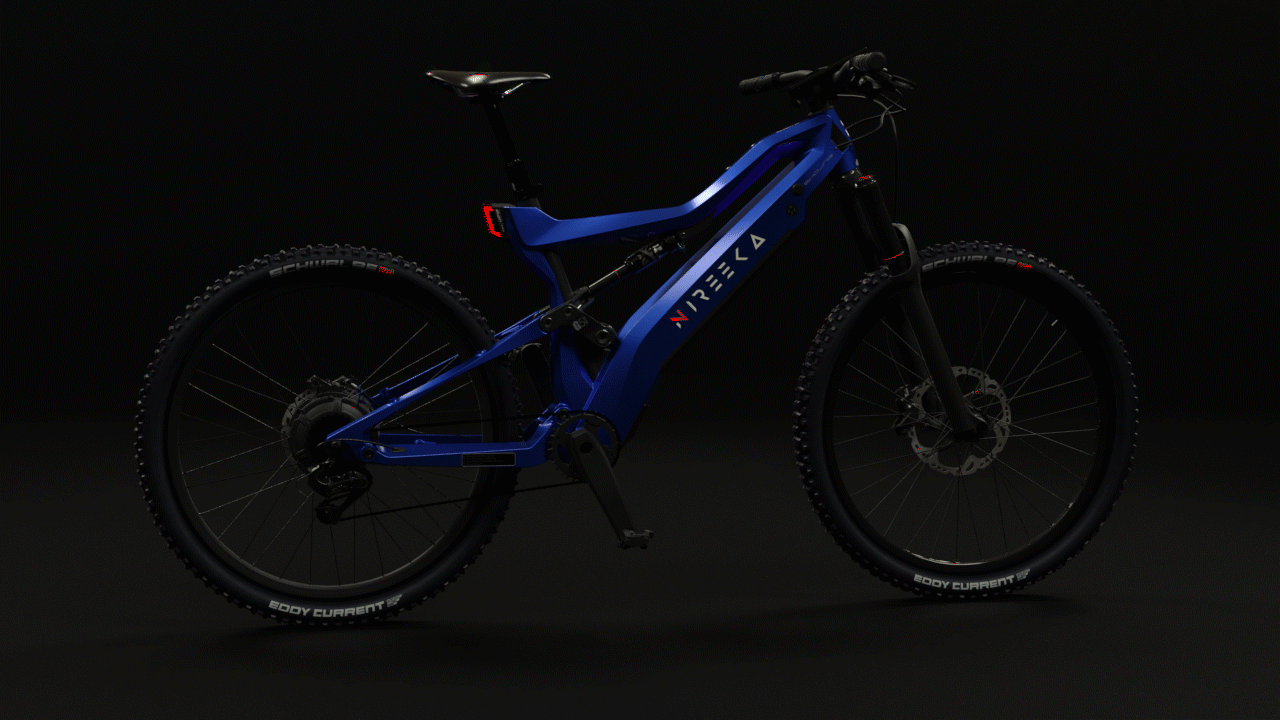 The Revenant's balance between great design, great features, and great pricing is the result of years of work on Nireeka's part. The company's been incredibly receptive to feedback from customers over the past 5 years, who've always wanted a bang for their buck. "I'm very proud of this design, I think it's perfect. We've had a good amount of time to test this bike, too[…] We've been riding it since February, and testing it for a few months now in Canada", says Max Shojaie. The Revenant is available for preorder in 3 sizes and in white, blue, and red color variants across regular or pearlized finishes, as well as a matte black variant that definitely stands above the rest. The e-bike is priced at a discounted $2,363 USD for the 1000W motor variant, with a lifetime warranty on the carbon fiber frame and a 1-year warranty on the parts and components. Deliveries begin as early as February 2023.
Click Here to Buy Now: $2363 $3396 (30% off). Hurry, only 13 left! Raised over $120,000.