From the makers of the SES PRO, the nifty Red Dot Award-winning handheld electric screwdriver comes the SDS PRO – a miniature handheld drill that's about the same size as its predecessor… but it can easily drill through materials like wood, plastic, resin, leather, and even soft metals like aluminum, copper, and brass.
Designer: Arrowmax RC
Click Here to Buy Now: PRO for $67 $108 (38% off). Hurry, exclusive to YD readers only and less than 48 hours left!
The SDS Pro packs quite a punch in its ridiculously compact design. With built-in shadowless lights, an internal motor with 5 modes of torque, and an OLED screen that lets you know the speed and direction of the rotating bit, the SDS PRO is a nifty tool that's perfect for homes, offices, hobbies, and workshops. It's also the shape and size of a pen, and completely wireless, making it an incredibly handy and useful piece of hardware to work with – unlike those bulky drills that require a fair bit of elbow grease.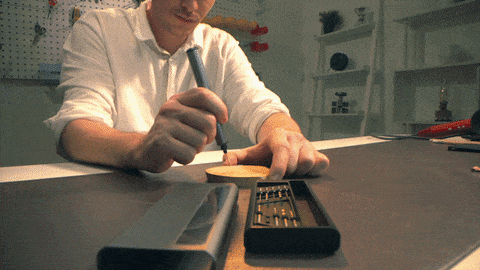 Designed to be like your own tiny handheld drill, the SDS PRO is the ideal handheld tool for DIY work or even for more intricate art/design/technical jobs. Sitting inside its aluminum body is the SDS PRO's high-torque motor and a 32-bit microprocessor which can automatically adjust torque, direction, and RPM to suit the material you're working with.
The SDS PRO comes with 5 settings to choose from, including two smart modes that let you control the drill speed and direction simply through wrist movements. With 10 titanium-coated drill bits to choose from (ranging from 0.6mm to 2.2mm), the SDS PRO gives you precision in the most compact form factor… and the gizmo's 500mAh battery lets you work uninterrupted for up to 3 hours, while a USB-C port lets you easily juice up your drill using your Android smartphone charger.
The SDS PRO's tiny form factor lends itself wonderfully to handheld jobs, but for more precise projects that require steady control, the SDS PRO comes with its own vertical drilling mount, a tiny tabletop version of those massive vertical drilling machines you see in workshops. Available as an accessory with the SDS PRO 'PLUS' upgrade, the industrial-grade precision workbench comes forged from the same aviation-grade aluminum alloy as the drill's body, and lets you work with much tighter tolerances, smaller deviations, and better precision.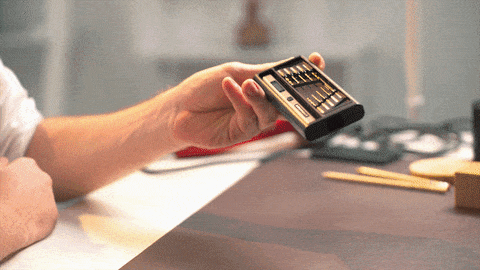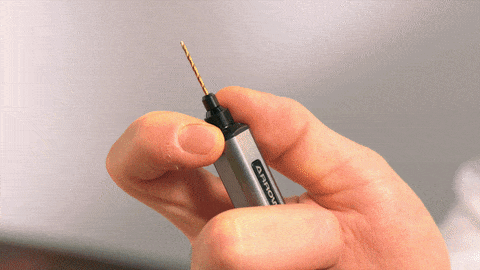 Whether you get the SDS PRO or the upgraded PRO PLUS, the entire kit comes in a compact bag that's easy to carry around. The drill and the 10 bits sit within a slick metal box that you can carry around, and the bits are held in place with magnets, ensuring you don't ever lose them. Working with the SDS PRO is easy and intuitive, with swapping drill bits taking mere seconds, and the intelligent features within the drill that automatically adjust torque, RPM, and direction on the fly.
The 4 shadowless LEDs on the front of the SDS PRO make working in low-light conditions easy, and perhaps the only thing missing in the entire compact setup is dust/debris removal. The SDS PRO is up for grabs on Indiegogo for an Early Bird price of $69, with the PRO PLUS costing $149. The drills begin production immediately after the campaign ends, with shipping happening as early as February 2022.
Click Here to Buy Now: PRO for $67 $108 (38% off). Hurry, exclusive to YD readers only and less than 48 hours left!