The need to rejuvenate amidst nature is crucial in stressful times to heal and grow. This has sparked a trend for a nomadic lifestyle without any compromises in living comfort. Yes, I'm talking about the growing popularity of towable trailers, RVs, caravans, and houses on wheels that promote an upbeat mobile lifestyle. So, how will things be, say, a decade or more from now?
Industrial designer Jason Carley imagines a future where the urban lifestyle will be punctuated by life on the road triggered by sky-rocketing living costs and the aging infrastructures that are dependent on ecologically disruptive fuels and technologies. Jason thinks of a time in the year 2035 where nomadic life will revolve around mastery of resources and an efficient mode of travel. Thus comes into the picture this towable trailer that gives love back to nature. Targeted for the young and resilient urban customers, the rig is an accessible retreat to escape from the stresses of life for a few weeks or even months.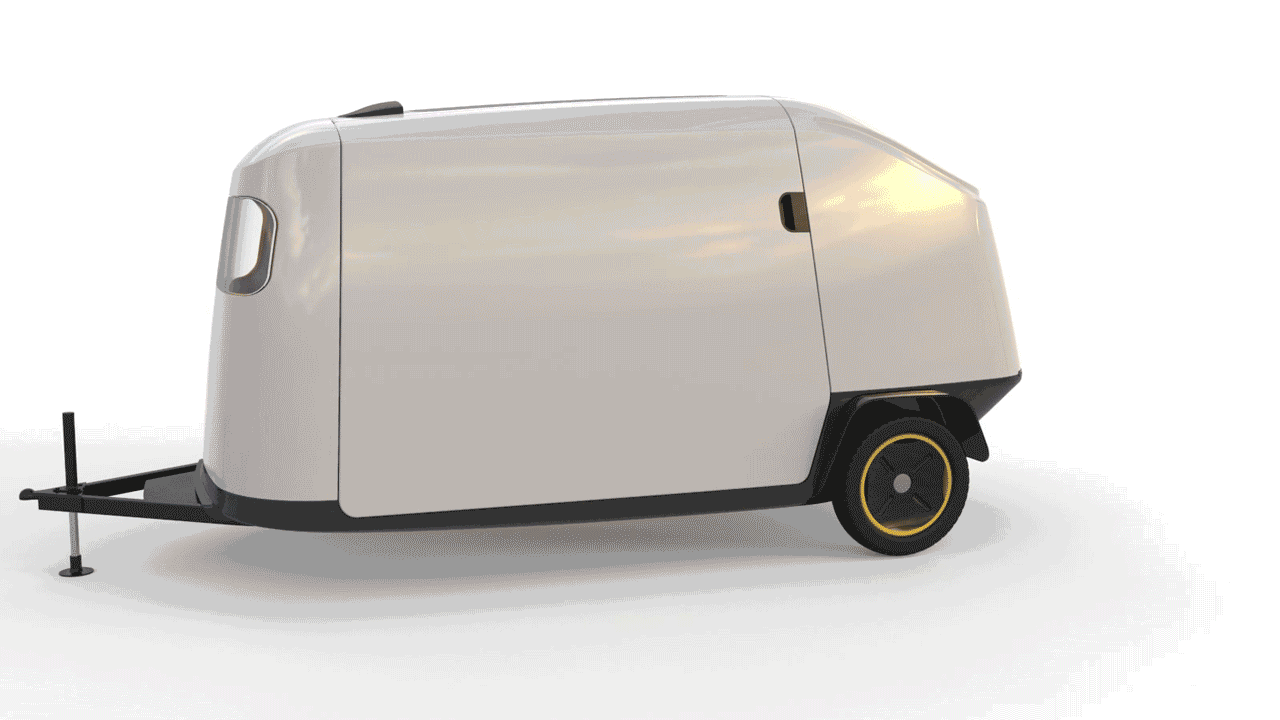 This is the RV2035 towable trailer designed to be aerodynamic for minimal impact on the road and fully compatible with electric vehicles that are centered on performance and maximum range. When on the road, this trailer having a tight turning radius is a compact capsule behind an EV, but as soon as it arrives at the resting destination, there's another side to the rig. It opens up to expand the usable space to 120 sq. ft. as the raised roof and tent provide around 7 feet of headroom. Keeping in tune with nature the wing cantilever a few inches above the ground preserves the integrity of the natural habitat underneath.
The outer structure of the trailer is made out of lightweight carbon fiber which will be recyclable and durable. The expanded sections on either side have two rooms for privacy and the windowed flaps having screens welcomes nature inside. To the rear is the kitchenette that comes with an insulated cooler drawer and ice-maker. The induction cooktop's backlit display keeps the occupants informed about the current weather, battery status, and the time for a solar recharge. The solar panels actuated by motorized brackets track the movement of the sun to keep themselves aligned optimally to capture maximum solar energy.
To the side of these solar panels, arrays lie the rain harvesting channels that collect grey water for the toilet or laundry. By the nighttime, the trailer turns into a cozy place to doze off as the convertible sofa and the two twin cots turn into a queen-sized bed. A compact bathroom section with a showerhead allows for everyday chores to be done within complete privacy. When you are done with your adventurous escapade the trailer can be returned back to the rental outfitter, to get it ready for the next journey. Changes can be made to adapt to the client's requirements or the climatic conditions.
Designer: Jason Carley