The Hybro H400's "unsleek" design isn't without reason. It comes with an ergonomic body that you wouldn't associate with "sleek slim metallic" electric screwdrivers, although that ergonomically designed grip actually makes it easy to use manually too. The screwdriver comes with an easy-to-grip design, interchangeable heads, a simplified interface, and can be used both manually or electrically to tighten/loosen screws.
Designers: Park Ji Won, Tylor Lee & Yang Tae Jun
Click Here to Buy Now: $39 $69 (43% off). Hurry, exclusive deal for YD readers only!
A perfect addition to any toolkit, the H400 lets you easily transition from manual tooling to electrically powered tooling. A small but powerful 350 RPM motor (that's twice as fast as other electric screwdrivers) on the inside lets you rotate the screw's head in any direction, while even being able to adjust torque on the fly. The variable torque covers a wide range of uses, offering lower torque for small delicate electronics, and much higher torque for things like assembling your IKEA furniture.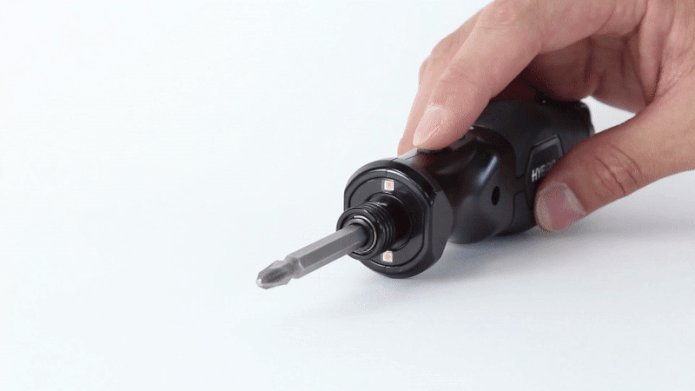 Two LED lights on the front help you see while you're working too, and a 1,000 mAh battery that lasts for weeks – and if it does run out, you can either charge the H400 via MicroUSB, or just keep using it as an analog screwdriver, letting you get the work done either which way.
The H400 comes with an entire kit, with 17 interchangeable heads including Phillips, Flat, Hex, and Torx heads, and even two extension heads for reaching into hard-to-reach spots. The heads/bits are all crafted from high-quality steel, offering better durability over time. The Hybro H400 sports a rubberized grip, making it easy to use manually, and its simple 2-button interface allows you to trigger the electric motor to run either clockwise or anticlockwise. Under the hood, H400's gearbox is built to be incredibly robust, allowing it to work electrically but also enabling it to take on the stress of manual analog use.
The base of the H400 comes with a loop that you can use to hook your screwdriver onto your toolshed's wall, and the kit even supplies a coiled lanyard with a carabiner clip, so you can secure your screwdriver to your belt loop while working, making it easy to access when you need. Conversely, the H400 comes with a nifty foam-lined tool-case that you can store in your workshop, home, office, or even your car.
Click Here to Buy Now: $39 $69 (43% off). Hurry, exclusive deal for YD readers only!