Want a no-holds-barred experience on your skateboard without being skeptical of the board's performance on not-so-favorable surfaces? The freedom to ride your skateboard on any terrain with the promise of balance and agility while riding? Then the TeamGee Behemoth skateboard is your ticket to riding nirvana for cross-country adventures. Whether you take it on a ride over the mountain roads, gravel paths, or desert trails; the off-roading capable longboard powered by 12AH lithium batteries is just what you need.
With a remote, you can take it for a spin in 4-speed modes and 4-braking modes for supreme control for the duration of your ride, well capable of traversing 30-degree inclines. True to its name 'Behemoth' the carbon fiber body skateboard has a higher than usual riding position and monstrous wheels for a firm grip on the surface it's riding. Talk of the self-leveling suspension and automotive-grade shock absorption system, and you're in for a smooth ride – even on the extremely jagged surfaces. The board's concave design in a way assures the rider of a firm foot grip, especially while riding on uneven surfaces.
Behemoth's handheld remote has an LCD display that beams all the necessary information – right from the battery level to the real-time speed. As a matter of fact, the skateboard can achieve a top speed of 25 mph and on full charge goes 22 miles. To keep the battery juiced up Behemoth uses regenerative braking technology which charges the battery every time you brake. The off-roading capable water-resistant skateboard comes with 2 LED lights for gliding on the streets in the nighttime, and for safety, there is a LED tail light too with 3 auto-switching color modes.
Designer: TeamGee
Click Here to Buy Now: $1199 $1999 (40% off). Hurry, less than 24 hours left! Raised over $87,262.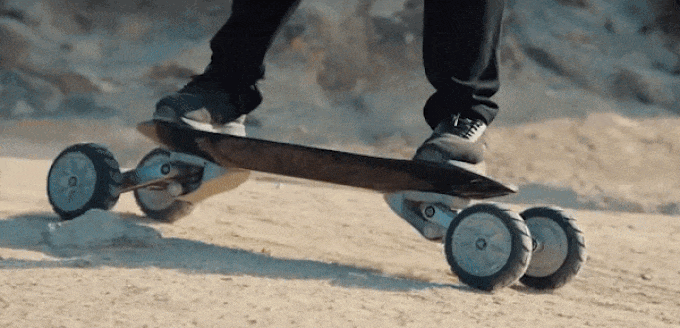 Click Here to Buy Now: $1199 $1999 (40% off). Hurry, less than 24 hours left! Raised over $87,262.