https://vimeo.com/515983638
I recently read a study that addressed that the part of the brain that's responsible for making you 'feel full' isn't the same part of the brain that manages your food cravings. It's why Joey from Friends could still have a slice of pie even after demolishing an entire turkey in the episode that guest-starred Brad Pitt. While obviously the episode was rooted in fiction, it highlights a phenomenon often referred to as 'dessert stomach', where even after an incredibly large meal, most people could still find themselves craving a bit of dessert… no matter how full they are. As complex as the brain is when it comes to craving certain types of foods (as addiction, for combating stress, or for comfort), food scientists have devoted significant efforts towards understanding how the brain responds to food, its aromas, its presentation, and how to control it all to either build or reduce appetites. The IGGI bowl is the culmination of a few of those findings.
Designed to help trick your brain into eating mindfully by controlling portions, the IGGI is a Stoneware bowl that uses food psychology and 'Calorie Cloaking' to help you eat 30% less but still feel satiated. It sports a false curved bottom that makes the bowl look full while still having 33%  less food, along with a red interior that helps curb your appetite more than a white plate. Moreover, the red color also alters your perception of food, driving you towards eating green vegetables to make your food 'look balanced'. Paired along with the IGGI app, the two form a system called Meal Mindfulness. The bowl's design along with the meal recommendations on the app (curated by nutrition experts, dieticians, and chefs) allows you to eat healthy and hearty meals and feel satiated at the end of them. The app also provides recipes to guide you through food-prep, and each IGGI bowl ships with 15 Recipe Cards that help you build tasty meals, and 15 Mindful Habit Cards that encourage you to develop healthy nutrition habits. The Meal Mindfulness system helps you be more conscious of what you're eating and how much you're eating too, allowing you to be more faithful to your diet while still feeling 'full' after a meal.
The IGGI bowl comes at a time when daily routines and habits are in flux, and binge-eating has become all too common (I've developed some unhealthy habits of my own too). The bowl provides a set of nifty tools for people looking to cleverly portion-control their food consumption and keep an eye on their calorie intake while being "diet-agnostic", allowing you to portion-control your meals no matter what your dietary preferences are. The recipe-cards help you build individual parts of your meal too, giving you the freedom to mix and match cards to build the meals you like or the meals that help you finish any leftovers you may have lying in the fridge. The bowl's Japanese-inspired Stoneware design gives it an incredibly premium visual and tactile appeal while being microwave-friendly and easy to wash. The bowl's wide design cleverly gives the appearance of abundance while still holding lesser than a plate would. Moreover, its curved base helps easily portion-control your meals by cutting down space within the bowl by a third in volume. Each IGGI bowl also comes with a divider that you can slide in to compartmentalize the bowl's space, along with a leak-proof bamboo lid and neoprene case that allow you to travel with your meals!
We recommend consulting a nutritionist or health professional before using the IGGI bowl or app to portion your meals.
Designer: Roderic Andrews
Click Here to Buy Now: $59 $119 (50% off). Hurry, exclusive Deal for YD readers only! Less than 24 hours left.
IGGI – Effortless Weight Loss & Calorie Cloaking
The IGGI is a science-based portion control eating bowl that was thoughtfully conceived to make eating balanced meals easier than ever.
The portable, eco-friendly bowl uses food psychology and 'Calorie Cloaking' for effortless weight loss by tricking your brain into eating a third less than you normally would. In addition, the IGGI Bowl is supported by a system called Meal Mindfulness™️ that helps you build healthy habits around eating, like eating slower and learning if you're truly hungry.
Calorie Cloaking at Work
Calorie Cloaking is when you use the illusion of more food to hack your brain and stomach into thinking you're eating more than you are. This works because hunger and eating are guided by the more primitive part of your brain, known as the 'animal brain' (or the amygdala). The animal brain does not want you eating less—it wants to store up fat for the winter.
A study in the National Library of Medicine proved that how much your brain thinks you're eating, directly relates to how full you feel.
Science Behind IGGI Bowl's Design
False Bottom – IGGI's false bottom removes 33% of space in the bowl. You see a satisfying full bowl of food, but due to the convex bottom, you eat a third less.
Red Color – IGGI isn't red just because of Japanese influence—studies have shown that eating from a red plate vs. a white plate reduces consumption by up to 22%.
Bowl Shape – IGGI Bowl naturally has hard limits (the bowl rim), unlike portion control plates that can be piled high and still remain inside the portion dividers. The bowl never delivers more than 600 calories when you follow the IGGI guidelines or included recipes.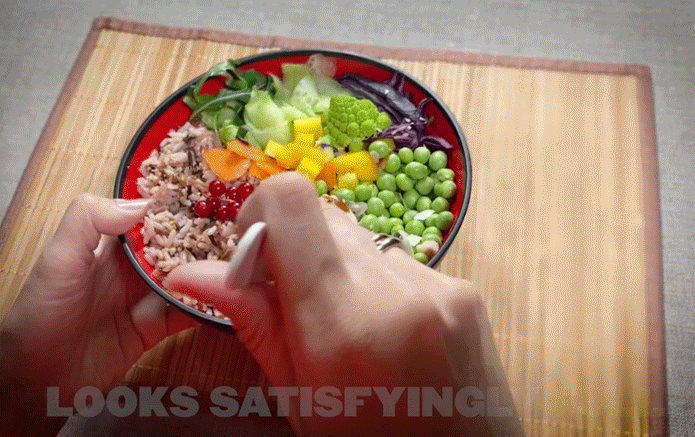 Why IGGI Looks So Big – The convex bottom keeps the bowl looking full but ensures no more than 400-600 calories fit inside. The bowl is 19.5cm/7.7in which is .5cm smaller than the universal bowl size of 20cm.
Additional Features
Removable Divider – A removable divider splits your meal into four segments: vegetables, proteins, carbs and legumes. IGGI Bowl's beaded walls hold the divider in place if you prefer your foods separated.
Microwave & 'Sloppy' Food Silicone Inserts – Easily portion out food you want heated later or separate out foods that are more "sloppy" so they don't affect other dry segments. The food-grade silicone inserts are resistant up to 450°F (232°C), are easy to clean, and stay relatively cool to touch.
Portable & Leak Proof – The bowl lid has a deep profile and hermetic seal that ensures no leaks in your bag.
Meal Mindfulness System
Meal Mindfulness helps you slow down your eating and naturally enjoy the health and stress-relieving benefits of trusted mindful eating techniques.
IGGI App – Their included app is free for life with IGGI Bowl instructions, healthy eating tips, recipes, mindful habit cards, and more.
Mindful Eating Audio – Learn how to appreciate your meals by slowing your rhythm and allowing the satiation message to get to your brain before you overeat.
Mindful Habit Cards – Their cards offer expert tips that help you build healthy habits.
Click Here to Buy Now: $59 $119 (50% off). Hurry, exclusive Deal for YD readers only! Less than 24 hours left.