Studying space exploration is a side hobby of mine so this extreme-weather resistant origami moon habitat is one of my dream homes. SAGA is a Danish architecture studio that designed LUNARK which is a modular shelter that expands and becomes 750 times its original size! It was crucial to design a structure that would be easily transportable (to the moon!), have a zero-waste ecosystem, and could withstand arctic temperatures and meteor showers – LUNARK does it all, in fact, it was taken out on a test run in Greeland by the architects themselves!
SAGA has one mission – make outer space a little cozier for future human inhabitants. The LUNARK habitat shows what can happen when the architect steps back and allows the extreme environment on the Moon and the high arctic to mold a habitat around human beings. LUNARK's form was inspired by the patterns seen in a budding leaf as it unfolds and origami. It unfolds from a tight bud to a large ovoid shape with a rigid carbon fiber shell. Its exterior is tough as a tank while its interior is a cozy home with a sense of Nordic "hygge".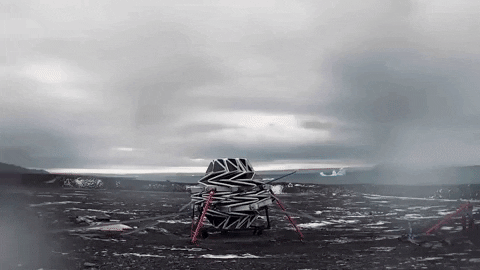 The main exterior of the habitat is made from a black glossy carbon fiber shell. The carbon-fiber structure's sandwiched panels with a foam core for extra insulation. Carbon fiber is ideal because it's lightweight – which is crucial for transport and unfolding – yet strong. The panels are connected by a white foldable composite rubber and the main load-bearing structure is an aluminum frame.
Starting from the size of a small car, the carbon fiber shell can unfold to 750 times its size. Inside, solar-powered circadian panels mimic the light cycles on Earth, aiming to improve astronauts' sleep patterns and general well-being. It is designed to counteract monotony, claustrophobia, and psychological stress.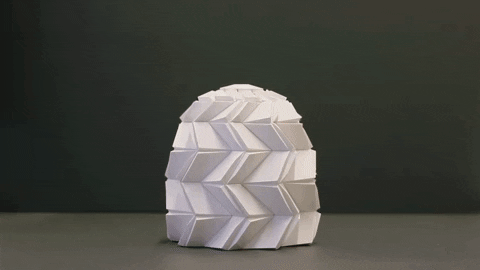 With an inner volume of 17.2 sqm, LUNARK is designed to shelter two people at once. It is powered by a 1000 Ah solar-powered battery. It aspires to be a zero-waste shelter, leaving as little impact as possible on the environment. Inside the unfolding pod, there is space for a 3D printer (for printing spare parts if needed), stowage for batteries and water, and a living algae farm. LUNARK also has a series of in-built digital software systems, including a weather simulator to help break up the day-to-day monotony, and an algae reactor, to nurture and monitor a source of nutrition.
The main principle behind LUNARK is its expanding volume, as the structure expands 750% after transport while testing it was a great success as it was easy to unfold and strong enough to withstand the extreme environment. "The habitat worked beyond all expectations. The unfolding was possible by just two people and no heavy machinery – and in the extreme cold of the arctic. Furthermore, the interior design and spatial organization worked well. We are not trained professional astronauts, our tolerance is much lower. So we needed a much more pleasant living environment. We wanted to create a home, not a survival machine – and the habitat really ended up feeling like home," adds Aristotelis.
Earlier in 2020, SAGA developed a prototype for LUNARK using the principles of Japanese origami folding with biomimicry. The two architects, Sebastian Aristotelis and Karl-Johan Sørensen, then went on a two-month mission to experience extreme isolation in northern Greenland where they tested LUNARK and its technologies themselves for future moon missions while enduring -30°c, hurricane winds, and hungry polar bears!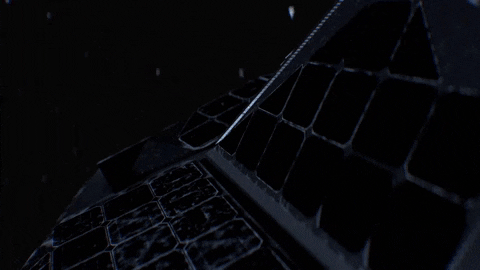 In the two months spent in extreme isolation in Greenland, SAGA collected data about the performance of the unfolding origami structure and the circadian light panels that form the artificial sky inside the habitat. The duo also collected data about their psychological wellbeing, the impact of isolation, and how to deal with conflicts under extreme conditions which will help them make LUNARK even better for real missions.
"We wanted to make the most realistic simulation mission. If we as architects want to test the effect of architectural countermeasures in space we also need to simulate a realistic amount of stress on the participants (in our case ourselves). The cold arctic was the best bet for that. At the same time, the arctic has the most similar lighting conditions to the moon. It's far away, remote and isolated so the experiment conditions forced our design to be easy to deploy," said Aristotelis.
Having lived for months in conditions that resemble those in outer space, the two young architects collected a significant amount of data which they will analyze with a focus on human well-being and psychology. "The future looks great, our design worked better than expected which puts us on a solid trajectory to build in outer space," Aristotelis concludes. SAGA is not only focused on making brilliant space architecture but is also putting the mental health of the astronauts at the core of their design which makes them stand out among all others on our planet!
Designer: SAGA Space Architects