The PouchPASS is the intermediary step between not wearing a smartwatch and wearing one. It sits in this niche on purpose, with the intent of being for people who don't necessarily NEED a smartwatch or a fitness tracker, but would like to be able to monitor their health. The PouchPASS, designed as a response to the pandemic, is a simple wearable with one job – constant body-temperature screening. It straps to your wrist, never needs to be charged, runs for 6 months on a replaceable CR2032 battery, and consistently records your body temperature so you don't have to use a thermometer or those infrared guns.
The PouchPASS wearable comes with a mobile app that documents and assesses your temperature in a neat, data dashboard. Its competitive advantage lies in the fact that it's constantly monitoring your temperature so you don't periodically need to… and the fact that it provides much more accurate readings than temperature guns. The device sits on your wrist like a regular bracelet, lacks an interface, so kids and elderly can wear it too, and is water-resistant, so it can even be worn in the shower or while it's raining. It sends a minute-by-minute reading of your temperature to your smartphone and the app creates a log-book of your temperature history, even notifying you when your temperature sees any concerning change. Multiple PouchPASS devices can be linked directly to a single smartphone, allowing you to easily monitor groups of people like your family, or people in an elderly home.
A clinical-grade temperature sensor within the PouchPASS provides accurate temperature readings. It sits within the bracelet's hypoallergenic silicone and polycarbonate body that gives the bracelet a combination of durability and comfortability. The PouchPASS is powered by a single, replaceable CR2032 coin-battery, running for 6 months without needing to be charged. The wearable comes in three sizes, working well for adults as well as children, and backers of the project get a free lifetime subscription to the app's data dashboard. The FDA says that body temperature is one of the critical factors to determine if a person is healthy. The PouchPASS, in that regard, does its job well, working as a better alternative to getting your temperature checked using thermometers that need sharing, are often inaccurate, and are only used periodically… or by smartwatches that are much more expensive, and with their complex interfaces, aren't particularly suited for everybody.
Designer: David Rapaport of PouchPass
Click Here to Buy Now: $35 $42 (18% off). Hurry, less than 72 hours left!
PouchPASS – A New Solution to Check Body Temperature for You & your Family
The PouchPASS is an always-on, precise, no charging required body temperature monitoring system.
According to the FDA, body temperature is one of the critical factors to determine if a person is healthy. But current solutions to measure body temperature are either providing episodical results (traditional thermometers) or inaccurate (non-contact scanners). That's why the team has developed PouchPASS.
PouchPASS comes with Mobile App, Data Dashboard, and Free Lifetime Subscription for all Indiegogo backers.
Always-on: unlike other solutions – thermometers, forehead scanners that only measure body temperature at checkpoints, PouchPASS gives you continuous measurement throughout the day, allowing you to identify health issues and act faster.
Precise: PouchPASS uses MAX30208 – a Clinical grade temperature sensor with up to ± 0.1 °C/°F measurement accuracy.
No Charging Required: PouchPASS comes with a CR2032 battery that can last up to six (6) months. The battery is easy to replace.
Mobile App: Record your temperature readings in your diary; see historical body temperature data. Available in iOS and Android app stores.
Data Dashboard: A killer feature for your business: with the PouchPASS dashboard, you can easily add all the people in your organization, monitor their temperature in realtime, and track contact history.
Free Lifetime Subscription: An Exclusive offer for all our backers on Indiegogo.
For Families with Kids & Elderly
What's Inside the Box?
– PouchBAND is both water and dust resistant, with no charging required, making it comfortable to wear (suitable for kids and elderly)
– Using a sophisticated calibration algorithm and a state of the art sensor, PouchBAND provides with high-accuracy body temperature data every minute
– PouchBAND comes in 3 different sizes (Small, Medium and Large) and 5 different colors (Green, Black, Blue, Red and Grey)
– PouchBAND comes with free mobile app (Android and iOS) with temperature diary, family watch list and symptoms tracking features (all following extremely high privacy standards)
Key Features
Temperature Monitor and Diary: Track your body temperature continuously without interpersonal contact. Record your temperature readings in your own personal diary. Available in iOS and Android app stores for FREE.
Symptoms Log and Family Monitoring: Record your health symptoms and store them in your diary. Monitor your loved ones through the watch list feature (members' consent required for privacy protection).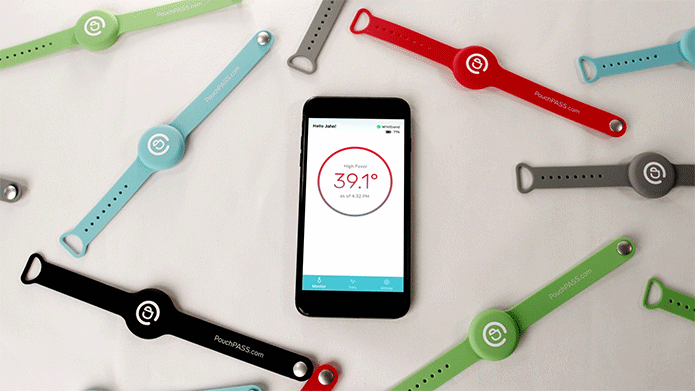 Alerts and Notifications: PouchPASS app will send you automatic alerts & notifications that can be very useful when tracking body temperature of your loved ones—especially for kids and elderly.
The Band: PouchPASS' unique intelligent calibration algorithm allows the thermal sensor to generate high-accuracy data measurement. This is the heart of PouchPASS' robust application system, providing reliability of temperature measurements.
The bracelet's "sleeve" is made from hypoallergenic silicone and polycarbonates (PC), which gives a smooth surface feel with flexibility, thus making it comfortable to wear. Attached to the bracelet is a removable, Bluetooth (BLE 5.0) beacon with a clinical grade digital temperature sensor.
The attractive bracelet, PouchBAND, comes in 3 sizes:
Small (11-16cm) – for kids
Medium (15-20cm)
Large (18-23cm)
PouchBAND is 100% water and dust resistant—can be used whilst washing the dishes or even while showering. The PouchBAND is powered by one replaceable CR2032 Lithium coin battery which will see users through months of uninterrupted use – no charging required.
Family Set-Up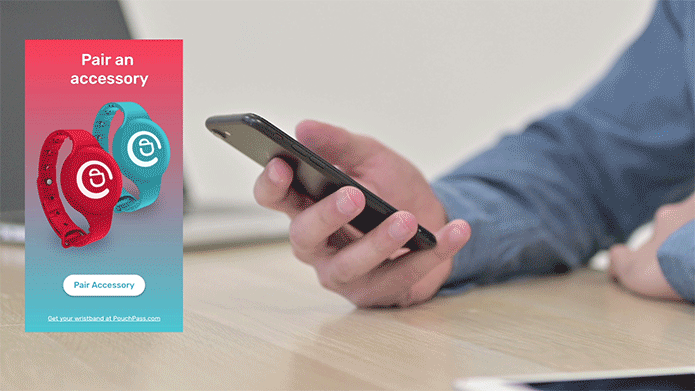 After you receive your first PouchBAND it takes only a few minutes to download the FREE application and set up the product:
Step 1: download our FREE mobile app from iOS or Android App stores
Step 2: create an account and pair your wristband
Step 3: put on your wristband and start measuring your temperature anytime / anywhere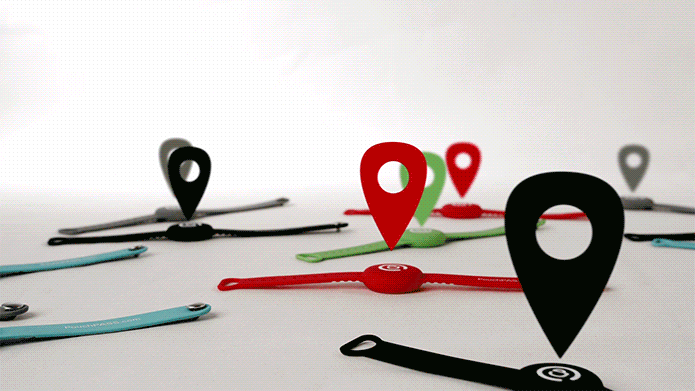 If you are buying PouchPASS for a larger community, or for your business, you can set-up a web dashboard that will extremely be handy to manage all the data that will be received from the members of the organisation.
Step 1: register online at PouchPASS.com
Step 2: add members of your organization to your online dashboard
Step 3: monitor daily temperature & symptom records of all members of the organisation as well as see members profiles and contact history (members approval required for Privacy)
For Business Owners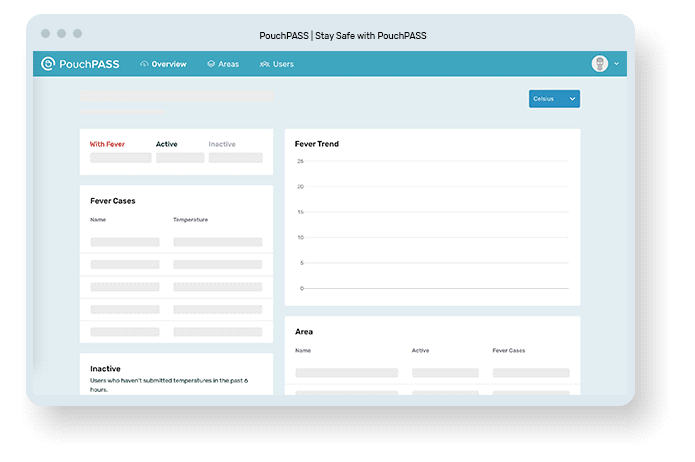 A Small Business package and provides all employees with temperature monitoring wristbands. You can also buy a gateway not to rely on the employees' handphones. You can monitor seamlessly the temperature of all your employees through a dedicated dashboard accessible through the web. You can monitor the contact history and see which employees have been in contact over the past 14 days. So in case somebody falls sick you can notify the ones that have been in contact with him to stay at home for a few days. You can also published a PouchPASS widget on your webpage to inform people about the fact that all your employees are healthy.
Install Bluetooth gateway at your business location to capture the wristband data without the need of the mobile phone.
Users will have full transparency on which information is being shared and will also have the ability to change the settings at anytime. PouchPASS values your privacy – you are in control of the personal data you share.
Click Here to Buy Now: $35 $42 (18% off). Hurry, less than 72 hours left!