Home and portable projectors are becoming more common these days. And like any other popular consumer electronics, their designs are becoming more common as well. The large, nondescript boxes try to avoid calling attention to themselves so as not to ruin or clash with your room's existing decor. But what if you actually had something worth noticing? What if your hi-tech piece of equipment could actually be the centerpiece of the room or a reason to brag to your friends? That is the fusion of technology and aesthetics that the X300 Smart Portable Speaker and Projector puts on the table, literally and figuratively, and, best of all, it's more than just a pretty face.
Designer: Leo of NOMVDIC
Click Here to Buy Now: $749 $1099 (31% off). Hurry, exclusive for YD readers only and limited to 10!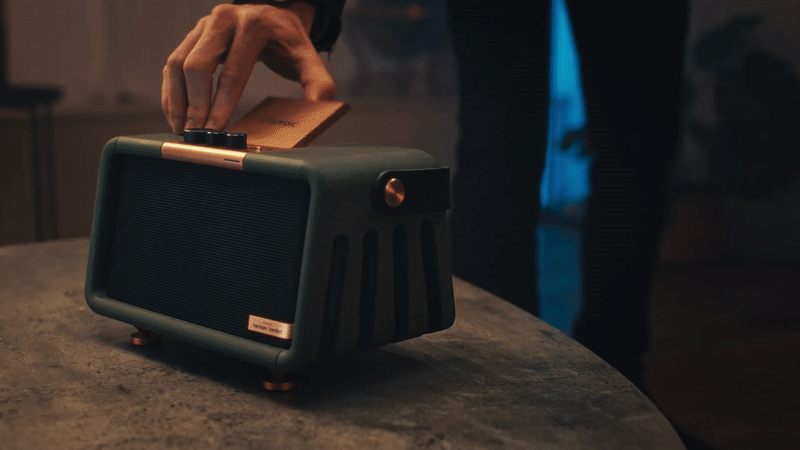 You'd be forgiven if you are completely distracted by the X300's vintage looks, which is actually part of its charm. Looking like a transistor radio from a bygone era, the trapezoidal box bears the hallmarks of a luxury piece, from the leather carrying strap to the matte metallic accents to the lattice-inspired slats at the sides. Even the controls are deliciously analog to stick with the theme, allowing owners to have a bit of fun in fine-tuning their listening experience.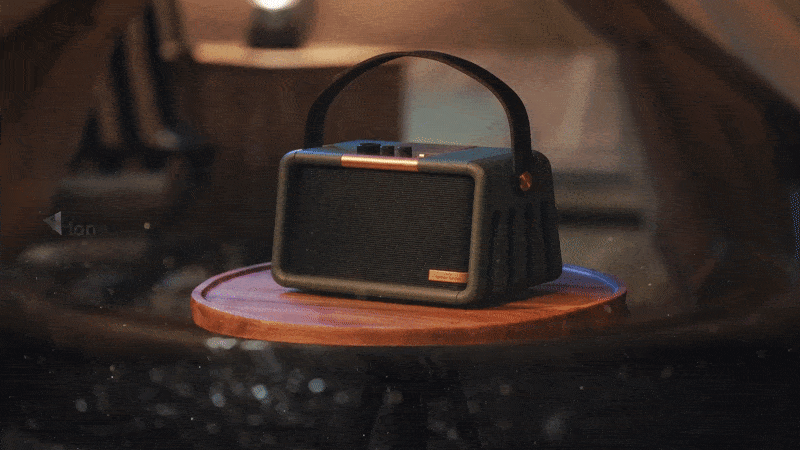 The image of a high-class audio device is no illusion, though, as the X300 is a premium smart speaker both inside and out. Two tweeters, two woofers, and a 30W Class D amplifier promise to deliver a soundstage and audio presence you will rarely find in portable speakers, much less one that is also a portable projector. And, of course, these are no ordinary speakers as they have been developed and tuned by the famed Harman Kardon, adding more weight to the product's identity as a luxury item.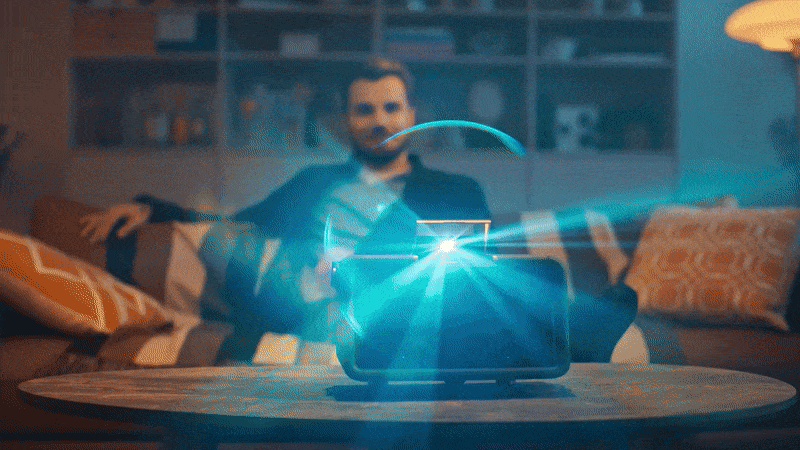 Of course, the X300 is no mere smart speaker either. Flip the top cover open, and you will discover an LED DLP projector that lets you bring your favorite videos with you anywhere and not be confined to the straining size of a smartphone screen. Watch indoors or outdoors, on walls, on portable screens, or even on your ceiling, the X300's reflective mirror and bright bulbs will make sure you'll get the best views no matter what. You can enjoy your favorite movies and TV series on a 100-inch surface without having to worry about making room for a gigantic TV.
Despite its classic appearance, the X300 is a true work of modern technology, supporting the latest connectivity options, both wired and wireless. 5GHz Wi-Fi and Bluetooth let you conveniently stream your phone's or computer's content, while USB, HDMI, and memory card slots let you get physical with some media and sources. The same goes for audio output if you prefer to listen privately or hook up a thundering sound system to the projector. The X300 gives you the freedom to enjoy your entertainment your way.
With its dashing vintage looks and top-of-the-line video and audio performance, the X300 Portable Projector and Smart Speaker truly stand out from the growing crowd of home and portable projectors littering the market. And despite that luxurious charm and top-of-the-line hardware, the X300 carries an unbelievable $799 price tag, a 27% discount off its retail price, for a limited time, making it an offer that's very difficult to pass up.
Click Here to Buy Now: $749 $1099 (31% off). Hurry, exclusive for YD readers only and limited to 10! Raised over $180,000.