You might as well be a jack of all trades when you're designing a product that's got stiff competition, right? Sure, your smartphone car-mount can hold your phone, but can it freshen the air too? That's sort of the direction the NUMBER ZERO is going for. A MagSafe-compatible car-mount that sits universally on any car's AC vent, the NUMBER ZERO lets you snap your iPhone on without worrying about clamps, grips, friction, or flimsy parts. It secures your phone in either landscape or portrait orientation using a series of robust magnets that can hold up to 12-times the iPhone's weight, and even comes with an air-diffuser that relies on the AC-vent behind your phone to disperse any fragrance of your choice all around the car.
Designer: Wu Zhiwen
Click Here to Buy Now: $15 $38 (60% off). Hurry, exclusive deal for YD readers only!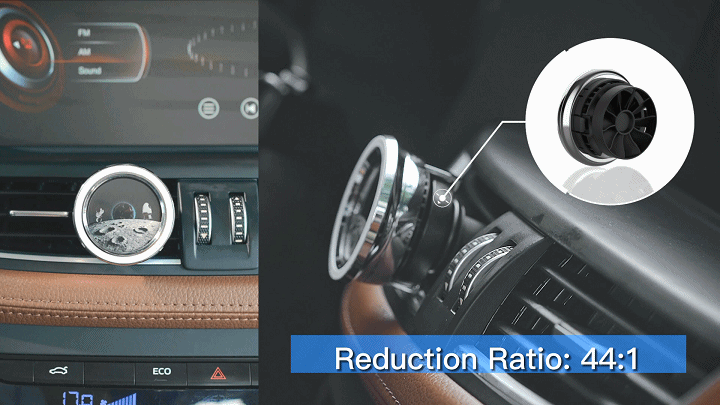 The NUMBER ZERO's design comes with a clever bit of consideration that's often overlooked by other companies. The mount's design was created to look good even there's NO phone mounted on it. Rather than just use that opportunity to slap a massive piece of branding onto the mount's design, the NUMBER ZERO comes with a neat little kinetic animation that's powered by the wind from the AC. The mount comes with a variety of animations to choose from, all of which feature a rotating element that's powered by the wind coming off the AC vent at the back. The air from the vent pushes a series of gears that then cause the kinetic animation to gently rotate, allowing the NUMBER ZERO to look eye-catching even when the phone isn't mounted in place.
You can choose between hypnotic loops, a rotating mandala, a compass, and a variety of fun space and ocean-inspired animations, or even make your own, using a blank transparent wheel that comes along with each NUMBER ZERO onto which you can stick your own illustrations.
Right alongside the fan-powered mechanism that runs the kinetic animation is NUMBER ZERO's aroma diffuser, which lets you put a couple of drops of your favorite fragrance or essential oil. The minute you do, the fan inside the car mount rotates and projects aroma-filled air all around the car, filling it up with fragrance and getting rid of any musty smell. The NUMBER ZERO's unique magnetic array works directly with all iPhones 12 and above (or previous models along with the MagSafe case). While its front holds onto the iPhone rather securely, its universal clip on the back mounts onto any car's AC vent without requiring any tools or special know-how.
The mount rotates to let you use your phone in portrait or landscape, and even pops out, working almost like a kickstand on any tabletop surface. When not in use, its ambient kinetic animation keeps playing (when wind-powered by the AC vent behind it), and can even be hand-powered like a nifty little fidget toy… which you can additionally customize with your own animation design. The NUMBER ZERO is available at a special price of $15 just for YD readers, and begins shipping in October.
Click Here to Buy Now: $15 $38 (60% off). Hurry, exclusive deal for YD readers only!