https://www.kickstarter.com/projects/tiptoedesign/ssd-chair-the-perfect-chair-for-everyday-life
If IKEA pioneered the flat-pack furniture industry, the SSD Chair brought it to crowdfunding. You see, a lot of designs get abandoned as concepts because there's no easy way to manufacture and sell them without having distribution channels, marketing teams, and retail partners. IKEA is what it is today only because it's a phenomenal force of retail and has warehouses and brick-and-mortar stores in a number of countries… most independent designers do not. Creating a chair is easy. Selling it isn't. So the guys at Tiptoe design figured out a nifty way of solving this problem. Crowdfunding and flat-packing. Crowdfunding helps reach customers and consumers in a way that's absolutely unprecedented from a traditional business standpoint; and flat-packing helps make your design easy to ship, assemble, use, and disassemble… and that's what the SSD is pitching.
The SSD chair stands for Simple, Strong, and Durable (and not Solid State Drive, as one might think). Designed to be an alternative to flimsy, cheap, run-of-the-mill plastic or wood chairs, the SSD Chair has a simple, classic appeal, and is made to last for decades. The SSD is strong too. Designed with a metal tubing structure that is more than capable of years of everyday use, the SSD gives you the advantage of strength as well as the comfort of having European-made plywood seats and backrests. The SSD is durable too. Designed to be sustainably manufactured, the SSD uses strong components, ethically and sustainably sourced wood, a simple design, a minimal number of parts, and even uses 80% recycled packaging.
At the heart of SSD, and our prime focus, is its design. With an appeal that is absolutely classic, I could possibly see the SSD in a Herman Miller showroom. It has a silhouette that is recognizable and iconic, and a rather innovative design that comprises of exactly 6 parts. The SSD uses two metal pipes that make up the legs and the backrest support, a wooden seat, backrest, holding plate, and a single screw that joins the entire chair together. The metal pipes come in powder-coated variants, and the wood comes in Oak, Walnut, and Ash, to complement the metal pipe's colors. Lastly, the SSD's packaging and assembly absolutely deserve their own separate mention. The 6-part design is flat, symmetric, and easy to ship. Putting together the SSD requires absolutely no user manual, and can be done by practically anybody with zero support. The chair takes literally less than 2 minutes to put together, and lasts for at least 20 years.
Ultimately, the SSD comes from a single designer's vision to make furniture that is great for users, great for the environment, and greatly designed to be efficient in terms of production, shipping, and assembly. The SSD is proof that more and more designers should take to crowdfunding to make products that can positively impact the lives of users!
Designer: TIPTOE
Click Here To Buy Now: $178 $260 (35% off).
The SSD Chair is the perfect chair for everyday life! Designed to be SIMPLE, STRONG and DURABLE, this easy-to-assemble, long-lasting chair is made with sustainable high-quality materials.
SIMPLE: 5 parts and assembles in less than 2 minutes with one screw.
STRONG: so strong you'll pass it on to the next generation.
DURABLE: long lasting, 100% made in Europe with sustainable high-quality materials. Not to mention the SSD chair is also elegant, comfortable, light and stackable up to 7 chairs.
The SSD chair is super comfortable. The inclination of the legs, the height of the seat and the curves and width of the seat and backrest along with the soft edges of the wood, all of it ergonomically designed.
The wood only comes from sustainably-managed European forests (certified with the PEFC label). The team partners with highly-skilled woodworkers, so every SSD chair feels like a unique piece of design.
The steel tubing is nearly indestructible and is manufactured by some of the best European metalworkers.
The SSD ships in flat pack and takes at least 3 times less space than most chairs once packed.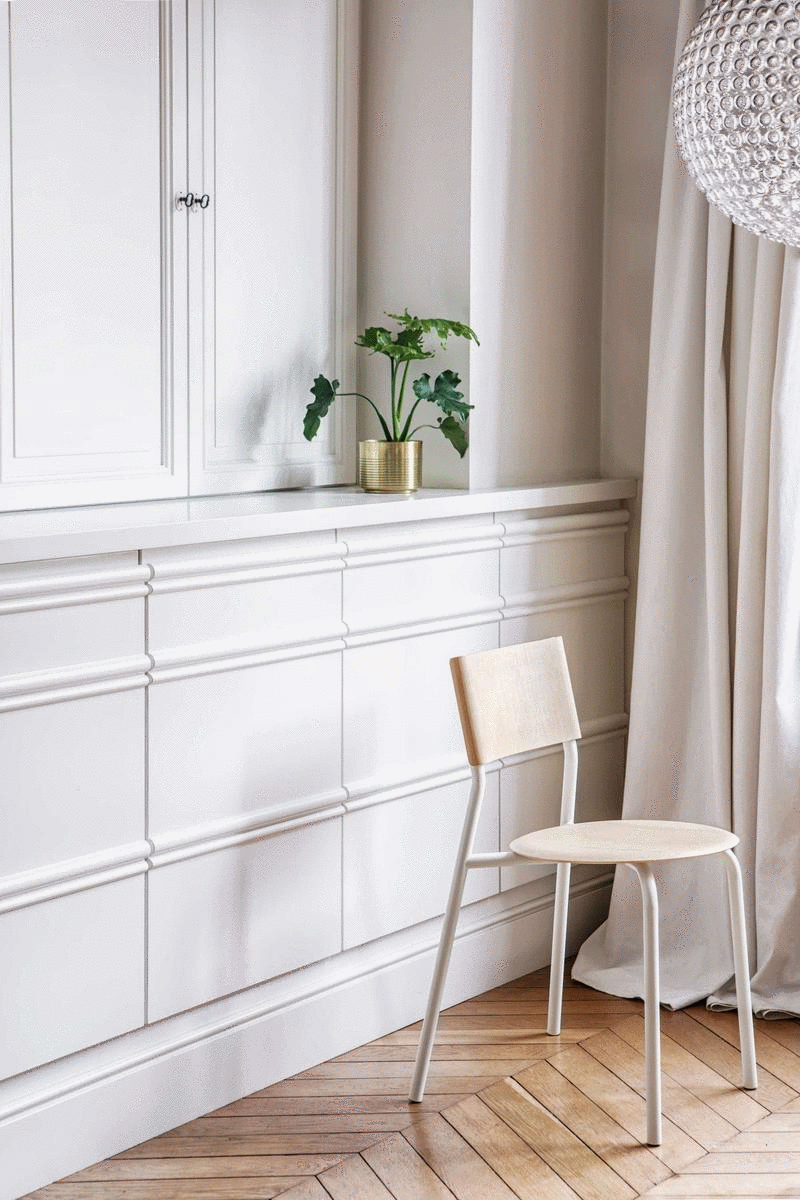 The SSD chair is available in 3 wood finishes (ashwood, oakwood and walnut) and 4 leg colors (Graphite Black, Cloudy White, Ash Pink and Sage Green).
Oakwood – Cloudy White
Oakwood – Graphite Black
Oakwood – Sage Green
Walnut – Ash Pink
Walnut – Graphite Black
Ashwood – Cloudy White
Ashwood – Graphite Black
Click Here To Buy Now: $178 $260 (35% off).