It may seem like quite a closely contended match between different earbuds and the companies making them. Each of them have their own USPs. Some are compatible with all mobile platforms, others boast of incredible battery lives, and some work as fitness trackers that sit within your ears. Now, the Aria by xFyro, claims to be one of the world's only truly wireless earphones with an IPx67 waterproof rating.
Let's understand first what the IPx67 rating actually is. The IP Code, or the Ingress Protection Code determines the ability of a product (usually electronics) to protect itself from intrusion by elements from the outside, especially dust or water. The first digit in the rating determines protection against dust. A rating of 6 usually means the product is completely impervious to dust of all sizes. The second number in the rating determines liquid ingress. The 7 rating in the 67 means the Aria can withstand immersion in water up to 1 meter tested for a period of 30 minutes. The IPx67 rating on the Aria therefore allows it to be used while in the gym (it being impervious to sweat), in the shower, or even while swimming in a pool.
Aside from its water and dust resistance, the Aria leverages battery-related advancements over the past few years to provide a stunning 32 hours of playback time. The earbuds themselves work for 8 hours continuously (that's the equivalent of 5+ movies or more than 160 songs), and the slick, hockey-puck case gives you an additional 24 hours of charging time. The Aria also comes with Bluetooth 5.0, the latest standard that allows for instant pairing by simply bringing the earphones near your smartphone. With crystal quality sound that's unfettered, the Aria also has a capacitive touch surface that lets you control music playback as well as activate the voice assistant on your phone.
Designed to work across multiple mobile platforms, the Aria is, to frame things accurately, a slight upgrade in all departments. With a significantly better battery, better audio courtesy a 16mm driver (more than thrice as large as the Airpods), better waterproofing, and a universal approach, it may just be the wireless earphones to beat!
Designer: xFyro
Click here to Buy Now: $109 $200 (45% off).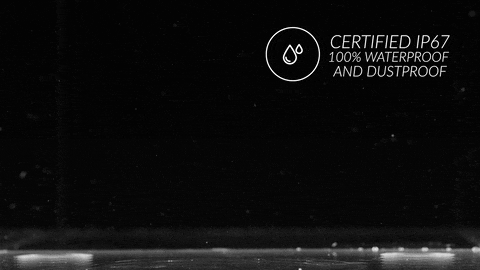 Click here to Buy Now: $109 $200 (45% off)