"Would you make a peanut butter and jelly sandwich without the jelly?" says the narrator in the video above rather convincingly, and I can't help but agree with her. Seeing is believing, but try watching a movie with terrible audio quality and you immediately realize how bad your experience feels. The same goes for VR. Be it the cheap Google Cardboard, or the state-of-the-art HTC Vive, audio is given the least priority and you know what, it reminds me of something we humans have experienced before.
History repeats itself. Think back to the days of moving pictures when the Lumiere brothers invented the first moving image capturing and projecting device that began the 'Cinema' revolution in 1895. It was only thirty years later that sound began being incorporated into film, and the talkies were born, and no one ever watched a silent film again. VR (currently still in its formative years) is following pretty much the exact trajectory and it isn't because of a lack of technological advancement, it's just history repeating itself and ANMLY is trying their best to be the much needed breath-of-fresh-air.
The Model A by ANMLY is the full PB&J experience (now that analogy is stuck in my head and I can't honestly think of a more appropriate one). Coming from Mikie Krisztal who's made high end audio equipment for a decade, the Model A by ANMLY integrates the audio component into a VR headset beautifully, the way it's truly meant to be. The Model A is a universal VR headset that integrates ANMLY's high end supra-aural earpieces into the design. Made out of foam, the entire VR headset is virtually indestructible and can be placed carefully or dumped unceremoniously into any bag and carried around. Designed to fit any smartphone into its enclosure, the Model A comes with a modular design and its own earpieces that remind me a lot of AIAIAI's TBS headphones. The earpieces have rather large 30mm drivers within them, capable of delivering incredible hi-fi audio to perfectly match your 360° video. The headset comes with an audio cable that fits right into your phone's audio jack. They even come in lightning cable variants for the iPhone 7 and above users, making this arguably the only VR headset designed for Apple devices. I say this because the Model A comes with its own dedicated app with free content.
Modeled out of bendable non-toxic foam that fits all head sizes with remarkable ease, the Model A is completely modular and customizable. Parts can be swapped easily and ANMLY even makes larger circum-aural (around-ear) earpieces with 40mm drivers that provide a better and more isolated and immersive VR journey. At just $40 for the early-bird, the Model A is the most reasonably priced and probably the only truly immersive VR headset on the market. It's comfortable, long-lasting, and delivers an experience that feels as emotionally and physically satisfying as a good sandwich with copious amounts of peanut butter AND jelly!
Designer: Mikie Krisztal of ANMLY
Click here to Buy Now: $65.00 $90.00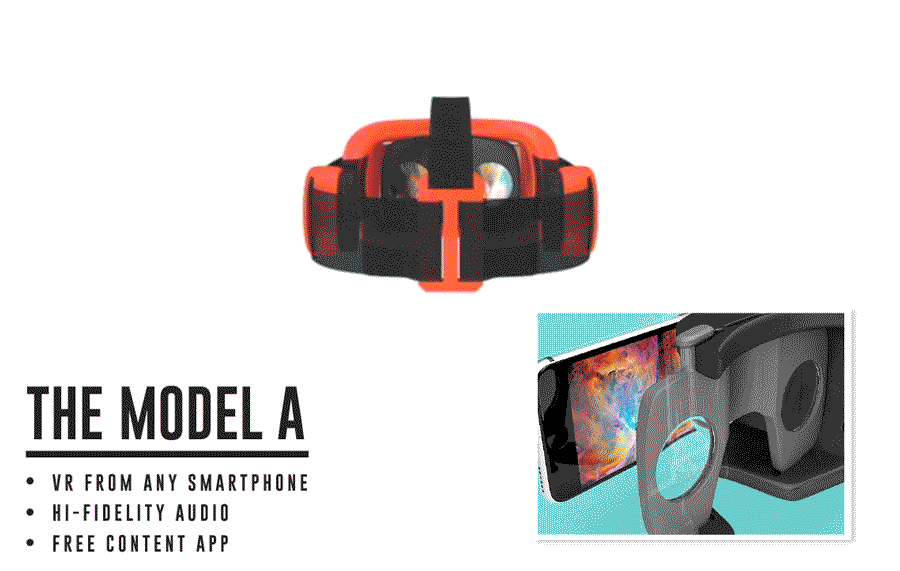 Click here to Buy Now: $65.00 $90.00