Almost a billion tonnes of food was wasted in just 2019. More than 60% of that was in households. This wastage is a massive problem for humanity, given how the distribution of food is skewed across different economic strata, cultures, and countries… but it's also a problem for the planet, because we're exhausting our environment's ability to produce, but aren't consuming it all. Aurora hopes to change that.
Designer: Gokhan Cetinkaya
Click Here to Buy Now: $479 $989 (51% off). Hurry, exclusive for YD readers!
Food spoilage has a pretty simple reason. Air. Microbes in the air get to your food. Cool the air and the microbes become slow and sluggish, so your food lasts longer (your refrigerator does this). Remove the air and it has sort of the same effect too. Less air means fewer microbes, which automatically makes your food last longer. That's where Aurora comes in.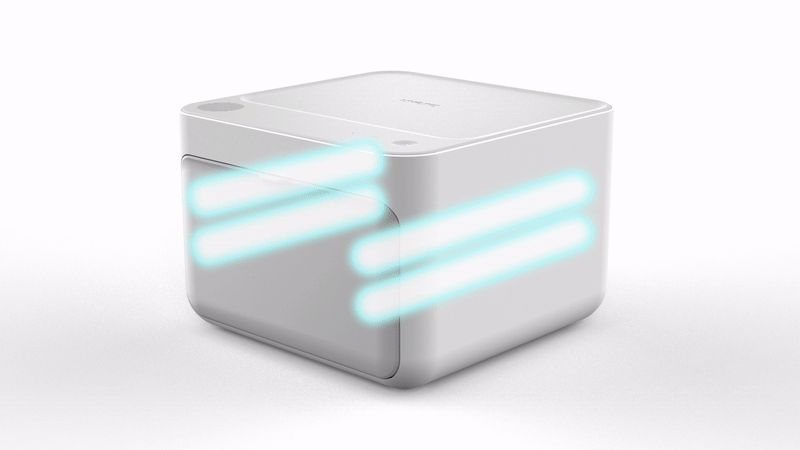 Designed to be the world's first vacuum sealer with a state-of-the-art UV-C sterilization mechanism built in, Aurora practically doubles your food's shelf life (an increase of 97%, to be precise).
It comes with a set of reusable containers that you can keep food in (these containers slide right into the fridge for easy storage), and the Aurora device even tracks what's in the container by asking you to provide information, which gets added to the Aurora's database. The food is stored in an air-locked vacuum container and is UV sterilized so that it lasts nearly twice as long as it should.
Depending on whether you've got meat, fruits, veggies, dairy, or bakery inside, the Aurora will even ping you just before your food's about to spoil, not only prolonging its lifespan but also eliminating chances of wastage.
Aurora combines smart tech with intuitive design to ensure your food lasts long and doesn't end up in the trash 'because you forgot it in the back of the fridge'. Just place your food items in the container and secure the lid before sliding the container into Aurora. Once the container's placed inside, Aurora asks you what's inside the container, so it can digitally tag the container for later, reminding you when your food begins spoiling.
It then sucks all the air out, while using UV rays to kill any germs that may still remain inside. The process takes all of 30 seconds, but can increase the self life of meat by 33%, or fruits by as much as 141%. This means less wastage, but it also ensures you spend less money (as much as $1800 a year!) replenishing the fridge because stuff you bought got spoilt. It also ensures you eat healthy instead of just ordering takeout by reminding you that there are veggies and meat in the fridge! Pretty neat, eh?
Click Here to Buy Now: $479 $989 (51% off). Hurry, exclusive for YD readers!